Long shots are path to profit
October 31, 2014 - 12:18 pm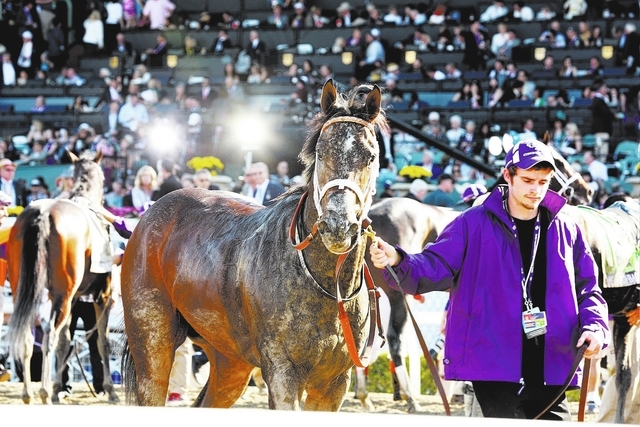 Baseball season is behind us, but there's still a full plate for sports bettors with NBA joining the menu this week along with college and pro football. But don't forget about the Breeders' Cup.
While the sports books will be full of locals and tourists — and I love sports betting as much as the next guy — I roll my eyes when I see people avoiding the race side. You have a much better shot of having a big score in the race book, and you can do it by investing a lot less.
The Breeders' Cup is horse racing's championship event with four races today at Santa Anita Park in Arcadia, Calif., and then the big nine-race card Saturday. Owners send their horses from all over the country to run for the million-dollar purses, and the betting pools are huge, too.
So here's a primer to try to get us all a piece of that.
BC = Beaucoup Cash
While all these great horses converge at the Breeders' Cup, favorites usually don't fare that well. We see long shots come in routinely, leading not only to big win prices but exponentially higher payouts in the exactas (1-2 finishers), trifectas (1-2-3 finishers), superfectas (1-2-3-4) and other exotic wagers.
I've always felt we see so many Breeders' Cup long shots because there are so many blueblood horses racing against each other. On a normal day at most tracks, horses go off at 30-1 or higher that really aren't quality runners and should probably be higher. But in the BC, some quality horses inevitably go off higher than their true odds. The public bets down the listed favorites (who often still go off at higher odds than when facing lesser competition, so it looks like value to those betters), but these other ignored horses drift higher and pay overlay prices when they hit.
So in the Breeders' Cup races, I'm only betting long shots. I've had many documented scores over the years in my Daily Racing Form column and on local radio stations, but even when I lose on a long shot and see another one romp home, it reinforces that I'm playing the right way.
Grass is greenest for the Euros
In the turf races, it's best to look for horses invading from Europe as they race more on grass than horses in this country. For instance, the last six victors in the Juvenile Turf, the first Breeders' Cup race on today's card, had made their previous start outside of the United States. Time and again, we see the Europeans win these turf races — and it's not always the favorites, so try to find foreign horses lacking a resume as strong as their fellow invaders (which will be bet down heavily).
Using this approach in 2001, I hit Domedriver at 54-1 in the BC Mile. If you want to try to buck that trend and back a U.S.-based horse, at least find one at a decent price to compensate you for overcoming the odds.
Don't fear the tote board
A big rookie mistake — but I also hear this from longtime horseplayers — is someone finds a long shot they like at, say, 20-1, and then they look at the current odds to see it's drifted up to 30-1 or something like that and says: "No one else is betting it, so it must not have a chance." That's a terrible way to bet the races as the whole goal is to get better odds than you think a horse's true chances are. If you think that horse has a 10 percent chance to win and you think you're getting a bargain at 20-1, you should feel even moreso at 30-1.
But I often see horseplayers abandon their own handicapping through self-doubt and either bet less because of the rising odds, or not bet it at all. The problem is most of those times, those horses will indeed lose (they are long shots, after all), but it just takes an occasional one to come in to make that cautious approach a bad decision.
OK, let's put this advice to practical use and look at a few races on today's and Saturday's cards.
▶ BC Juvenile Turf (today, post time about 2:25 p.m.): In the aforementioned first BC race today (it's Santa Anita's sixth race for when you call out your bet), European invader Hootenanny (No. 5 in the betting program) is a 3-1 morning-line favorite, and that's not appealing to me in a quality 14-horse field. I was hoping to make a case for Aktabantay as the best overlay among the foreigners, but he was scratched.
So I go to No. 6 Conquest Typhoon at 12-1. He's not from Europe, but raced outside the U.S. in his last start at Woodbine Racecourse in Canada. But the main thing I like is he won his prior race in the Grade 2 Summer Stakes, also at Woodbine, then lost his following race as the favorite, which is part of the reason we're getting a better price. If he had won, he'd probably be in single digits but now he's more likely to be overlooked by the betting public. Now I will use him in exotics with some of the "real" foreigners like No. 1 Wet Sail (15-1), No. 4 Commemorative (8-1), No. 5 Hootenanny (3-1), and No. 7 War Enjoy (9-2) to try for a bigger score.
▶ BC Distaff (today, post time about 4:35 p.m.): This is today's marquee race and the championship race for older fillies and mares. No. 10 Untapable is a certified star with four graded stakes wins in five races this year, but her 5-2 morning-line price is an underlay against a field like this.
I'm going for the gusto with No. 5 Unbridled Forever at 20-1. She's been coming up short in most of her races, but her come-from-behind style could fit this race as several opponents have early speed and could set suicidal fractions and set it up for a closer. I'll be playing her with another long shot, No. 9 Ria Antonia (15-1), and the favorites that I respect the most, No. 7 Don't Tell Sophia (5-1) and No. 10 Untapable (5-2).
▶ BC Classic (Saturday, post time about 5:35 p.m.): This is Saturday's headliner and the race that usually decides Horse of the Year. There are a ton of big-name horses in this field, ones that even casual fans might recognize: No. 6 Shared Belief (the unbeaten 6-5 favorite owned by radio icon Jim Rome), No. 13 California Chrome (the Kentucky Derby and Preakness winner at 4-1), and No. 11 Tonalist (who upset California Chrome in the Belmont and is 5-1).
Despite all that star power, I'm taking unsung long shot No. 4 Moreno (20-1) to steal this. He should be the speed of the speed, and I'll take my chances that no one will catch him, which we sometimes see in races like this. (It helps if the other jockeys let him get a lone lead and he can set comfortable fractions and save something for stretch.) There are multiple ways to play this with so many quality horses, so I haven't narrowed down my exact combinations yet, but I also like No. 2 Cigar Street (12-1), No. 8 Zivo (15-1) and No. 9 Toast of New York (12-1).
Breeders' Cup Seminars
If you want to find out what my final decision is with the wide-open BC Classic and the rest of the Saturday card, I'll be part of a free seminar at the downtown Plaza at 9 a.m. Saturday with Richard Eng of the Las Vegas Review-Journal.
Other seminars are today in three parts of town:
SAM'S TOWN — Eng joins Ralph Siraco of the Race Day Las Vegas radio show at noon on the east side and will be there throughout the afternoon.
SOUTH POINT — Longtime radio host John Kelly moderates a panel including South Point house handicapper Patrick McQuigan and SoCal clocker Toby Turrell at 6 p.m. on the south end of town.
TEXAS STATION — Jerry Jacovitz of Jerry J's Power Page flies solo at 6 p.m. at the locals casinos on Rancho Drive.
Dave Tuley, who has covered the Las Vegas race and sports book beat since 1998, is a writer for ESPN.com. Follow him on Twitter @ViewFromVegas.