Mallett, Razorbacks worthy of Sugar Bowl wager over Buckeyes
December 31, 2010 - 12:00 am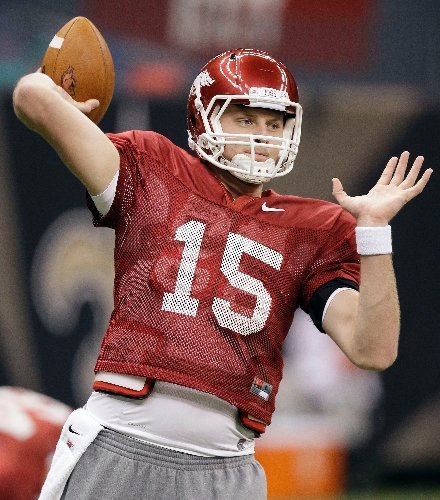 Arkansas junior Ryan Mallett might prove to be the better quarterback in the Sugar Bowl, but he's not getting much attention leading up to Tuesday's game.
Before Ohio State became Tattoo U. and some of its star players were busted for pedaling soft goods and jewelry, the Buckeyes already had their hands full in the matchup with the Razorbacks (10-2).
A close inspection of the Buckeyes' 11-1 record shows that none of their victims was among the top 25 teams in the final Bowl Championship Series standings.
If that's not enough, Ohio State has lost all nine bowl games it has played against Southeastern Conference opponents over the years.
With all that going against them, the Buckeyes also must deal with potential team discord in light of the five-game suspensions handed down by the NCAA to five players, including quarterback Terrelle Pryor, top rusher Dan Herron and receiver DeVier Posey.
Although those suspensions do not take effect until next season, it is difficult to envision Ohio State bringing its optimum focus and energy to New Orleans for its date with the Razorbacks.
Mallett, who has 30 touchdown passes this season and would be a likely top-10 pick in next spring's NFL Draft, said he is "thrilled for the opportunity" to knock off Ohio State in a high-profile game.
Arkansas coach Bobby Petrino has covered 11 of his past 14 games as an underdog. Take the Razorbacks and 3½ points.
More bowl selections between today and Jan. 10:
Sun Bowl, today
■ Notre Dame (+3) over Miami — The Hurricanes are between coaches, as Randy Shannon is out and Al Golden is on the way. Irish coach Brian Kelly has been sterling as an underdog, going 15-2 against the spread in that role at Notre Dame, Cincinnati and Central Michigan.
Chick-Fil-A Bowl, today
■ Florida State (+3) over South Carolina — Quarterback Stephen Garcia, who has been awful in bowls, and his Gamecocks teammates won't be as fired up as they were when they came to the Georgia Dome for the SEC title game this month, only to be crushed by Auburn. Seminoles quarterback Christian Ponder is ready to play, and Atlantic Coast Conference bowl 'dogs are 14-4 ATS since 2005.
Capital One Bowl, Saturday
■ Michigan State (+10) over Alabama — This time last year, the Crimson Tide were preparing to play for the national championship against Texas. Fast forward and Alabama is still trying to figure out what happened in its 28-27 home loss to rival Auburn. The Spartans, who won a piece of the Big Ten title, have more to prove and a lot more incentive.
Fiesta Bowl, Saturday
■ Connecticut (+17) over Oklahoma — Most observers agree that today's Big East is not worthy of a seat at the BCS table. At the same time, however, the Huskies are tired of hearing about it and will use that to their advantage. Jordan Todman, the nation's No. 2 rusher at 143 yards per game, could find room against the Sooners' mediocre run defense.
Orange Bowl, Monday
■ Stanford (-3) over Virginia Tech — Cardinal coach Jim Harbaugh likes his team to play physical and straight ahead, which should negate the Hokies' overall defensive team speed.
Cotton Bowl, Jan. 7
■ Texas A&M-Louisiana State (under 49) — The LSU and Texas A&M defenses allow 17.8 and 20.3 points to rank in the nation's top 30. The Aggies' defense is vastly improved under first-year coordinator Tim DeRuyter.
BCS Championship, Jan. 10
■ Auburn (-2½) over Oregon — The Tigers have the best offensive (Heisman Trophy winner Cam Newton) and defensive (Lombardi Trophy winner Nick Fairley) players. Plus, the SEC pedigree means something; three different teams from the nation's best conference have won the past four BCS titles.
Last week: 3-6 against the spread
Season: 48-60-4
Texas-based handicapper Paul Stone of Vegassportsauthority.com is providing college football analysis for the Las Vegas Review-Journal.