Many top-notch horses, but no guarantees in Kentucky Derby
April 30, 2015 - 11:27 pm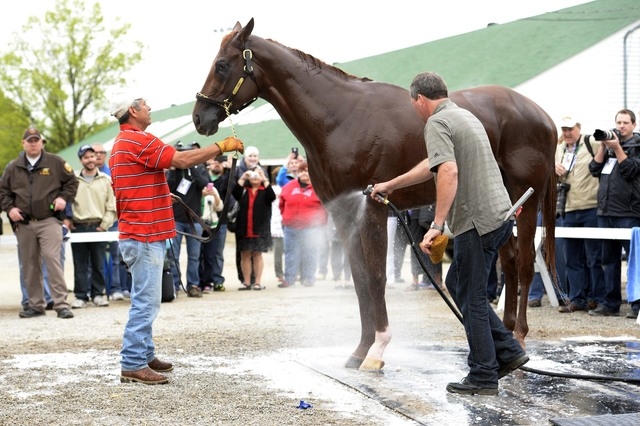 John Avello, Wynn Las Vegas race and sports book director, analyzes the 20-horse field for the Kentucky Derby on Saturday:
It's a great 3-year-old crop, at least with the top six horses. There are exceptional horses in this race. But that doesn't mean one of those horses is going to win, and that's what makes the Derby a special race and a great betting race. People are shooting for a jackpot. That's why the Derby is America's No. 1 betting race.
(Horses listed by post position)
1. Ocho Ocho Ocho (50-1) — This horse had a couple of promising races at the end of last year, but when he faced the top 3-year-olds, the results were not so good. He finished third in the Blue Grass Stakes at Keeneland on April 4. He gets the unenviable No. 1 post position, and finishing ocho (eighth) might be the best he can expect. I'm not going to use him.
2. Carpe Diem (8-1) — His only defeat was in the Breeders' Cup Juvenile at Santa Anita in November, when he placed second to Texas Red. This is one of four horses trained by Todd Pletcher. The post position is awful, and his odds might drift higher because of that. But this is one of those quality horses I mentioned.
3. Materiality (12-1) — This is a fine horse that has won all three of his starts, including the Florida Derby, but that's where my ambiguity begins because I think a horse needs to be knocked around a little and form a solid base. This horse has shown early speed and has got to have a fair amount of it to escape the 3-hole. From what I see, his numbers are fast, but it's just a lack of experience.
4. Tencendur (30-1) — A New York-bred horse, Tencendur finished second to Frosted in the Wood Memorial on April 4. At 21-1 odds, that was a big race for him. I look for him to take a couple steps back after that stellar effort. He doesn't look like the second coming of Funny Cide, a New York-bred horse that won the Kentucky Derby and Preakness in 2003.
5. Danzig Moon (30-1) — His best race was the Blue Grass Stakes in April, when he finished second to Carpe Diem. His last workout at Churchill Downs was impressive. This horse is something to respect and one I would consider in my gimmick wagers.
6. Mubtaahij (20-1) — This horse has seven lifetime races, five in Dubai and two in England. The two to start his career in England were on grass, and he was terrible. But he won four of five at Meydan Racecourse, and a lot of people are really high on this horse. I'm not as high on him. The top echelon of this group is much better than him, in my opinion.
7. El Kabeir (30-1) — Last summer he looked like he might be the Derby favorite. I opened him at 65-1 in the futures book in September, second choice to American Pharoah at 40-1. He ran third in the Wood Memorial. His jockey is Calvin Borel, who has won the Derby three times, but it feels like he will finish somewhere around sixth to eighth.
8. Dortmund (3-1) — Bob Baffert is the trainer for two horses in this race, and they probably will be the first and second choices at post time. Dortmund is undefeated in six starts, and he has improved in each race. He won the Santa Anita Derby on April 4. This is a son of 2008 Kentucky Derby winner Big Brown. He can go to the front or work from a stalking position. This is a perfect post position. He looks like he will play the part of one of the top two contenders.
9. Bolo (30-1) — There is nothing I can look at to knock this horse, and that's why the owners decided to take a shot in this race. But he looks like a turf horse to me, and he ran a distant third to Dortmund in the Santa Anita Derby. Rafael Bejarano is going to ride him for the first time.
10. Firing Line (12-1) — This is definitely one not to overlook. Every year in the Derby, there is some type of wiseguy horse, and he could end up being that horse. He finished second to Dortmund twice and destroyed the field in the Sunland Park Derby in March. He's coming into the race in good shape. He has been impressive in every race, and the masterful Gary Stevens is on board.
11. Stanford scratched; replaced by Frammento (50-1), who will start on the outside post. Trainer Todd Pletcher said Stanford's connections had been unsure about starting the horse in the Derby. "We entered the horse in the race to see what sort of post he might draw," he said.
12. International Star (20-1) — He won all three Derby prep races at Fair Grounds, including the Louisiana Derby, so I think he's something to consider in gimmicks. This horse has heart, and he really tries hard to win a race.
13. Itsaknockout (30-1) — This horse has got the right name for this weekend. I've got to think this is going to be a popular horse in Las Vegas for people picking names. His performance in the Florida Derby was poor, but the track was playing funny that day. That followed his win — via disqualification — in the Fountain of Youth at Gulfstream in February. He could be in line for a piece of the action. This is another horse trained by Pletcher.
14. Keen Ice (50-1) — His only win in seven starts was in a maiden race at Churchill Downs in September. It's not like Keen Ice has been killing it, but there are some attractive things about this horse. In this race, he picks up jockey Kent Desormeaux, who has won three Kentucky Derbys. I could see him picking up fading horses if the race falls apart.
15. Frosted (15-1) — Joel Rosario is an excellent jockey, and Kiaran McLaughlin is a good trainer. His win in the Wood Memorial was huge. This horse had some breathing problems, and had surgery prior to that win to solve those problems. This horse has shown continuous improvement and has got to be considered for a piece of the action.
16. War Story (50-1) — This horse was in perfect position to capture all of the Derby prep races at Fair Grounds, but couldn't get the job done. He ran third in the Louisiana Derby. He has had some gate issues, and in this race, if you can't get out of the gate, your day is over early.
17. Mr. Z (50-1) — There never has been a winner from the 17 spot, and that's going to continue. But what's a Derby without trainer D. Wayne Lukas as a participant? This horse won his first start in July and has gone 11 straight races without a win.
18. American Pharoah (5-2) — Over the past week or so, this horse has gotten about as much hype as the Mayweather-Pacquiao fight. He crushed the field in the Arkansas Derby on April 11 and has four straight wins. Baffert is the trainer, the horse's workouts have been very good and all systems are go. I think he has got enough to win, but most of his experience is against smaller fields. If he had drawn the 8 post like Dortmund, he probably would be 2-1, but since he got 18, he might go off a little higher. If you're good enough, the 18 post shouldn't be an issue, and I think he's good enough.
19. Upstart (15-1) — I think he's a solid contender. This horse puts his best foot forward in every race. He finished first in the Fountain of Youth but was disqualified, and placed second in the Florida Derby. The 19 post is certainly a concern.
20. Far Right (30-1) — This horse is most likely suited for a shorter distance. He finished second to American Pharoah in the Arkansas Derby, but what does that mean? He was a distant second. It's like the Colts finishing second to the Patriots in the AFC Championship Game. And he's got to start from a small town outside of Louisville.
21. Frammento (50-1) — He's an average horse. In three Derby prep races — the Holy Bull, Fountain of Youth and Blue Grass Stakes — his best finish was third, and that was a distant third. I guess just being in the Derby is a big deal for the owners.
Final analysis: In a race like this, I usually don't mess around with the chalks, but I will look at Dortmund for sure. I have to look at Frosted, Firing Line and Upstart. Carpe Diem is a horse I really liked before the draw, and if his odds drift up, I might use him, too. American Pharoah is not going to be my key horse because he will be too short at 5-2 in the 18 post.