Martin Truex Jr., Kevin Harvick should duel at Sprint Cup race
October 7, 2016 - 11:08 pm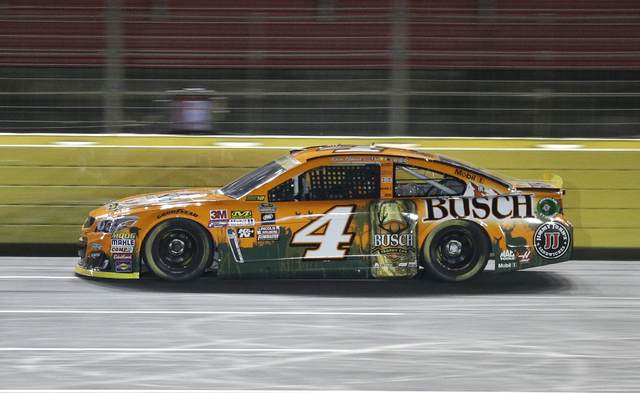 We have a heavyweight battle Saturday night at Charlotte Motor Speedway between Martin Truex Jr. and Kevin Harvick, and even though there are 38 other drivers participating, the race figures to come down to the two favorites at the Westgate.
Let's run down the tale of the tape as though it were a classic Las Vegas boxing match.
In one corner, we have the 4-1 favorite Martin Truex Jr., hailing from Stafford Township, New Jersey, who has won three of the past five Sprint Cup races, including a win last week at his Dover Downs home track. His four wins on the season are tied for the most in the series with Kyle Busch and Brad Keselowski, and his 1,594 laps led this season are the most.
There are only 11 races on 1.5-mile tracks this season, and Truex has won two of the past three. One of those was the Coca-Cola 600 at Charlotte in May, when he led 392 of 400 laps in the most dominant performance at the track since its first Cup race in 1960.
And to top it off, Truex gets some of the best equipment in the business from Joe Gibbs Racing, which has won 15 of 29 races this season. No one is hotter in NASCAR than Truex.
In the other corner, we have 2014 Cup champion Kevin Harvick (5-1), hailing from the tough streets of Bakersfield, California, and looking to cement his Hall of Fame resume by winning another title. He has transformed himself from being a weekly brawler to calculated and reserved since fatherhood in 2012. But make no mistake about it, he's still as tenacious as ever.
Since leaving Richard Childress Racing after the 2013 season, no one has dominated the Cup series on tracks ranging from 1.3 to 1.5 miles like Harvick. He's led a series best 2,074 laps and had 18 top-five finishes in 32 starts, with four wins. If looking at Charlotte specifically, no one has been better than Harvick since 2011, which includes three wins and finishes of ninth or better in nine of his past 10 starts. He's been runner-up the past two races there.
The Westgate has a driver matchup with these two heavyweights, and Truex is listed as a minus-135 favorite because of his current form and last visit to Charlotte. But Harvick was fastest in the only practice session and qualified on the pole Thursday before Hurricane Matthew washed away Friday's two scheduled practices. Truex was third fastest in practice and will start seventh.
My money will take plus-115 on Harvick to finish better than Truex in the matchup, with the one variable being that I don't trust the only Denver-based pit crew in NASCAR to keep up its strong performance. Truex probably should have eight wins this season, but the crew has failed him in critical moments.
BEST LONG SHOTS
Let's take a look at Hendrick Motorsports drivers Kasey Kahne (50-1) and Alex Bowman (100-1), who is driving Dale Earnhardt Jr.'s No. 88 this week.
Kahne had the fastest 10-consecutive lap average in the lone practice session Thursday, and Bowman had the second-fastest lap in practice and qualifying. Kahne has four wins at Charlotte, and among active drivers, only Jimmie Johnson has led more laps (1,740) than Kahne's 1,106.
Micah Roberts, a former sports book director, has been setting NASCAR lines in Las Vegas since 1994. Follow on Twitter @MicahRoberts7