'Mattress Mack' is '1,000 percent against' sports betting in his home state
Updated February 8, 2023 - 2:47 am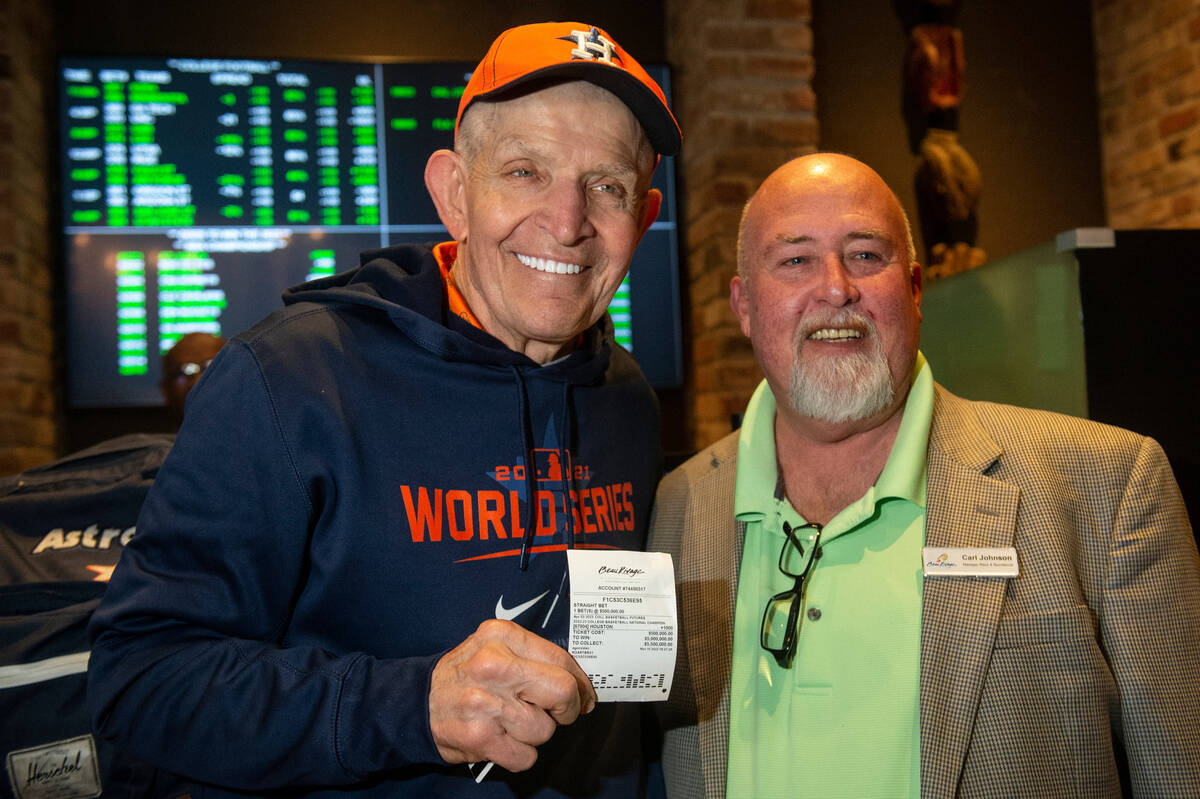 Jim "Mattress Mack" McIngvale is arguably the world's most famous sports gambler. But he is strongly opposed to bringing legal sports betting to his home state of Texas.
"I am 1,000 percent against it from a personal standpoint," McIngvale said. "Having to go to Las Vegas or Louisiana to bet puts the discipline on me where I can't just bet impulsively. I think if I was able to bet impulsively, I would probably have a severe gambling problem.
"We all live in our own world, but my thought is there's probably a lot of people like me."
The Houston furniture store owner has made a bevy of multimillion-dollar bets to reduce risk on furniture promotions, and he won a record $72.6 million last year from wagers on the Astros to win the World Series.
McIngvale has joked in the past that he doesn't have a gambling problem, he has a promotion problem.
"I don't (have a gambling problem). But part of that is I have a fence around me," he said. "If I have an alcohol problem and there's alcohol in the house, I've got a problem. But if I've got an alcohol problem and don't have any alcohol in the house, it's hard to access that problem.
"I just think with all these places around Texas that have legal gambling, we don't need it here."
Two politicians filed bills Monday that would legalize and regulate online sports betting in Texas, one of only 14 states left without legal sports betting. They quickly earned the support of the Texas Sports Betting Alliance, which includes every professional sports team in the state.
"The pitch is it's going to bring in billions of dollars to Texas and all this good. That's a bunch of hooey," said McIngvale, 71. "Just like the wonderful lottery that was going to cure all of our ills is just a huge tax on the poor."
McIngvale put the odds at 50-50 that the legislation will pass.
"I used to say it will not be passed in my lifetime. I don't know how much longer my lifetime is going to go. If it goes 30 more years, it will probably be passed," he said. "But right now I'm happy to be able to go to Nevada or go to Louisiana to do my legal sports gambling."
For the record, McIngvale will turn 72 on Saturday.
"Tell all those people in Nevada to bet the over on me going to 90 years old," he said.
No bets on Super Bowl
A year after he lost $9.5 million in money-line bets on the Bengals in the Super Bowl, McIngvale is sitting out Sunday's game between the Eagles and Chiefs.
"To be a good sports bettor, you have to have a degree of control," he said. "And you have to control your emotions because we all think we're right on every game, and we're quite often not right.
"That's why I'm not betting on this Super Bowl. I can't get an edge, so I'll pass."
He expects to be criticized for his stance on legal sports betting in Texas.
"They can say what they want. My record speaks for itself," he said. "I gamble a lot, and I gamble legally in these other states. Believe me, they ain't getting rich off of my wagers.
"They may like my stance on sports betting. They may not. But at least I'm out there. When I see a good bet, I'm gonna take one. We'll see what happens this year with my world famous Houston Astros."
Contact reporter Todd Dewey at tdewey@reviewjournal.com. Follow @tdewey33 on Twitter.