Mayweather-Pacquiao matchup is 'the only fight out there'
December 4, 2014 - 10:32 pm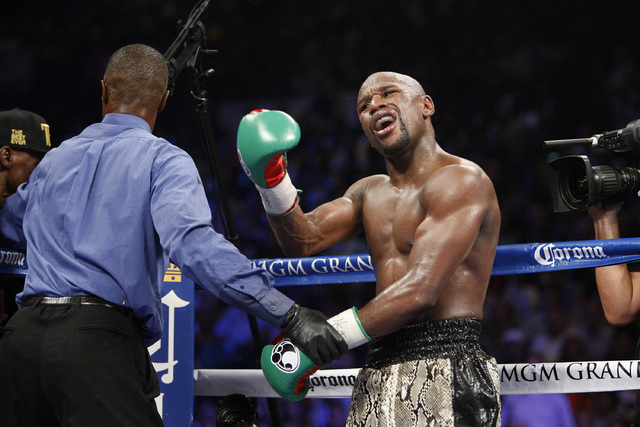 For one reason or another, a fist-to-face meeting between Floyd Mayweather Jr. and Manny Pacquiao is elusive. The drama drags on at the pace of a soap-opera storyline.
A Mayweather-Pacquiao matchup has been the epitome of all talk and no action.
"It's the only fight out there," oddsmaker Jimmy Vaccaro said. "What is there left in boxing?"
Vaccaro opted not to wait any longer, so he started taking action. He opened a line on the fight Oct. 30 at the South Point sports book, posting Mayweather as a minus-300 favorite and Pacquiao at plus-250.
"There was only one significant bet," Vaccaro said, citing a $5,000 ticket on Pacquiao.
The current line is Mayweather minus-260, Pacquiao plus-220. The fight must happen by May 31, 2015, or all wagers will be refunded. Vaccaro suspects the fight could be staged on Cinco de Mayo.
The cynical crowd suspects Mayweather will maintain his defensive stance and dodge Pacquiao's advances. Tim Dahlberg, a Las Vegas-based national columnist for The Associated Press, is separating from the cynics.
Dahlberg, a longtime boxing writer, covered Pacquiao's dominant victory over Chris Algieri in Macau on Nov. 22 and returned home with an optimistic outlook.
"I actually came away from Macau thinking that this fight will happen, though a lot of things would have to come together to make it happen," Dahlberg said.
"Neither fighter has terribly attractive alternatives for big pay-per-view fights, and the window of opportunity for this fight seems to be in either May or June. Pacquiao is now aggressively pushing for the fight, and it seems to have boxed Mayweather into a corner of sorts. Mayweather still has two guaranteed paydays on his Showtime contract, but my guess is that CBS will push for the Pacquiao fight because there are no real good opponents who would maximize his pay-per-view revenues for his next fight."
Interest in the fight was fading until Pacquiao boosted his image by battering Algieri, who was knocked down six times in the welterweight title bout. Pacquiao took a 12-round unanimous decision and, according to Dahlberg, dispelled notions he is on the decline.
Meanwhile, Mayweather (47-0) has aggravated fans by beating a lineup of inferior opponents in uninspiring fashion.
"Mayweather is also facing a growing chorus of put up or shut up," Dahlberg said. "If you're the greatest fighter ever — which he's not — you have to fight the best. Fans are finally coming around to that concept, I believe.
"This being boxing, of course, none of that might matter. The fight faces a lot of obstacles to begin with, but if Mayweather is still stubborn about refusing to fight Pacquiao — name the latest reason — they may be in rocking chairs before it finally happens."
But if Mayweather and Pacquiao do hook up next summer, Dave Cokin is ready to declare a clear winner.
"My feelings have never changed regarding this fight," said Cokin, a Las Vegas handicapper and ESPN Radio host. "I've always believed this would be a good match for Mayweather. He's obviously been money against all styles. But I like Floyd best against guys he's naturally bigger than, and Pacquiao qualifies on that count. Manny has improved his boxing skills over the years but never to the point to win a majority of rounds against Mayweather.
"Anything less than Mayweather minus-300 is a bargain. I might be higher than most on this matchup, but I make it closer to minus-500 and believe Mayweather would win a lopsided decision."
The early wagering is lopsided in Pacquiao's corner. But to be fair, the action is nearly nonexistent. Vaccaro said the South Point has written 10 tickets for about $5,800 on the fight. Nine tickets are on Pacquiao and one on Mayweather.
If the fight gets announced and promoted, however, the handle could be monstrous. Vaccaro recalls booking boxing events in the 1980s and 1990s that generated several million dollars in wagers.
"Between 1979 and '93, there were four big fights a year," Vaccaro said. "The sport has lost its appeal, which is a shame because I enjoyed it so much. That's the sad shape of boxing. There's nothing on the horizon."
Nothing, perhaps, except a Mayweather-Pacquiao matchup that has been burning the ears of fans for years.
"I really want that fight," Pacquiao said after his win in Macau. "The fans deserve that fight."
Bettors are waiting for it with both fists, and one bookmaker already is taking action on it.
Contact reporter Matt Youmans at myoumans@reviewjournal.com or 702-387-2907. Follow him on Twitter: @mattyoumans247.