Micah Roberts' Sprint Cup driver ratings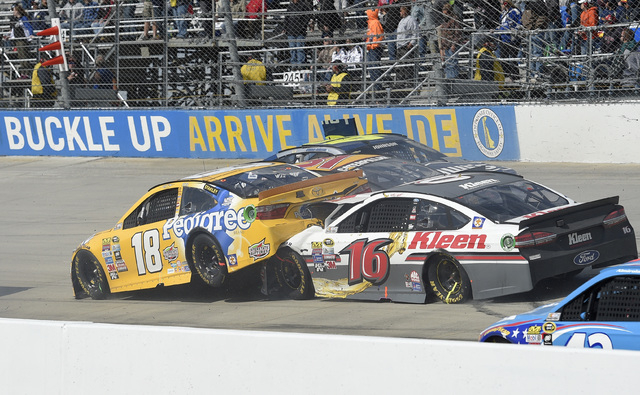 NASCAR Sprint All-Star Race, Charlotte Motor Speedway, Concord, N.C.
6 p.m. Saturday (TV: FS1. Radio: KRLV-AM, 1340)
Rating Driver Odds Atlanta* Las Vegas* Texas* Kansas*
1. Kyle Busch 6-1 3rd 4th 1st 1st
No All-Star wins, but lone driver with top-five finishes on all four 1.5-mile tracks in 2016.
2. Jimmie Johnson 11-2 1st 3rd 4th 17th
Event-record four-time winner (2003, 2006, 2012, 2013). Dale Earnhardt and Jeff Gordon had three.
3. Kevin Harvick 11-2 6th 7th 10th 2nd
2007 winner, runner-up last season using new chassis this week in 16th All-Star start.
4. Matt Kenseth 8-1 19th 37th 11t 4th
2004 winner and active leader with a 6.1 average finish in 15 Sprint All-Star starts.
5. Carl Edwards 10-1 5th 18th 7th 11th
2011 winner has 4.75 average finish in past four points races at Charlotte, including 2015 win.
6. Brad Keselowski 10-1 9th 1st 18th 10th
Led race-high 49 laps in 2015 event, won first two segments but ended up finishing ninth.
7. Kurt Busch 12-1 4th 9th 9th 3rd
2010 winner with 9.9 average finish, third in 2015 using new chassis this week.
8. Joey Logano 8-1 12th 2nd 3rd 38th
Runner-up in 2013 event, finished eighth last year, matching his 8.6 career average.
9. Martin Truex Jr. 10-1 7th 11th 6th 14th
Career-best runner-up in 2010 led race-high 141 laps at Texas and 172 laps at Kansas.
10. Dale Earnhardt Jr. 12-1 2nd 8th 2nd 15th
Won as rookie in 2000 season. Third-best in series with 8.1 average finish in 16 starts.
* Results from the four 1.5-mile tracks raced on this season at Atlanta (Feb. 28), Las Vegas (March 6), Texas (April 9) and Kansas (May 7). Atlanta and Texas races most comparative to Charlotte.
Friday's practice session canceled because of rain.
Note: The Sprint All-Star race is a 113-lap nonpoints event run in three stages, with the winner taking home $1 million. The first two segments are 50 laps, and before the final 13-lap stage, a mandatory pit stop will occur for half the field determined in a random draw. Older tires will have track position, but fresh tires will have the speed.
Odds courtesy of William Hill sports books.
Micah Roberts, a former Las Vegas sports book director, has been setting NASCAR odds since 1994. Follow him on Twitter @MicahRoberts7.