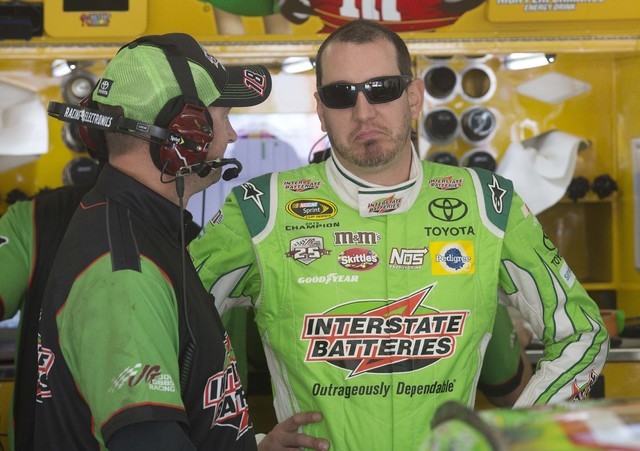 New Hampshire 301
At New Hampshire Motor Speedway, Loudon, New Hampshire
10:30 a.m. Sunday; NBCSP, KRLV-AM (1340)
Rating Driver Odds Practice 1 Qualified Practice 2 Practice 3
1. Kyle Busch 5-1 3rd 2nd 7th 5th
Two-time winner, including last July; second-best 10-consecutive lap average in Practice 2
2. Carl Edwards 8-1 2nd 13th 1st 8th
No wins in 23 starts (13.2 avg.), but had best 10-consecutive lap average in Practices 1 and 2
3. Matt Kenseth 8-1 10th 18th 3rd 3rd
Two-time winner, including last fall; seventh at both similar tracks of Phoenix and Richmond
4. Denny Hamlin 8-1 5th 5th 2nd 2nd
Two-time winner (2007, 2012) with series-best 10.2 average finish; runner-up last fall
5. Kevin Harvick 5-1 21st 8th 4th 4th
2006 winner, third in two of past three starts; best 10-consecutive lap average in Practice 3
6. Brad Keselowski 6-1 11th 9th 8th 6th
2014 winner, runner-up last July and 2011 with 10.4 average finish; goes for third straight win
7. Martin Truex Jr. 15-1 1st 3rd 11th 13th
No wins in 20 starts, but awesome JGR equipment in 2016 makes him automatic contender
8. Kurt Busch 20-1 4th 4th 9th 15th
Three-time winner, none since 2008; last top-five was in 2010; top-10s at Phoenix, Richmond
9. Jimmie Johnson 8-1 15th 1st 14th 7th
Three-time winner, last in 2010; winless in 13 races since victory at Fontana in Week 5
10. Joey Logano 8-1 16th 6th 12th 18th
Site of first career win in 2009; also won in 2014 and then was fourth and third last year.
Note: Best handicapping strategy to begin with is review results from earlier races run at Phoenix and Richmond because both require similar setups to New Hampshire's flat one-mile layout. Drivers good at one usually are as good on the other.
Odds courtesy of Westgate Las Vegas SuperBook.
Micah Roberts, a former sports book director, has been been setting NASCAR lines in Las Vegas since 1995. Follow @MicahRoberts7 on Twitter.