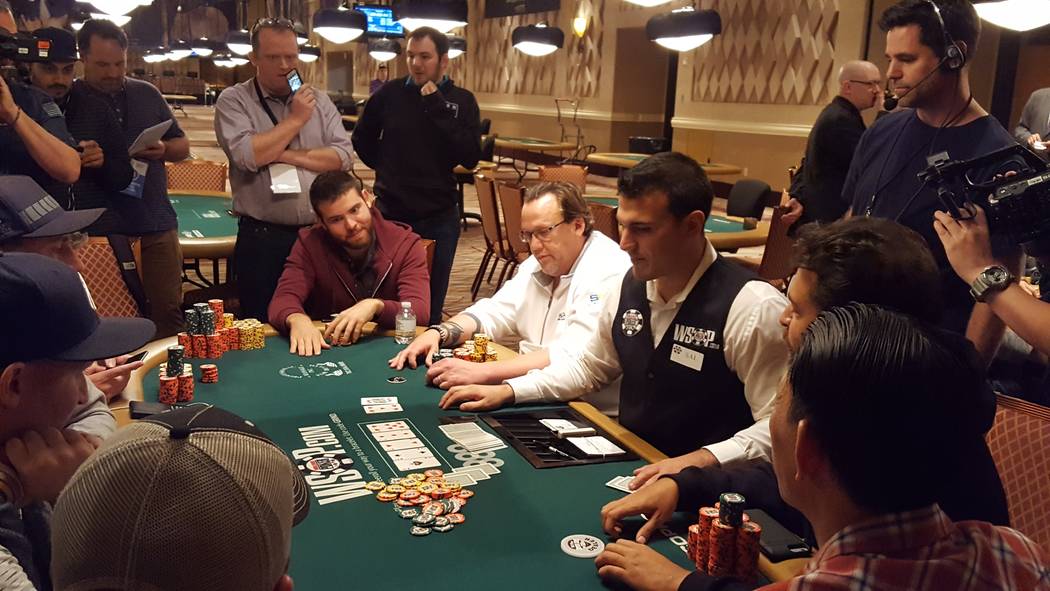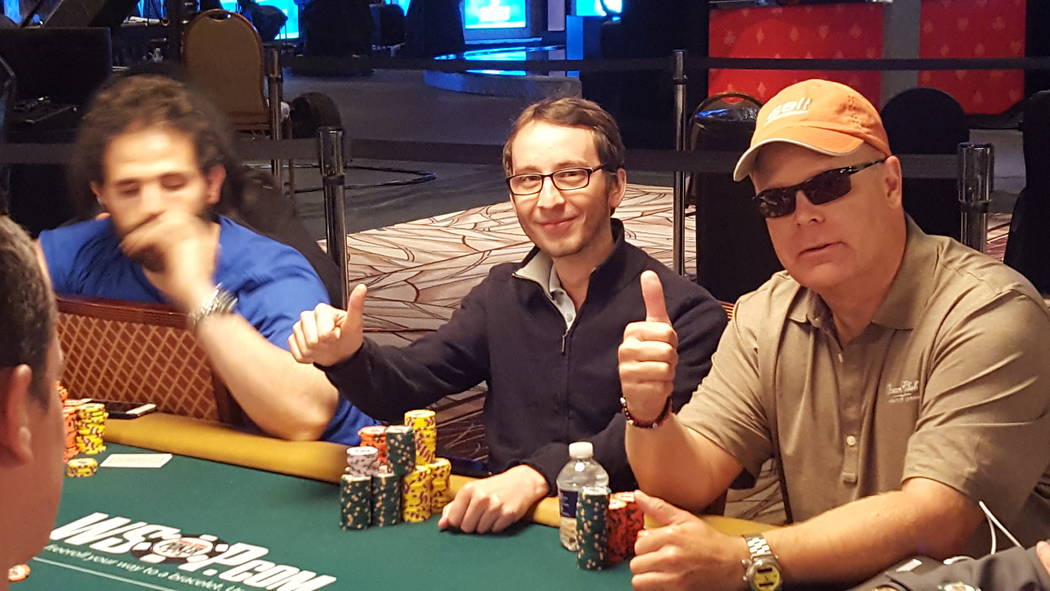 There is an ongoing debate in the poker community about how to make the game fun again.
Here's one solution: More Mickey Craft.
The entertaining resident of Elizabeth, West Virginia, emerged as the early star of the World Series of Poker Main Event and almost certainly will be at one of the featured tables when play resumes on Day 5 at 11 a.m. Saturday at the Rio Convention Center.
Craft arrived approximately an hour late to the table at the start of Day 4 following a long night of celebrating and didn't stop bluffing until action in the $10,000 buy-in No-limit Texas Hold 'em World Championship was complete.
Craft lost a chunk of his stack on the final hand Friday and opens in 27th place with 2.389 million chips. Argentine Damian Salas owns the overall lead with 4.678 million chips, and Sebastian Comel of France is second (4.198 million), as the true contenders begin to emerge.
The 297 remaining players are guaranteed a minimum payout of $35,267.
"I try to make it a goal to triple my stack every day," an exhausted Craft said at the end of the evening Friday. "That's what I'm coming down here to do. I'm focused and determined."
Craft recently sold his roofing business and has been a regular on the tournament poker circuit the past two years. He took third in the $3,000 buy-in Limit Hold 'em event this summer for $69,789.
Craft's carefree attitude at the table comes a year after Englishman William Kassouf put the entire tournament on tilt with his time-consuming and controversial "speech play" during hands.
Craft made several unconventional plays throughout the day and saw his chip stack fluctuate wildly as a result.
Late in the evening, with his eyes struggling to stay open, Craft appeared content to punt away his chips. He made a reckless bluff with complete air against Amir Kaikhah, who was unable to find a hero call.
On the final hand of the night, Craft entered into a preflop raising war with Jack Sinclair and was forced to fold to Sinclair's six-bet, all-in shove, knocking his stack below 3 million chips.
Craft said he expected to tighten up his play going forward in the tournament, which won't be as much fun to watch but would probably serve him well.
Back-to-back?
Poker pros Kenny Hallaert and Michael Ruane remain alive in their quest to reach the Main Event final table for the second straight year.
Hallaert had a huge Day 4 despite being seated at one of the toughest tables and bagged 4.145 million chips, good for third place.
The Belgian was sixth in last year's tournament.
Ruane, who hails from Hoboken, New Jersey, and took fourth in 2016, has 1.564 million chips and opens in 82nd place.
Mark Newhouse is the last player to make back-to-back Main Event final tables, taking ninth in 2013 and 2014.
International invasion
A quick check of the chip count shows a dearth of American players near the top.
The only player from the U.S. in the top 10 is Eyal Maaravi (ninth place), whose hometown is not provided on the official WSOP report.
In all, eight of the top 10 chip stacks are owned by Europeans (6) or Canadians (2).
Excluding Maaravi, the leading American is Randolph Pisane of Hoboken, New Jersey, in 12th overall.
First to (almost) last
Patrick Lavecchia of Sellersville, Pennsylvania, went on a massive heater during Day 3 on Thursday and finished as the chip leader.
He comes into play on Day 5 in 296th place out of 297 remaining players.
That's how quickly fortunes can change in the Main Event.
CHIP COUNT
1, Damian Salas (Buenos Aires) 4,678,000
2, Sebastien Comel (St. Pierre du Mont, France) 4,198,000
3, Kenny Hallaert (Hansbeke, Belgium) 4,145,000
4, John Kelly (Aylesbury, England) 3,973,000
5, Richard Gryko (Romford Essex, England) 3,559,000
6, Cosmin Joldis (Floresti, Romania) 3,500,000
7, Colin Moffatt (Aurora, Ontario) 3,086,000
8, Jonas Mackoff (Vancouver, British Columbia) 3,076,000
9, Eyal Maaravi (U.S.) 3,030,030
10 Valentin Messina (Pantin, France) 2,979,000
Contact David Schoen at dschoen@reviewjournal.com or 702-387-5203. Follow @DavidSchoenLVRJ on Twitter.