Minkin last woman standing again in WSOP's Main Event
Updated July 9, 2018 - 9:55 pm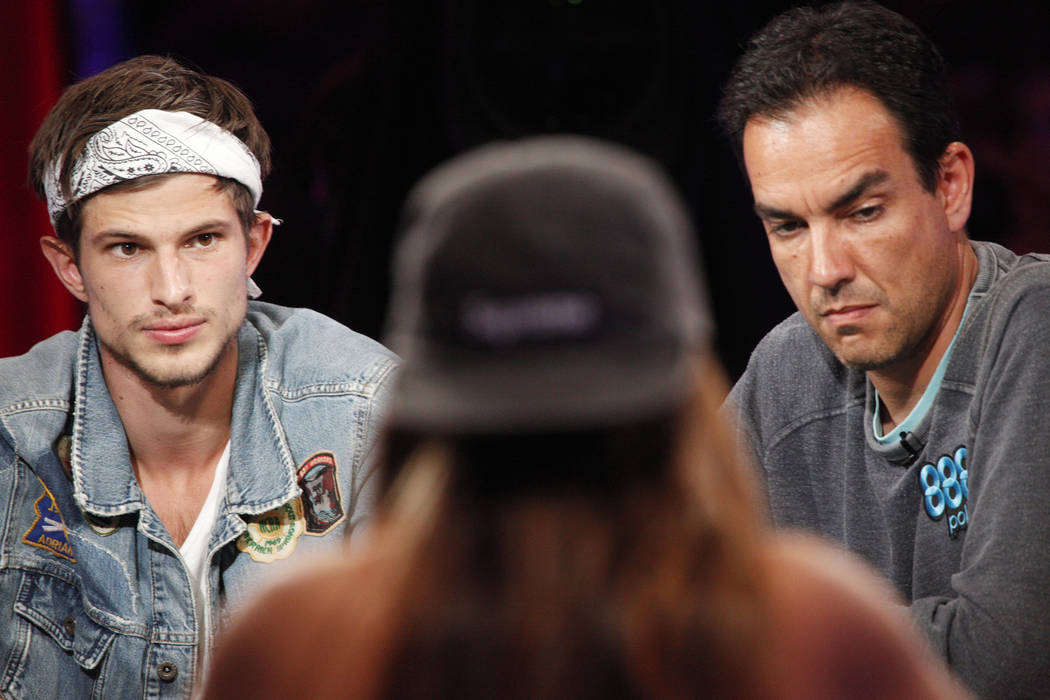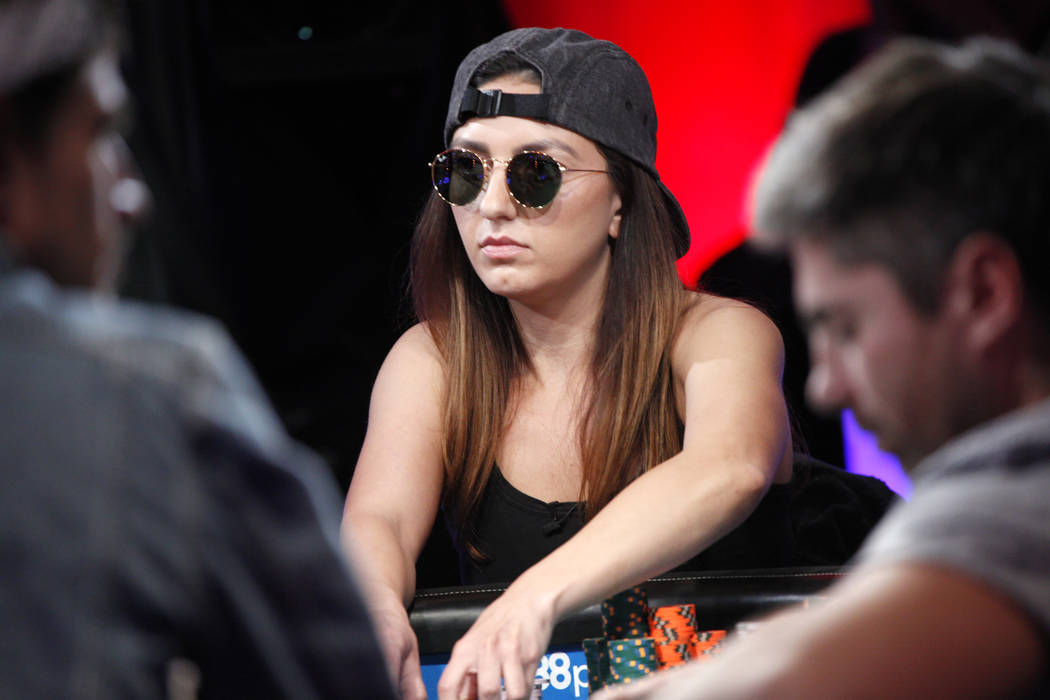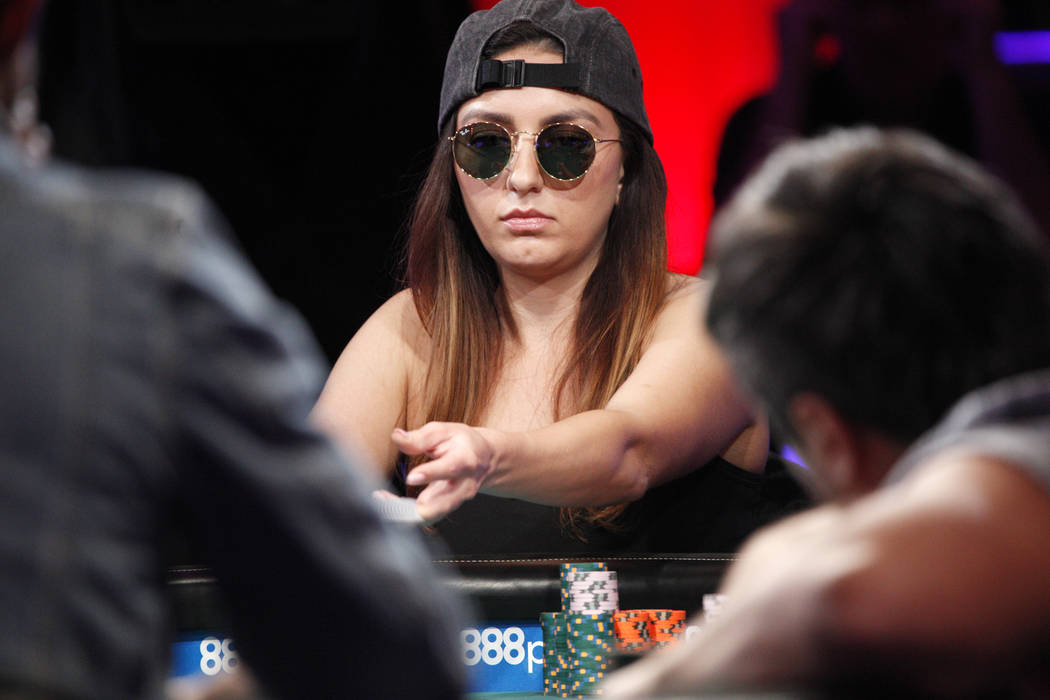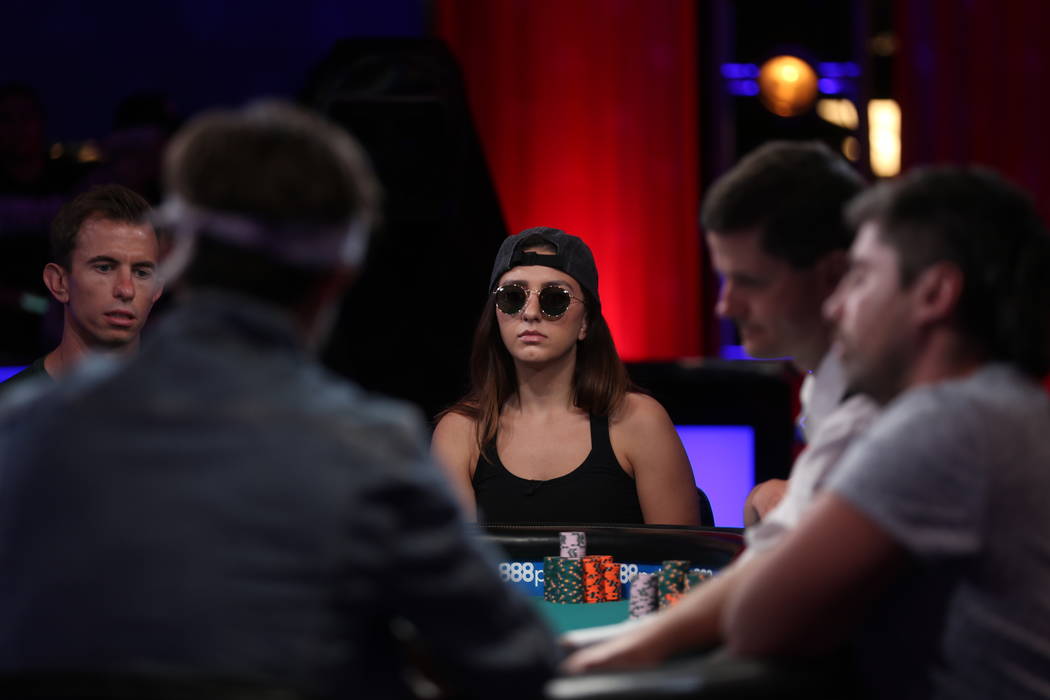 Forget about being the last woman standing. Kelly Minkin expects to be the last person standing in the World Series of Poker's Main Event.
Minkin was the last woman standing in the 2015 $10,000 buy-in No-limit Texas Hold 'em World Championship, placing 29th and winning $211,821.
This year, Minkin has her eyes on the $8.8 million first prize.
"My expectation is to win," the soft-spoken 31-year-old from Tucson, Arizona said during the dinner break Monday night at the Rio Convention Center.
"I'm a lot more confident this year. I feel like I'm in my element so I don't see anything stopping me from making the final table."
Minkin surged to first place with $5.7 million in chips early on Day 5 of the Main Event before dipping to $3.2 million in chips and 49th place at the 8:15 p.m. break with 137 players left and two levels of play remaining.
The field was expected to decrease to about 90 players late Monday or early Tuesday and will be pared to about 27 on Day 6. The tournament is expected to be down to the final table of nine Wednesday, with the champion to be crowned Saturday night.
Minkin is the last woman standing again, joining Maria Ho, Annie Duke and Gaelle Baumann as the only women to finish as the highest female in the Main Event twice.
The only woman to make the Main Event final table is Barbara Enright, who finished fifth in 1995, when the field had only 273 entrants. This year's field was the second-largest ever at 7,874 — including only 301 women — and featured 1,182 cashers.
An attorney, Minkin said being a female in a male-dominated field has its advantages.
"In general, women are stereotyped as weak players. So when you're a woman and you're not a weak player, that is an advantage," she said. "But now that I'm a little more recognizable, it's not really like that anymore. A lot of players are more intimidated of me now."
Long before she started dissecting her opponents on the poker table, Minkin planned on being a surgeon. She graduated from Arizona with a degree in molecular and cellular biology before attending law school in Phoenix.
She actually took the LSAT on a whim and passed it without studying.
"I had heard the LSAT was akin to an IQ test, so I was like, 'Oh, this will be fun,'" she said. "I was just curious to see how it would go and I did well enough to get into law school.
"I ended up procrastinating longer on taking the MCAT and doing (law school) for a year. Once I did that, I realized, 'I can do this,' and so I just stuck with it."
While attending law school, she started playing poker in her spare time with her brother who lived in Los Angeles.
"My brother would take me to the casinos and I would just go for fun. He'd peel me $200 to play the ($1/$2) No-limit (Texas Hold 'em) game and I learned that way slowly," she said. "I started playing on my own and doing well and studying the game and doing better. And then my dad encouraged me to play the Arizona State (Poker) Championship, just so he could rail me."
With her father sweating her cards the whole way, Minkin finished second at the 2013 event for $151,983, her first cash in a live tournament.
She's been off and running since then, placing third at a World Poker Tour event in February 2015 for $262,912 and compiling total live poker earnings of $975,112. Her Main Event cash will push her career winnings over $1 million.
Not bad for someone who's essentially a part-time player. Minkin worked as a medical malpractice defense lawyer until recently taking a six-month sabbatical to travel. She plans to open her own law firm by 2020.
A multi-sport athlete growing up, Minkin said she's always been a very competitive person, a trait that has served her well on the felt.
"When I was younger and my family and I would play Monopoly, we would be yelling and arguing. It was very serious," she said. "I never played games just for fun. It's always to win. So being in the poker arena fits my personality very well."
Contact reporter Todd Dewey at tdewey@reviewjournal.com. Follow @tdewey33 on Twitter.