Mor Spirit set to fire best shot in Kentucky Derby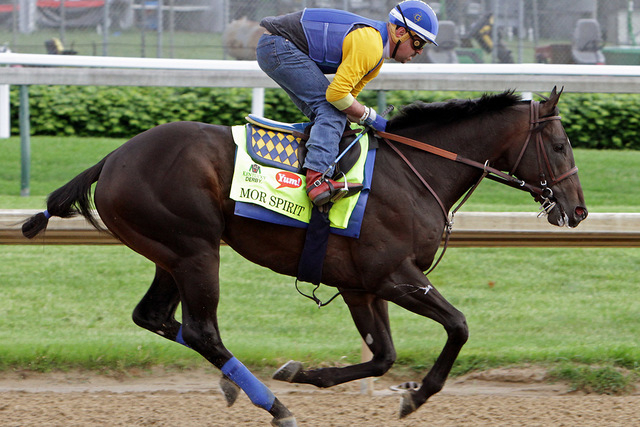 On an annual basis, deciphering the Kentucky Derby is a difficult process for myriad reasons. Twenty 3-year-old thoroughbreds will be asked to tackle a distance they never have encountered in front of a thundering crowd, but that's among the least of the problems in determining the eventual winner in the first leg of the Triple Crown.
First comes the all-important break, where the race can be lost with a stumble or an erratic neighbor in the starting gate. Next comes the run by the grandstand for the first time, which becomes more cluttered than Interstate 15 trimmed to one lane at rush hour.
Enter the jockeys, who need a clock in their head to decide when to push the button on a contender. Go too soon and their charge could flatten out when the serious running begins. Wait too long and the necessary hole to squeeze through could close in an instant.
If it sounds like a confusing enterprise, it most certainly is. But if the pieces of the puzzle are put together properly, the reward can be substantial.
In this event, one has to ultimately take a stand against several strong runners that could be donning the blanket of roses at the end of the day. I'll be going against No. 11 Exaggerator, the 8-1 second choice. He was electrifying in the Santa Anita Derby, but I'm chalking up that performance to a suicidal pace and a sloppy racetrack. It's supposed to be 85 degrees and sunny this afternoon in Louisville.
No. 14 Mohaymen (10-1) was the talk of the town before laying an ostrich-sized egg in the Florida Derby. I can't forgive that flop.
Trainer Todd Pletcher's 15-1 duo of No. 9 Destin and No. 15 Outwork looks solid but unspectacular.
No. 20 Danzing Candy (15-1) will head for the lead and might not look back, according to many. I don't see him lasting, as some horse will press the issue up front.
You start with those you think won't get it done and go from there. Then you find your list of contenders and it becomes even more difficult to separate that group. Let's give it a shot:
• No. 2 Suddenbreakingnews (20-1) is a horse that I firmly believe will at least be part of the superfecta. Can he mow them all down? I doubt it. Watch for him in the Belmont at 1½ miles. He can juice up the exotics prices here with a sustained late run, passing gasping runners in the deep stretch.
• No. 10 Whitmore (20-1) is where my heart and wallet reside at the same time. I'm holding a Derby future ticket at 200-1 on this guy. He runs his heart out every time but has come up just short on several occasions while consistently racing wide at Oaklawn Park. Enter Victor Espinoza, who rides Whitmore for the first time. He has won five of the past six Triple Crown races and is going for his third consecutive Derby win. He knows where to be and when to go. Espinoza could provide Whitmore with a big shot back on the Churchill surface, where he earned his diploma. Fingers crossed.
• No. 13 Nyquist (3-1) is a deserving favorite and should be a factor throughout this race. He has speed when needed and also flashed a stout closing kick in the Breeders' Cup Juvenile in November, when he really made a name for himself. Seven races, seven wins. What's not to like for connections that have won this race before? He'll be right there.
And the winner is … No. 17 Mor Spirit. Unfortunately, the mere mention of trainer Bob Baffert likely drops his morning-line price of 12-1. It's all about peaking on the first Saturday in May, and that mantra applies here.
Watching replays of Mor Spirit's efforts in the San Felipe and the Santa Anita Derby, you would have thought jockey Gary Stevens was aboard for a morning gallop. Everything Mor Spirit has to done to this point he has done of his own accord. This horse has not been asked to fire his best shot to date. The connections were clearly trying to accrue the required points to make this race and leave a lot in the tank for the big day.
How to bet the race is the next big part of the Rubik's Cube. With weather not an issue, there will be few defections on the undercard that can produce big payoffs for the Pick 3 and Pick 4 players leading into the Derby.
I'll make win and place wagers on Mor Spirit. I'll be boxing him in exactas and trifectas with Nyquist, Whitmore and Suddenbreakingnews. As for superfectas, I'd include Arkansas Derby winner No. 3 Creator underneath. He will be rolling late and could pick up the scraps.
It will be a spectacle when the cavalry charge commences at 3:34 p.m. at Churchill Downs. Here's hoping at 3:37 p.m. that many of our collective wallets are fat.
Brian Blessing (Sportsbookradio.com) is a Las Vegas handicapper and radio host.