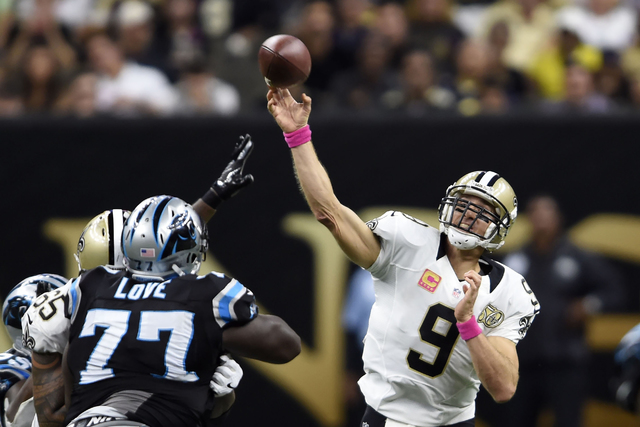 New York Giants (3-3) vs. Los Angeles (3-3)
Where: London
Time/TV: 6:30 a.m., NFLN
Line/Total: Giants -2½, 44½
Bruce Marshall's analysis: The Rams are piling up more air miles than Secretary of State John Kerry. Yet in four road games across many time zones, L.A. has only one spread loss. Meanwhile, the Giants needed some late Odell Beckham Jr. heroics against the banged-up Ravens, who were missing five former Pro Bowlers, to barely get their first cover of the season last week. It seems risky to lay any points with the low-variance Giants.
By the numbers: Beckham totaled 222 receiving yards and two touchdowns a week ago. … The Rams are still looking to spring Todd Gurley, who's averaging 2.9 yards per carry. … Rams coach Jeff Fisher is 15-7-1 under the total in his past 23 games since late in the 2014 season.
Marshall's pick: Rams, 24-23
Minnesota (5-0) at Philadelphia (3-2)
Time/TV: 10 a.m., KVVU (5)
Line/Total: Vikings -3, 40
Bruce Marshall's analysis: After a brief local honeymoon for the Eagles in September, the notoriously fickle sports radio crowd in Philadelphia might be ready to cut loose on the Eagles if they suffer a couple of more losses in a row. Rookie quarterback Carson Wentz is suddenly having a tough time living up to the high early standards he set for himself. Philadelphia defensive coordinator Jim Schwartz is not squeezing as much lately from his platoon, which was trampled for 230 yards rushing by the Redskins last week. This should be a special game for Vikings quarterback Sam Bradford, who was traded from Philadelphia at the end of the preseason.
By the numbers: The Vikings are 5-0 against the spread this season and 18-2 ATS in their past 20 regular-season games. … Bradford leads the NFL in completion percentage (70.4) and ranks No. 2 in passer rating (109.8). … Wentz is seventh in passer rating (99.9).
Marshall's pick: Vikings, 26-17
New Orleans (2-3) at Kansas City (3-2)
Time: 10 a.m.
Line/Total: Chiefs -6, 50½
Bruce Marshall's analysis: Kansas City stayed in character with its annual big effort at Oakland in another Andy Reid-after-a-bye special. But lately those grudge matches versus the Raiders seem to have taken something out of the Chiefs, who have failed to cover seven straight after facing their most-hated rival. Plenty of holes remain in the New Orleans defense, but the Drew Brees-led offense has scored 32 points or more in four of five games this season.
By the numbers: Brees has passed for 14 touchdowns with four interceptions. … New Orleans ranks 31st in total defense by allowing 419.4 yards per game, ahead of only Oakland (444.8). … This is the type of road underdog role — 9-3 in the past 12, including 2-0 this season — in which the Saints have recently flourished.
Marshall's pick: Saints, 31-27
Washington (4-2) at Detroit (3-3)
Time: 10 a.m.
Line/Total: Lions -1½, 50
Bruce Marshall's analysis: Recent developments are enough to back surging Washington, which ran for 230 yards last week versus the Eagles, has won four straight and is 8-2 ATS for coach Jay Gruden in the Redskins' past 10 regular-season games. Detroit has gutted out consecutive wins at Ford Field. But the Lions are asking a lot of quarterback Matthew Stafford, wideout Golden Tate and the aerial game, as the banged-up running back corps is not providing much help and required the emergency signing of well-traveled Justin Forsett.
By the numbers: The Redskins are 22-5 straight up all time versus the Lions. … Washington is 10-1 over the total in its past 11 games. … Kirk Cousins has eight touchdown passes in the Redskins' past four games. … Detroit is 4-6-2 ATS in its past 12 home games.
Marshall's pick: Redskins, 28-23
Cleveland (0-6) at Cincinnati (2-4)
Time: 10 a.m.
Line/Total: Bengals -10½, 45
Bruce Marshall's analysis: Fortunately for Cincinnati, recent losses by other AFC North contenders (and Steelers quarterback Ben Roethlisberger's injury) have kept the Bengals within reach of the division leaders. But at 2-4, it's time for quarterback Andy Dalton to shift gears if the Bengals are serious about keeping the team's five-year playoff streak alive. After facing a collection of rough customers the past month, Cincinnati will feel like it's on a date with Scarlett Johansson at the sight of the winless Browns.
By the numbers: The Browns were outscored by a combined 68-13 in two series losses last season. … Cincinnati has won and covered the past three and four of the past five in the series. … Bengals coach Marvin Lewis is 13-7-1 ATS as a regular-season home favorite since 2013. …. Cleveland is on a 5-11-1 spread skid since early last year.
Marshall's pick: Bengals, 34-20
Buffalo (4-2) at Miami (2-4)
Time: 10 a.m.
Line/Total: Bills -2½, 44½
Bruce Marshall's analysis: I am compelled to back the surging Bills, who are starting to look like the old Marv Levy-Jim Kelly teams. A four-game uptick began when coach Rex Ryan promoted Anthony Lynn to offensive coordinator, sparking a revival of the Buffalo infantry with 312 yards rushing versus the 49ers. LeSean McCoy, who has 290 yards rushing in the past two games, is a game-time decision with a hamstring injury. I'm not sure Miami replicates last week's rare big effort against the Steelers.
By the numbers: Ryan has covered eight of his past 10 against the Dolphins, and the Bills covered five of the past six in this AFC East series. … Buffalo linebacker Lorenzo Alexander is the NFL leader in sacks with eight. … Miami quarterback Ryan Tannehill has been sacked 17 times.
Marshall's pick: Bills, 30-23
Oakland (4-2) at Jacksonville (2-3)
Time/TV: 10 a.m., KLAS (8)
Line/Total: Jaguars -1½, 47½
Bruce Marshall's analysis: Jack Del Rio returns to Jacksonville, where he coached the Jaguars for eight-plus years, making the playoffs twice. Now he arrives with a swashbuckling Raiders crew that is 3-0 straight up and ATS on the road. Oakland historians have begun comparing quarterback Derek Carr to Kenny Stabler for the touch on his touchdown throws. The Oakland defense has its weaknesses, but the offensive line has yielded only seven sacks. Look over the total with these quarterbacks and wide receivers versus vulnerable defenses.
By the numbers: Carr has 12 touchdown passes and three interceptions. … Oakland's Amari Cooper ranks fourth in the league with 585 yards receiving. … The Raiders are 9-2 ATS on the road for Del Rio. … Oakland is 20-10-1 over the total in its past 31 games. … Jacksonville is 14-8 over the total in its past 22.
Marshall's pick: Raiders, 31-27
Indianapolis (2-4) at Tennessee (3-3)
Time: 10 a.m.
Line/Total: Titans -3, 48
Bruce Marshall's analysis: Has Tennessee and its smashmouth running game finally caught up with Indianapolis and its aerial offense? The Colts have captured nine straight series wins. Indianapolis is not the best at stopping the run, but the Colts are not the worst, either. When healthy, Andrew Luck has been among the best quarterbacks when coming off a loss (2-1 this season). Go with Luck over the Titans' running attack in this one.
By the numbers: Luck has been sacked 23 times, the most of any quarterback in the league. … The Titans' DeMarco Murray is the league's No. 4 rusher with 526 yards. … Mike Mularkey is 4-11 ATS as Tennessee coach.
Marshall's pick: Colts, 29-23
Baltimore (3-3) at New York Jets (1-5)
Time: 10 a.m.
Line/Total: Jets -1½, 41
Bruce Marshall's analysis: The Ravens are at the same stadium for a second straight week. The Jets come home from an embarrassing Monday night loss at Arizona that resulted in the benching of quarterback Ryan Fitzpatrick. Baltimore began last week's game with five former Pro Bowl players inactive — wideout Steve Smith (ankle), guard Marshal Yanda (shoulder), linebacker Elvis Dumervil (foot), linebacker C.J. Mosley (hamstring) and kick returner Devin Hester (thigh). Not to mention the absence of rookie left tackle Ronnie Stanley and then the torn triceps by linebacker Terrell Suggs in the loss to the Giants. The Jets' aggressive front seven should bother quarterback Joe Flacco if he plays. Flacco is listed as questionable with a right shoulder injury.
By the numbers: The Jets are 9-4 ATS in their past 13 at home. … New York's Brandon Marshall has been targeted 60 times, but he has only 27 receptions and two touchdowns.
Marshall's pick: Jets, 25-22
San Diego (2-4) at Atlanta (4-2)
Time: 1:05 p.m.
Line/Total: Falcons -6, 54½
Bruce Marshall's analysis: The Chargers benefit from extra rest after their Oct. 13 victory over the Broncos, and that was the fifth time in six games San Diego has gone down to the wire. That win should do wonders for their previously suffering psyche. Rookie linebacker Jatavis Brown (team-high 40 tackles) has been a find in the fifth round, and defensive end Joey Bosa (two sacks in two games) is now contributing. The Chargers can put pressure on Falcons quarterback Matt Ryan. San Diego always seem to have life because of Philip Rivers' marvelous anticipation, quick release and deft touch.
By the numbers: The Chargers are 20-9-1 ATS in their past 30 games as road underdogs. … Ryan leads the NFL with 2,075 yards passing and ranks second with 15 touchdowns. … Atlanta's Julio Jones leads the league with 656 yards receiving. … The Falcons are 5-0 ATS after losing to Tampa Bay in Week 1.
Marshall's pick: Falcons, 31-28
Tampa Bay (2-3) at San Francisco (1-5)
Time: 1:05 p.m.
Line/Total: Pick, 45½
Bruce Marshall's analysis: Tampa Bay enjoyed its bye week, aided by a terrible first-and-goal, end-zone interception tossed by Carolina's Derek Anderson on Oct. 10. However, the Buccaneers might now find themselves in the rare role of a road favorite, in which they are 1-2-1 ATS the past seven-plus years. You must anticipate some game-to-game improvement from 49ers quarterback Colin Kaepernick after he shook off the rust last week. San Francisco coach Chip Kelly is under great pressure to produce. Note that the 49ers' past two home games were versus contenders Dallas and Arizona.
By the numbers: The 49ers are 0-5 ATS since beating Los Angeles 28-0 in Week 1. … Kaepernick hit only 13 of 29 passes, but rushed eight times for 66 yards in his first start of the season last week at Buffalo. … Tampa Bay's Jameis Winston has below-average numbers (58.5 percent completions, nine touchdowns, eight interceptions) and has not improved from his rookie season.
Marshall's pick: 49ers, 30-27
New England (5-1) at Pittsburgh (4-2)
Time/TV: 1:25 p.m., KLAS (8)
Line/Total: Patriots -7, 47½
Bruce Marshall's analysis: This possible playoff preview is now spoiled by Steelers quarterback Ben Roethlisberger's knee injury. You can't trust Landry Jones to trade aerials with Tom Brady, so quickly back in a groove for New England after his four-game absence. The Pittsburgh defense is going through a bit of a transition, which is trouble against the Patriots' myriad formations stemming mostly from their excellent tight ends, Rob Gronkowski and Martellus Bennett. This appeared to be a solid over-the-total play until Big Ben's injury.
By the numbers: In two starts, Brady has completed 76 percent of his passes with six touchdowns and no interceptions. … Brady is 23-16 over the total in his past 39 games as a regular-season visitor. … The Steelers have six straight covers at Heinz Field since late last year.
Marshall's pick: Patriots, 31-22
Seattle (4-1) at Arizona (3-3)
Time/TV: 5:30 p.m., KSNV (3)
Line/Total: Cardinals -1, 44
Bruce Marshall's analysis: This is a big game in the NFC West, and it's even bigger for Arizona, which sits at .500 after ripping the Jets 28-3 on Monday. The road team captured both meetings last year, and the Seahawks have won the past three in Glendale. Seattle quarterback Russell Wilson was still not quite 100 percent last week after his early-season ankle and knee sprains, but he was plenty good enough to overcome a 24-17 fourth-quarter deficit against Atlanta. With three straight wins, the Seahawks are getting things together.
By the numbers: Carson Palmer returned from a concussion Monday to complete 23 of 34 passes for 213 yards and one touchdown. … The visitor is 6-1 ATS in the past seven in this series.
Marshall's pick: Seahawks, 30-24
Houston (4-2) at Denver (4-2)
Time/TV: 5:30 p.m., ESPN
Line/Total: Broncos -8, 40½
Bruce Marshall's analysis: Brock Osweiler returns to Denver, but quarterback bargain Trevor Siemian is out to show his former teammate and recent multimillionaire that John Elway made the right choice in declining to pay a high price for Osweiler. The Texans (0-2 straight up and ATS away) failed to cover on the road against New England and Minnesota. Without a powerful ground assault, the going doesn't figure to get any easier for the Texans versus the Denver defense, which is stinging after back-to-back losses to Matt Ryan and Philip Rivers. With coach Gary Kubiak back on the sidelines, expect him to guide defensive coordinator Wade Phillips into schemes that mesmerized Osweiler the most.
By the numbers: Osweiler has eight touchdown passes and eight interceptions. … Denver has been a dud recently as a home favorite (2-5-1 ATS). … Bill O'Brien is 7-12-1 ATS as an underdog since taking over as Houston coach in 2014.
Marshall's pick: Broncos, 30-12