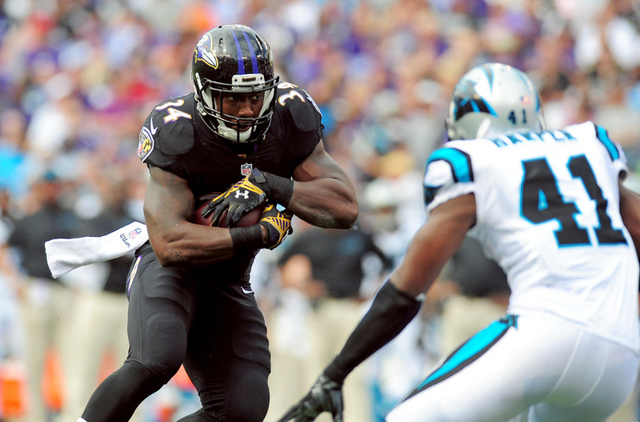 In a long season, every NFL team experiences ups and downs. The Baltimore Ravens were regarded as the class of their division not long ago, but John Harbaugh is now the coach of a last-place team.
After losses at Cincinnati and Pittsburgh, Baltimore is 5-4 and buried in the AFC North cellar.
But the Tennessee Titans could serve as the tonic the Ravens need.
The Titans, 2-6 straight up and 2-5-1 against the spread, have spiraled downward since upsetting Kansas City in the season opener. The team's slump caused coach Ken Whisenhunt to make a move toward the future by promoting rookie quarterback Zach Mettenberger.
In Mettenberger's first road start today, the Titans are 10-point underdogs at Baltimore. The Gold Sheet handicapper Bruce Marshall (goldsheet.com) recommends laying the points with the Ravens, who are favored by 9½ at a few sports books.
"Whisenhunt is being allowed a luxury afforded only specific first-year coaches, that being the risk of sacrificing the rest of a season in order to better figure out a long-term quarterback situation," Marshall said.
"So, for the moment, Whisenhunt is auditioning Mettenberger after effectively deciding that Jake Locker will be allowed to test the free-agent waters after this season. In the short term, that means Tennessee is not planning to use the QB that gives it the best chance to win. That is hardly an endorsement for the Titans."
The Ravens, riding the ups and downs along with inconsistent quarterback Joe Flacco, have won and covered three consecutive home games by an average margin of 23.3 points.
"An angry Ravens side is desperate to get back into the win column after back-to-back losses have put them in catch-up mode in the AFC North," Marshall said. "Baltimore should be able to comfortably extend the margin against the Titans and their rookie QB."
Marshall (@thegoldsheet on Twitter) analyzes the rest of today's Week 10 lineup:
■ Dallas (-7) vs. Jacksonville (at London): The status of quarterback Tony Romo looms large for the Cowboys, who suddenly look fragile after back-to-back defeats. Romo is probable to play with a back injury. The Jaguars are getting better with three covers in their past four games. Denard Robinson, a former Michigan quarterback who's now a running back, provides an unexpected but welcome infantry diversion to help rookie quarterback Blake Bortles. With Romo's situation a bit up in the air, Dallas is a risky proposition at the moment, so I have a slight preference for Jacksonville.
■ Miami at Detroit (-2½): So far, so good in Detroit with coach Jim Caldwell, who seems to have added discipline and accountability to the equation after the Lions often demonstrated too little of either under predecessor Jim Schwartz. But Detroit also defines low-variance with a succession of photo finishes, which makes even laying a reduced price a nervy proposition. The Dolphins are surging, covering three straight, with a rejuvenated pass rush and quarterback Ryan Tannehill on fire since coach Joe Philbin threatened to bench him. Even off a bye week, I'm not sure the recently hurting Reggie Bush and Calvin Johnson are going to be able to make their normal contributions for the Lions. I would rather take points with a hot Miami team.
■ Kansas City (-1½) at Buffalo: The Bills have been itching for this rematch since last season, when they outgained the Chiefs 470-210 but were undone by several crucial mistakes. But the Chiefs and careful quarterback Alex Smith, who has thrown just one interception in the past seven games, are unlikely to feed the Bills' recent takeaway frenzy. Note the seven straight Kansas City covers since an opening loss to the Titans, and the Chiefs have beaten better foes than Buffalo on their extended uptick. Kansas City is also an eye-opening 11-1 ATS in regular-season road games since coach Andy Reid arrived last season, so I prefer the Chiefs at a short price.
■ San Francisco at New Orleans (-5): Of these 4-4 teams, the Saints seem more likely to make a run in the second half of the season. Running back Mark Ingram and tight end Jimmy Graham are healthy and contributing more, and rookie wide receiver Brandin Cooks is a new and dangerous weapon for Drew Brees. The 49ers are still minus key contributors on defense, and the offense is lacking the sharp edge it displayed the past two years, partly because foes are doing a better job of keeping Colin Kaepernick contained in the pocket. New Orleans is also 20-0 straight up and 18-1-1 ATS at the Superdome with Sean Payton on the sidelines since 2011. San Francisco was responsible for that point-spread push in a 23-20 loss last season, but I have to respect the Saints' overwhelming home numbers.
■ Pittsburgh (-4) at New York Jets: Based upon recent results, this almost looks too easy at the posted price. Aside from a contrarian argument, and the fact veteran quarterback Michael Vick was more careful with the ball in his first start last week, the Jets are an awfully hard sell. With Ben Roethlisberger in a historic groove, I would rather ride the Steelers' recent surge than risk picking the week the Jets put things together.
■ Atlanta (-2½) at Tampa Bay: There is a revenge-based argument for the Buccaneers, who were embarrassed 56-14 in the first meeting Sept. 18. But payback for humiliation doesn't always work, especially if fundamental matchups looked as bad as they did for Tampa Bay, which couldn't cover Matt Ryan's receivers. The Falcons have not won since the first meeting, but the Buccaneers have not won or covered at home this season, either, and revenge is a tough argument to make for a team with a 1-8 record. Ryan is more likely to fire the deciding shots than Tampa Bay's Josh McCown.
■ Denver (-11) at Oakland: The Raiders have been more competitive since Tony Sparano replaced Dennis Allen as coach, suggesting Oakland is going to find a win one of these weeks. It's probably not this week, however, especially with angry Denver off a loss and Peyton Manning itching to atone for some rare mistakes last week at New England. While rookie quarterback Derek Carr is progressing, he is not ready to trade points with Manning and the Broncos. Even at a hefty price, Denver should be worth a look. Also, pay attention to the Broncos' over-the-total trend — five straight overs and 50-26-1 over since late in the 2009 season.
■ St. Louis at Arizona (-6½): The revival actually began a long time ago for coach Bruce Arians, under whom Arizona is 13-3-1 ATS since midway in the 2013 season. True, the Rams own recent wins over the Seahawks and 49ers, but they gained fewer than 200 yards last week in the low-scoring win against San Francisco and have yet to cover consecutive point spreads this season. The Cardinals are for real, and since they are not getting hit with a premium by the oddsmakers, I would suggest riding Arians' surging team for at least another week.
■ New York Giants at Seattle (-9): I have some reservations regarding the Giants, who have played in streaks and sagged when things have not gone well, resulting in all five losses by double-digit margins. But the Super Bowl crown appears to be weighing awfully heavy upon Seattle, which has dropped four straight ATS, coach Pete Carroll's longest point-spread skid since taking the job in 2010. The recent trade of Percy Harvin, after the offseason departure of Golden Tate, has left Russell Wilson short of quality receiving targets. The Seahawks have not had an easy game since the opener versus Green Bay, so I prefer to take the points with New York.
■ Chicago at Green Bay (-7): The bipolar Bears are hard to trust. Perhaps coach Marc Trestman repaired the offense in the bye week, but Jay Cutler has been too erratic to provide what the Chicago offense needs, which is more of a ball-control bent to keep a depleted defense off the field as much as possible. The Bears' only spread success in the past eight meetings with the Packers came a year ago on a Monday when Aaron Rodgers was injured in the first quarter and Green Bay had to turn to Seneca Wallace at quarterback. A healthy Rodgers has had Chicago's number. Also, note the strong over-the-total trends both ways — the Packers are 7-1 over this season, and the Bears are 16-7-1 over for Trestman.
COMPILED BY MATT YOUMANS LAS VEGAS REVIEW-JOURNAL