NFL Week 1 betting breakdown: Predictions for every game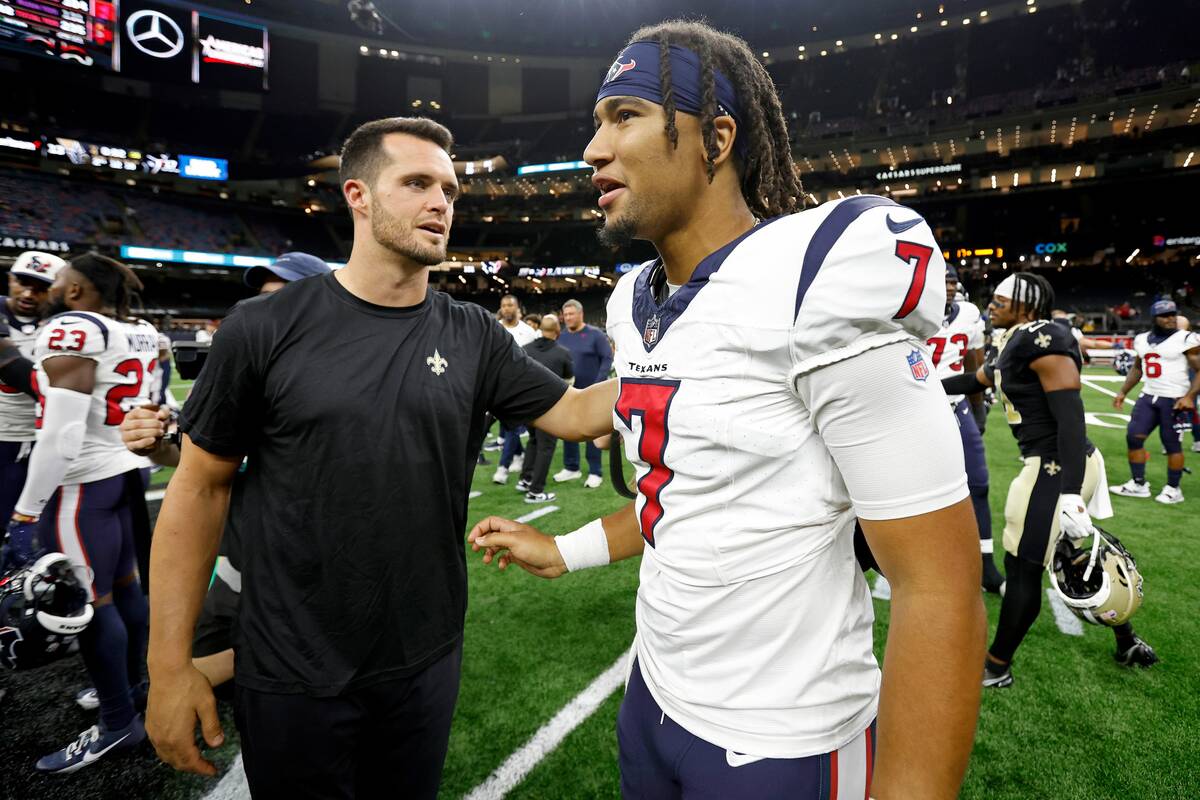 NFL BETTING BREAKDOWN
Scott Pritchard, PritchardsPicks.com
Raiders at Broncos
Time: 1:25 p.m., KLAS-8
Line/total: Broncos -3½, 43½
Analysis: In Las Vegas, it is never about who wins, it is only about who covers. The Raiders have done just that against the Broncos, going 4-0 against the spread in their last four meetings with their division rivals. But I expect that streak to end Sunday in Denver.
Pick: Broncos 24, Raiders 20
Panthers at Falcons
Time: 10 a.m.
Line/total: Falcons -3½, 39½
Analysis: Going into the season, the Falcons are the only team that might challenge the New Orleans Saints for the NFC South division crown. In this matchup, the Falcons are a dismal 1-6 ATS in Week 1 the past seven seasons.
Pick: Falcons 20, Panthers 17
Cardinals at Commanders
Time: 10 a.m.
Line/total: Commanders -7, 38½
Analysis: The Cardinals are the worst team in the league. That's evident because Washington has not been favored by this many points since 2017. I expect Arizona to lose, as no first-year coach has won outright as an underdog of seven points or more on opening weekend since 1995.
Pick: Commanders 24, Cardinals 14
Texans at Ravens
Time: 10 a.m.
Line/total: Ravens -9½, 43½
Analysis: I love betting on the Ravens during the preseason and hate to see it end, as they are world beaters. This Baltimore team is loaded on both sides of the ball, though several key players are questionable for the opener. For the record, the Ravens — who were 10-point favorites before the line dipped — have never lost a game outright when they are double-digit favorites (43-0). The Texans are starting a rookie quarterback in C.J. Stroud and are in for a very long day.
Pick: Ravens 31, Texans 14
Buccaneers at Vikings
Time: 10 a.m.
Line/total: Vikings -5½, 46
Analysis: The Bucs will have their work cut out for them this season, as the Saints are the class of the division. Minnesota went 12-0 straight-up last season when favored. Home cooking will come into play in this contest, and I expect the Vikings to prevail.
Pick: Vikings 27, Buccaneers 20
Bengals at Browns
Time: 10 a.m., KLAS-8
Line/total: Bengals -2, 47½
Analysis: Cincinnati has been extremely tough on the road the past two seasons, covering the spread at an amazing rate of 17-5, including playoffs. But the Browns will give them all they can handle at home and then some.
Pick: Browns 24, Bengals 23
Jaguars at Colts
Time: 10 a.m.
Line/total: Jaguars -5, 46
Analysis: Jacksonville has some real talent and will win the AFC South going away. The problem is the Jaguars are only 1-7 ATS as favorites since 2020. But the Colts have bigger problems, as they are a woeful 0-7-1 ATS in Week 1 the past eight years.
Pick: Jaguars 27, Colts 20
Titans at Saints
Time: 10 a.m.
Line/total: Saints -3, 41½
Analysis: Look out for Derek Carr and the New Orleans Saints. This team is loaded with talent at the skill positions. They return a top-five defense, and cornerback Marshon Lattimore, their best defensive player, is back after missing most of last season. Wide receiver Michael Thomas is healthy, and Carr has a major chip on his shoulder. Throw in a cupcake schedule, and this team will surprise. The Titans are on a 23-14 cover run as underdogs.
Pick: Saints 24, Titans 17
49ers at Steelers
Time: 10 a.m., KVVU-5
Line/total: 49ers -2½, 41½
Analysis: What a game this should be. The Steelers, under coach Mike Tomlin, always compete at home. The Niners are 0-3 ATS in Week 1 the past three seasons. Pittsburgh is just the opposite, riding a 3-0 ATS streak in Week 1 the past three years. Something has got to give.
Pick: 49ers 23, Steelers 20
Packers at Bears
Time: 1:25 p.m., KVVU-5
Line/total: Bears -1½, 42
Analysis: Green Bay has owned the Bears, winning and covering the last eight meetings in the NFC North series. That was then, and this is now. Chicago will respond at home. No Aaron Rodgers for the Packers means no problem for the Bears.
Pick: Bears 24, Packers 20
Eagles at Patriots
Time: 1:25 p.m.
Line/total: Eagles -4, 45
Analysis: Philadelphia is coming off an outstanding season in which it advanced to the Super Bowl before Nick Sirianni was outcoached by Andy Reid and the Chiefs erased a 10-point deficit in the second half en route to a 38-35 win over the Eagles. The Patriots are a value bet as home underdogs under coach Bill Belichick, though they did go 0-3 last season in that role.
Pick: Eagles 23, Patriots 20
Dolphins at Chargers
Time: 1:25 p.m.
Line/total: Chargers -3, 51
Analysis: Miami played one of its worst games last season in a 23-17 loss to the Chargers. I expect a better outing Sunday. One impressive stat for Los Angeles: It's 8-1-2 ATS in Week 1 the past 11 years.
Pick: Chargers 28, Dolphins 24
Rams at Seahawks
Time: 1:25 p.m.
Line/total: Seahawks -5½, 46
Analysis: Wow, how the mighty have fallen. The Rams were just in the Super Bowl a year and a half ago. What a difference 18 months can make. The good news for Los Angeles, which went 5-12 last season, is that they own the Seahawks. The Rams are 8-1 ATS against Seattle in their last nine meetings, including playoffs.
Pick: Seahawks 27, Rams 20
Cowboys at Giants
Time: 5:20 p.m., KSNV-3
Line/total: Cowboys -3½, 45
Analysis: How the heck did Giants coach Brian Daboll win the NFL Coach of the Year award last season? They finished third in the NFC East. The Eagles and Sirianni won the same division and finished tied for the best record in the league at 14-3. The Giants did cash more tickets than any other team last season, leading the league with a 14-5 ATS mark. Maybe that is worth some votes.
Pick: Cowboys 27, Giants 20
Bills at Jets
Time: 5:15 p.m. Monday, ESPN
Line/total: Bills -2½, 45½
Analysis: The Bills are the better team, but Jets quarterback Aaron Rodgers is 6-1 ATS as a regular-season underdog. The good news for Jets fans is this is not a playoff game, where Rodgers almost always chokes. Something to look forward to in January.
Pick: Bills 27, Jets 17