NFL Week 17 betting breakdown
December 30, 2017 - 3:29 pm
Updated December 30, 2017 - 3:47 pm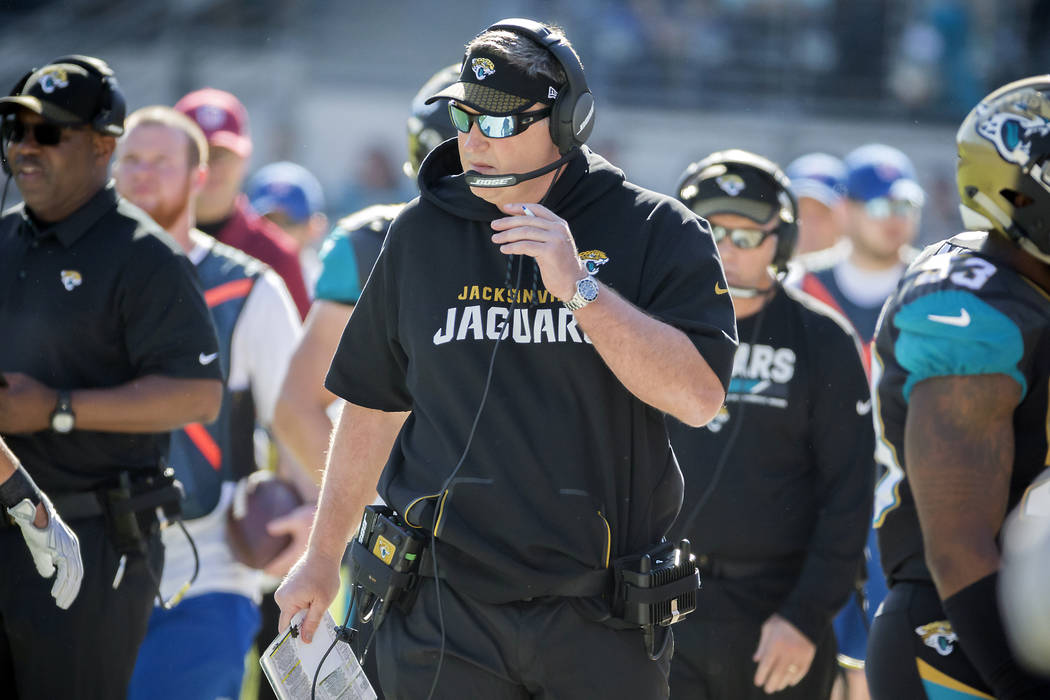 Bengals (6-9) at Ravens (9-6)
Time: 1:25 p.m.
Line/Total: Ravens -9½, 40
Analysis: A win puts Baltimore in the playoffs, but winning games straight up and winning them by double-digit margins are two very different things. Joe Flacco has the worst QB rating of his career and the Ravens haven't covered a spread of more than four points this season against any team not named the Browns. Cincinnati gave a great effort for embattled coach Marvin Lewis in last week's upset of Detroit.
By the numbers: The Bengals are on a 17-7 ATS streak in December. … The Ravens are on a 12-3-1 ATS run vs. the AFC North.
Pick: Ravens, 24-17
Packers (7-8) at Lions (8-7)
Time: 10 a.m.
Line/Total: Lions -7, 43
Analysis: Young quarterbacks are usually far better at home than in hostile environments but the opposite is true of Green Bay's Brett Hundley. He's thrown seven interceptions and no TDs at Lambeau Field, with a passer rating of 50.6. On the road, he has a 97.6 rating after throwing seven TDs in three starts. The Packers went 3-0 ATS in those contests, with two outright upsets. But Green Bay isn't used to playing meaningless games at this time of the year and the Lions are fighting to save popular — in the locker room, at least — coach Jim Caldwell's job.
By the numbers: The Packers are on a 35-17 over streak on the road, a 16-5 over run vs. the NFC and a 21-7 over run overall. … The last four meetings have gone over.
Pick: Lions, 30-17
Bills (8-7) at Dolphins (6-9)
Time: 1:25 p.m.
Line/Total: Bills -2½, 42½
Analysis: I moved to Las Vegas in 1998. The 'Music City Miracle' took place following the 1999 regular season. That was Buffalo's last playoff appearance. The Bills need multiple teams ahead of them to lose in order to end the longest current playoff drought in the NFL. It's certainly not like this is a battle-tested squad in big must-win games. Miami has looked sluggish and lethargic in each of its last two contests, including an ugly showing from Jay Cutler against these same Bills in Buffalo two weeks ago. But the Dolphins have played well at home all year, notching outright upsets over the Broncos and Patriots in their last two games in Miami.
By the numbers: The Bills are on a 15-6 over uptick following a loss. … The Dolphins are on an 8-2 over surge.
Pick: Dolphins, 21-20
Panthers (11-4) at Falcons (9-6)
Time: 1:25 p.m., KVVU-5
Line/Total: Falcons -3½, 45
Analysis: Atlanta has won only three games by more than a field goal in the last three months: 25-20 over the Jets, 27-7 over Dallas without Ezekiel Elliott and 34-20 over Tampa Bay without Jameis Winston. But the Falcons are being priced like all the other must-win teams this week despite the fact that the Panthers are red hot. Carolina is 7-1 straight up and 6-2 ATS in their last eight games. The Panthers have clinched a playoff spot, but they're playing for a chance at the No. 2 seed and a first-round bye.
By the numbers: The Panthers are on a 7-2 ATS streak on the road. … The under is 7-1-1 in the last nine meetings. … The home team is 8-2 ATS in the last 10 meetings.
Pick: Panthers, 24-23
Saints (11-4) at Buccaneers (4-11)
Time: 1:25 p.m.
Line/Total: Saints -6, 49
Analysis: Three of Tampa Bay's last four losses have been by a field goal and seven of its 11 losses this season have been by six points or fewer. Despite the results, the effort was enough to save coach Dirk Koetter's job. The Saints haven't clinched their division yet, and they've taken care of business away from home all year with wins and covers at Carolina, Green Bay, Buffalo and in London against the Dolphins.
By the numbers: The Saints are on a 13-3 spread streak vs. NFC South foes and on a 13-4 ATS uptick on the road. … The Buccaneers are on an extended 24-49-1 ATS slide at home.
Pick: Saints, 27-17
Jaguars (10-5) at Titans (8-7)
Time: 1:25 p.m.
Line/Total: Titans -2½, 41½
Analysis: Jacksonville is locked into the No. 3 seed, but coach Doug Marrone has vowed to play his starters this week. Following the Jaguars' dismal 44-33 loss at San Francisco last week, he said "Make no mistake about it … we're going to play to win and we're going to do everything possible to win this game, period." The Titans are in must-win mode for the fourth straight week because they've lost their first three must-win games.
By the numbers: The Jaguars are on a 6-0 ATS run following a loss and they're 9-3-2 ATS in the last 14 meetings.
Pick: Jaguars, 20-17
Jets (5-10) at Patriots (12-3)
Time: 10 a.m., KLAS-8
Line/Total: Patriots -15, 43
Analysis: Incredibly, the Patriots are still an undervalued commodity at this stage of the season and of their franchise trajectory. The Pats can snare another No. 1 seed in the AFC with a victory here. That said, this is most assuredly not a meaningless game for the home favorite. Bryce Petty and/or Christian Hackenberg playing in the cold of Foxboro aren't exactly inspiring choices for this bettor.
By the numbers: The Patriots have won eight of their last nine home finales by at least 14 points and seven of nine by at least 17. … Over the last two seasons, New England leads the NFL with a 23-8 ATS mark.
Pick: Patriots, 35-7
Texans (4-11) at Colts (3-12)
Time: 10 a.m.
Line/Total: Colts -5½, 41
Analysis: Houston has lost each of its last four games by double digits, including a 45-7 loss to Jacksonville and Monday's 34-6 defeat to Pittsburgh. The Texans' lone playmaker, wide receiver DeAndre Hopkins, is expected to miss the first game of his five-year NFL career. Of course, Indianapolis isn't Jacksonville or Pittsburgh. The Colts' largest margin of victory was in a 20-14 win over these same Texans.
By the numbers: Houston is on a 5-0 ATS surge off a double-digit home loss. … The Colts are on a 4-9-1 ATS slide following a cover.
Pick: Colts, 31-13
Browns (0-15) at Steelers (12-3)
Time: 10 a.m.
Line/Total: Steelers -6½, 36½
Analysis: How little do running stats matter in the modern NFL? Cleveland tells the story. The Browns have the No. 1 rush defense in the league but they're 3-12 ATS. Yet the sharp money has poured in on Cleveland again this week as it tries to avoid the ignominy of an 0-16 campaign. Of course, the Steelers are expected to sit Ben Roethlisberger and Le'Veon Bell, joining Antonio Brown in street clothes on the sidelines.
By the numbers: The Browns are on a 7-24 ATS slide after an ATS loss. … Pittsburgh is on a 7-1-1 ATS streak in Week 17.
Pick: Steelers, 23-14
Redskins (7-8) at Giants (2-13)
Time: 10 a.m.
Line/Total: Redskins -3, 39½
Analysis: Eli Manning said he wants to finish his career with the Giants. But he was essentially a no-show in New York's 23-0 loss at Arizona last week, and he threw for only 113 yards in a 20-10 loss to the Redskins on Thanksgiving. Washington has notched back-to-back wins and covers against bottom feeders the past two weeks and a .500 finish has never been a particularly strong Week 17 motivator.
By the numbers: The Giants are 8-1 straight up and 7-2 ATS in the series coming off a loss. … The Redskins are on a 1-8 spread skid on the road vs. NFC East foes with revenge off consecutive defeats.
Pick: Giants, 22 -21
Bears (5-10) at Vikings (12-3)
Time: 10 a.m., KVVU-5
Line/Total: Vikings -12, 38
Analysis: The Vikings lead the NFL with an 11-4 ATS mark and have won and covered nine of their last 10 games. The Bears have won two of their last three games, but they've struggled all year against quality defenses on the road, suffering ugly blowouts at Detroit, Philadelphia, Tampa Bay and Green Bay.
By the numbers: The Bears are on a 2-8 spread slide following a win. … The Vikings are 44-20 ATS in the Mike Zimmer era.
Pick: Vikings, 24-14
Cowboys (8-7) at Eagles (13-2)
Time: 10 a.m.
Line/Total: Cowboys -3, 39
Analysis: Eagles coach Doug Pederson said that, despite already clinching the NFC's No. 1 playoff seed, all of his starters will play against the Cowboys. He didn't say for how long but the Cowboys don't have a lot to play for, either, after they were eliminated from playoff contention in last week's home loss to the Seahawks.
By the numbers: Dallas is on a 5-15-1 ATS slide against an opponent with a winning record. … The Eagles are on a 1-3 ATS slide overall.
Pick: Eagles, 22-19
Raiders (6-9) at Chargers (8-7)
Time: 1:25 p.m., KLAS-8
Line/Total: Chargers -7, 42
Analysis: The Chargers have won four straight at home and covered three of them despite virtually non-existent crowd support. But this game feels different, with Raider Nation primed to invade the StubHub Center and make it feel like a home game for Oakland. Philip Rivers hasn't come up with many big wins in his career. If the Titans and Ravens both win, Los Angeles will be playing for pride, not for a playoff spot.
By the numbers: The Raiders are on a 6-0 under run overall and a 7-1 under surge vs. the AFC West. … The Chargers have gone under in 11 of their 15 games this season.
Pick: Raiders, 17-16
Cardinals (7-8) at Seahawks (9-6)
Time: 1:25 p.m.
Line/Total: Seahawks -8½, 38
Analysis: The Seahawks won and covered at Dallas last week despite having more penalty yards than total offensive yards. That's bad news against a surprisingly solid Cardinals defense that's allowed a total of 22 points in the last three games. Seattle has lost three of its last four at home to the Rams, Falcons and Redskins.
By the numbers: Seattle is on a 1-4 spread skid at home and on a 1-4 ATS skid following a win. … The favorite is on an 0-5 ATS slide in the series and the road team is on a 6-0 ATS surge.
Pick: Seahawks, 17-13
Chiefs (9-6) at Broncos (5-10)
Time: 1:25 p.m.
Line/Total: Broncos -4, 37½
Analysis: Paxton Lynch hasn't looked the part of an NFL starting quarterback. But he'll get one more shot to impress the brass this week, despite a bum ankle that has limited his effectiveness in practice. Kansas City will give Patrick Mahomes his first NFL start against a defense that still has elite numbers. The Broncos are ranked second in the NFL in total defense.
By the numbers: The road team is 6-2 ATS in the last eight meetings. … Denver is on a 2-9 ATS slide and Kansas City is on a 9-1 ATS run vs. the AFC West.
Pick: Chiefs, 23-13
49ers (5-10) at Rams (11-4)
Time: 1:25 p.m.
Line/Total: 49ers -4, 43½
Analysis: The 49ers' season win total was five. With a fifth consecutive win this week, San Francisco will deal under bettors a brutal beat. Jimmy Garappolo has completely transformed this squad. Los Angeles is expected to give limited playing time to starters.
By the numbers: The Rams have a 10-5 over-under record this season and the Niners have gone over in their last two games.
Pick: 49ers, 27-16