NFL Week 3 betting breakdown: Predictions for every game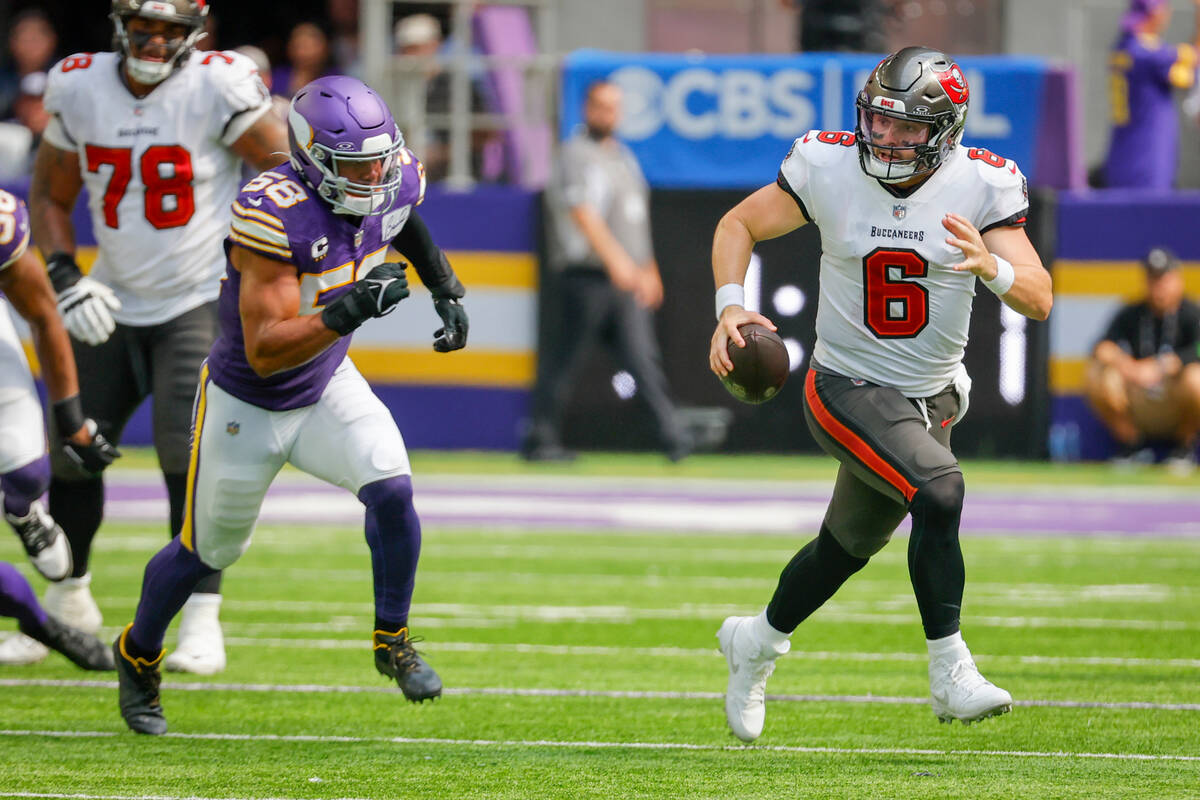 NFL BETTING BREAKDOWN
Lou Finocchiaro, GambLou.com, @GambLou
Steelers (1-1) at Raiders (1-1)
Time: 5:20 p.m., KSNV-3
Line/total: Raiders -2½, 43
Analysis: Such history here in a matchup of two of the NFL's most iconic franchises. The Raiders host the Steelers in their home opener after splitting their first two games on the road. The lookahead line for this game was a pick'em at the Westgate SuperBook, so there's a tax on the Raiders at home here. While each team has struggled on offense thus far, the Steelers have the 12th-ranked defense (Defense-adjusted Value Over Average), which appears to be a far more formidable platoon than the 31st-ranked Raiders. Bet Steelers teaser legs all day.
Pick: Steelers 20, Raiders 18
Chargers (0-2) at Vikings (0-2)
Time: 10 a.m.
Line/total: Vikings -1, 54
Analysis: Desperation mode for two aspiring playoff contenders, as the loser will fall to 0-3. The Chargers are dealing with an injured running back in Austin Ekeler, their second road game in a row and an inability to close out football games. The Vikings have lost two straight one-score games after dominating in that situation last season. The lookahead number on this game was Vikings -2½. Based on that, I do feel there is some advantage with the home squad in what should be an old-fashioned shootout.
Pick: Vikings 34, Chargers 32
Titans (1-1) at Browns (1-1)
Time: 10 a.m.
Line/total: Browns -3½, 39½
Analysis: The Browns return home to play on a short week after Monday night's loss to the division rival Steelers. The loss of running back Nick Chubb may decimate Cleveland's offense, but former Browns running back Kareem Hunt has been signed to help carry the load. The Titans enter this game with stability at the running back position but instability at quarterback, where Ryan Tannehill has struggled to a 69.9 percent QBR. Cleveland's injuries on offense, coupled with Tennessee coach Mike Vrabel's game plan, mean this one will be all about ball control.
Pick: Browns 19, Titans 18
Texans (0-2) at Jaguars (1-1)
Time: 10 a.m.
Line/total: Jaguars -8, 44
Analysis: The Texans are progressing with a totally revamped team, coaching staff and front office. Offensive line instability is causing stress throughout Houston's squad, as momentum can't begin without continuity up front on offense. The Jaguars must focus on winning these next two home games after being slapped around by the world champion Chiefs in their litmus test last week.
Pick: Jaguars 23, Texans 16
Patriots (0-2) at Jets (1-1)
Time: 10 a.m.
Line/total: Patriots -3, 36
Analysis: In another AFC divisional contest, New England's season hopes rest on an offense built around ball control and void of explosion and big-play ability. The trouble is that quarterback Mac Jones is prone to turning the ball over, as he struggles to decipher defenses while the Patriots are taking poor penalties. The Jets understand that their special teams and defense must band together to help the offense until a solution arrives at quarterback. A defensive tussle here.
Pick: Patriots 18, Jets 17
Saints (2-0) at Packers (1-1)
Time: 10 a.m., KVVU-5
Line/total: Packers -1½, 42½
Analysis: The Saints are one of three 2-0 teams in the NFC South. But New Orleans features the division's most dynamic defense and an offense that is beginning to jell under new quarterback Derek Carr with a revitalized group of wide receivers led by Michael Thomas. This trip to Green Bay is less daunting to a dome team when it occurs in the beauty of a Wisconsin fall. But the Saints will need to contend with a Packers team that is well-coached, young and playing its home opener at Lambeau Field.
Pick: Packers 21, Saints 19
Broncos (0-2) at Dolphins (2-0)
Time: 10 a.m., KLAS-8
Line/total: Dolphins -6½, 48
Analysis: The Broncos dropped their first two home games and now travel into the heat, humidity and thunderstorm activity of Miami, where they'll take on the undefeated Dolphins in their home opener. The Broncos' offense has shown glimpses of effectiveness, but Denver's defense, which had trouble stopping the Raiders and the Commanders, now faces the potent Dolphins arsenal that is long on explosive play potential. One favorable situation for the Broncos is that the Dolphins play Buffalo next week, rendering Miami as potentially ripe for a letdown.
Pick: Dolphins 25, Broncos 16
Bills (1-1) at Commanders (2-0)
Time: 10 a.m.
Line/total: Bills -6½, 43
Analysis: It's critical that the Bills keep their focus on the Commanders as opposed to next week's AFC East showdown against the Dolphins. Buffalo continues to search for continuity and balance in its ground game to complement its already potent passing attack. Washington arrives a team with an emerging quarterback, great talent on both sides of the ball, momentum and an offense that is beginning to score points in bunches. Let's not overlook a defense that can pressure opposing quarterbacks. I see plenty of points in this contest.
Pick: Bills 29, Commanders 25
Falcons (2-0) at Lions (1-1)
Time: 10 a.m.
Line/total: Lions -3, 45½
Analysis: These were two of the more hyped squads before this season. The Falcons arrive with a ball-control, run-first approach, though this team has offensive weaponry throughout the roster. Atlanta's revamped defense is allowing it to remain balanced and competitive thus far. The Lions opened with a thrilling victory over the defending Super Bowl champion Chiefs, only to follow that with a home loss to the Seahawks. Detroit, which is pretty dinged up on both sides of the football, might discover that it's far easier hunting than being hunted.
Pick: Lions 26, Falcons 22
Colts (1-1) at Ravens (2-0)
Time: 10 a.m.
Line/total: Ravens -8, 44
Analysis: The Ravens already have been hit with adversity this year, as starting running back J.K. Dobbins will miss the remainder of the season and several starters are expected to be out this week. But those losses didn't stop the Ravens from earning a victory last week over division rival Cincinnati. John Harbaugh leads the top coaching staff in the league and it shows, as this team constantly thrives under the "next man up" mentality. The Colts arrive to their old host city with a rookie quarterback, a lack of playmakers on offense and a defense that struggles to stop the run. Put it all together, and it's a bad recipe for the Colts.
Pick: Ravens 23, Colts 14
Panthers (0-2) at Seahawks (1-1)
Time: 1:05 p.m.
Line/total: Seahawks -5½, 42
Analysis: The Panthers are under the leadership of a new coach, dealing with fresh players throughout the organization. Carolina has had a difficult time stopping opposing offenses, which has put it in the hole early. This ratcheted up the pressure on rookie quarterback Bryce Young, who is expected to miss this game with an ankle injury and will be replaced by veteran Andy Dalton. The Seahawks got jumped by the Rams in their opener but then went into Detroit and stole a game from the Lions. Seattle should compete in the NFC this season, provided its defense and health hold up.
Pick: Seahawks 30, Panthers 13
Cowboys (2-0) at Cardinals (0-2)
Time: 1:25 p.m.
Line/total: Cowboys -12½, 43
Analysis: The Cowboys share the top of my power rankings with the 49ers, while the bottom spot is occupied by the Cardinals. The Cardinals have exceeded many expectations in the first three quarters of their first two games, only to find a way to lose two of the winnable games on their early schedule. They host a Dallas team that is led by a top-ranked defense and ultra-talented offense. There will be nearly as many Cowboy jerseys in the Arizona stands Sunday as there will be in Cardinal red.
Pick: Cowboys 36, Cardinals 18
Bears (0-2) at Chiefs (1-1)
Time: 1:25 p.m., KVVU-5
Line/total: Chiefs -12½, 48
Analysis: Patrick Mahomes, the most talented quarterback in the league, faces Justin Fields, who this week became one of the most controversial quarterbacks in the league after he blamed his "robotic" play on coaching. The Bears, on the road for the second consecutive week, have been breaking down because Fields has difficulty reading defenses, seeing the field and getting the ball to his playmakers. The Chiefs are finding their rhythm and continuity as they're getting players back to health. These are two organizations heading in entirely different directions.
Pick: Chiefs 35, Bears 13
Eagles (2-0) at Buccaneers (2-0)
Time: 4:15 p.m. Monday, KTNV-13
Line/total: Eagles -5, 46
Analysis: A battle of division-leading teams. The Bucs run the ball just enough for quarterback Baker Mayfield to be able to hit his dynamic receiving corps with plays that stretch opposing defenses thin. The Eagles arrive on 10 days of rest, so they'll have little excuse for their execution and any reaction to the Florida heat. This game appears to be the most competitive of the weekend, and the Bucs should be regarded as live.
Pick: Bucs 23, Eagles 21
Rams (1-1) at Bengals (0-2)
Time: 5:15 p.m. Monday, ESPN
Line/total: Bengals -2½, 43½
Analysis: The Bengals have struggled on offense in their first two games. Quarterback Joe Burrow looks hobbled and is day to day with a calf injury. Cincinnati's run game is nonexistent, and the threat of any deep pass is squelched by the lack of protection given to an immobile quarterback unable to buy himself or his offense any time. The Rams have played two solid games behind a firm defense and an offense that is deep at the skill positions, led by quarterback Matthew Stafford. This number was Bengals -7½ at the Westgate last week.
Pick: Bengals 27, Rams 15