NFL Wild Card Weekend predictions
January 2, 2015 - 4:05 pm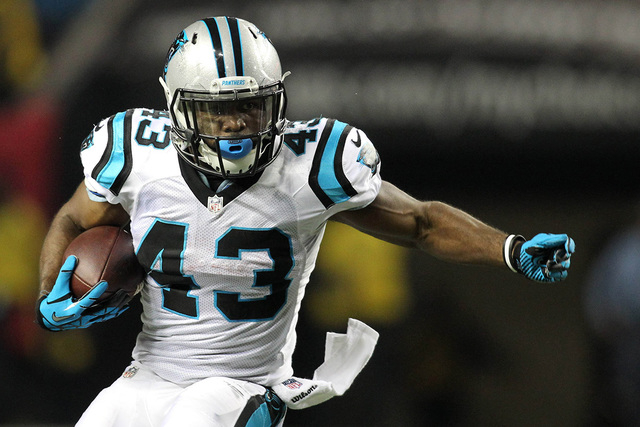 Arizona Cardinals (11-5) at Carolina Panthers (7-8-1)
Saturday, 4:35 p.m. ET, at Bank of America Stadium, Charlotte – TV: ESPN
TV announcers: Mike Tirico, Jon Gruden, Lisa Salters
Keys to the game: The Cardinals' December fade can be placed on the shoulders of a floundering offense that is expected to start third-string QB Ryan Lindley for a third consecutive week and is relying on a backfield tandem of Stepfan Taylor and Kerwynn Williams. The once-formidable defense has buckled under the weight of defending short fields and opponents grinding out steady yardage against a run defense that has slipped to 13th in the league
For Arizona to be competitive, the defense must reverse course. The Cardinals have not produced a turnover in consecutive losses while allowing four 100-yard rushers in the past six games. The Panthers' resurgence has coincided with the return to health of QB Cam Newton and RB Jonathan Stewart, a physical runner who is averaging 4.6 yards per carry.
Carolina will be content to play the field position game, taking few risks and continually backing Lindley deep into his own territory and putting the onus on him to drive the length of the field without making critical mistakes. The Panthers are confident they'll have an opportunity to get their hands on some balls – Lindley has thrown four picks against just two touchdowns, and is completing a paltry 48.4 percent of his passes.
Matchup to watch – Panthers CB Josh Norman vs. Cardinals WR Larry Fitzgerald: Norman wasn't even active for Carolina's playoff loss last season. A year later, he's considered one of the league's top young cover men after largely containing Mike Evans, Josh Gordon and Julio Jones in consecutive weeks. Fitzgerald has lost some speed but is still very much a threat after leading the Cardinals with 63 catches for 784 yards.
Player spotlight – Cardinals RS Ted Ginn: The former Panther returns to Carolina and must be a factor against the Panthers' poor coverage units. Ginn averaged 10.7 yards with one TD on 26 punt returns during the regular season. He did not have a kick return for a score, but did have 12 of 20-plus yards and Arizona desperately needs him to help flip the field, if not pop a big return to the end zone.
Fast facts: The Cardinals have allowed an average of 156 rushing yards in the past six games compared with 80 through the first 10 games. … LB Thomas Davis is the lone remaining player on the team from Carolina's last playoff victory in 2005.
WHO WILL WIN AND WHY
Two teams headed in different directions to close the season, the Panthers can lean on their ground game, play conservatively and put all the pressure on Lindley. Arizona has not scored more than 18 points in seven weeks.
Our pick: Panthers 20-13
Baltimore Ravens (10-6) at Pittsburgh Steelers (11-5)
Saturday, 8:15 p.m. ET, at Heinz Field, Pittsburgh – TV: NBC
TV announcers: Al Michaels, Cris Collinsworth, Michele Tafoya
Keys to the game: The Steelers' four-game winning streak that culminated in winning the rugged AFC North came as the potent offense found a rhythm – moving the ball almost at will with a more balanced approach. That dynamic is threatened with the uncertain status of RB Le'Veon Bell (knee), the NFL's second-leading rusher who also caught 83 passes out of the backfield during the regular season.
If Bell can't play, the Ravens can focus more effort in containing QB Ben Roethlisberger, who tore through Baltimore's 23rd-ranked secondary to the tune of 340 yards and a franchise-record six touchdowns in a 43-23 victory on the same field in Week 9.
Despite setting season franchise records with 409 points and 5,838 yards of total offense, Baltimore's offense has been sporadic down the stretch, and the Ravens will be in dire straights if QB Joe Flacco is tasked with matching Big Ben score for score. The offense operates best when RB Justin Forsett is setting the table for Flacco to work off play-action. The Steelers' Achilles heel is its 27th-ranked pass defense, but Pittsburgh has also racked up nine sacks in the past two games. How the Ravens handle the Steelers' zone blitz will be key.
Matchup to watch – Ravens DT Haloti Ngata vs Steelers C Maurkice Pouncey: Ngata should have fresh legs as he returns from a four-game suspension and will wage a fierce way on the interior against the Pro Bowler Pouncey.
Player spotlight – Ravens OLB Terrell Suggs: Suggs is tied for third in NFL history with 12 career playoff sacks. He did not get to Roethlisberger during the regular season, but could have a massive impact on the game if Bell doesn't play. Steelers coach Mike Tomlin said he would be "stupid" to have 5-foot-8, 173-pound backup Dri Archer block on passing downs, and veteran Ben Tate was just signed on Tuesday.
Fast facts: The Ravens allowed 19 sacks during the regular season, second fewest in franchise history. … The Steelers' 33 all-time postseason victories is tied with Dallas for the most in NFL history.
WHO WILL WIN AND WHY
The opening quarter will be critical for the Ravens, who have been outscored 41-20 with no offensive touchdowns in the first half of their past four games. With or without Bell, Roethlisberger has already proved he can shred this secondary with a plethora of playmakers.
Our pick: Steelers 27-19
Cincinnati Bengals (10-5-1) at Indianapolis Colts (11-5)
Sunday, 1:00 p.m. ET, at Lucas Oil Stadium, Indianapolis – TV: CBS
TV announcers: Jim Nantz, Phil Simms, Tracy Wolfson
Keys to the game: When the Colts rolled up 506 yards total offense in a Week 7 whipping of the Bengals (27-0), it was largely against a reserve-filled defense.
A revived Bengals defense with CB Leon Hall and a steady front seven will make the short trek to Indy this time, and the Colts cannot reasonably expect to rush for 171 yards and play keep-away from the Bengals. It helps Cincinnati's cause that the Colts are without RB Ahmad Bradshaw and Indianapolis is below-average on the offensive line.
QB Andrew Luck is not afraid to take a hit to deliver the ball on time, and with TEs Dwayne Allen and Coby Fleener emerging as more reliable targets, he won't have to push the ball outside where the Bengals' cornerbacks pinch, push, bump and run with the best of them.
The Bengals' transformation to a power-based, run-first team is possible because of a dominant left side of the offensive line and the combination of quick feet and power of rookie RB Jeremy Hill. In tandem with third-down back Giovani Bernard, the Bengals are capable of riding their ball carries to clock-sucking drives that park Luck and Company on the bench.
The health of Cincinnati's top two receivers was in question as of Thursday, when WR A.J. Green (concussion) was back at practice but TE Jermaine Gresham (back) was still moving gingerly.
Matchup to watch – Colts OL vs. Bengals DL: The Colts have used at least three starters at every offensive line spot other than left tackle, where Anthony Castonzo started every game. Cincinnati gets after the quarterback with a goal of getting the ball out in less than three seconds. That will limit big plays and keep Luck on the move.
Player spotlight – Colts RB Boom Herron: The Bengals' draft pick is the leading option in the backfield for the Colts with Trent Richardson relegated to reserve duty. If the Colts want to last long this month, Herron must come up big.
Fast facts: The Bengals last won a playoff game in 1991 and are 0-6 all time on the road in the postseason. … The Colts were worst in the NFL with 15 fumbles lost and had 15 turnovers in the final six games (31 total in 2014)
WHO WILL WIN AND WHY
The team that controls the line of the scrimmage gets a huge edge into the second half, but QB Andy Dalton — 0-3 in the playoffs — and the Bengals have to prove capable of salting away the potent Colts in a money moment in which they've too often come up broke. If Luck gets a chance in the fourth quarter, the Colts advance.
Our pick: Bengals 34-29
Detroit Lions (11-5) at Dallas Cowboys (12-4)
Sunday, 4:30 p.m. ET, at AT&T Stadium, Arlington, Texas – TV: FOX
TV announcers: Joe Buck, Troy Aikman, Erin Andrews, Chris Myers
Keys to the game: Lions WRs Golden Tate and Calvin Johnson are central to the Lions' success against the Cowboys' 26th-ranked pass defense. The Lions are inconsistent running the ball. To loosen the Cowboys' front seven, QB Matthew Stafford will use RBs Reggie Bush and Joique Bell as short-area receivers and take his chances over the top.
Two of the top lines in the NFL square off with Dallas' front five built around three first-round picks and the Lions' muscled-up defensive line centered around All-Pro DT Ndamukong Suh. It could help Detroit if DT Nick Fairley is back — he practiced this week for the first time since October 26. Two of the top young players in the NFL, Lions DE Ziggy Ansah and Cowboys LT Tyron Smith, lock up in an admission-worthy one-on-one battle. Where and how the Cowboys provide help will dictate how much of the playbook QB Tony Romo has at his disposal.
Romo will likely go to the air early. Detroit's top-ranked run defense surrenders only 69.3 rushing yards per game and will key on RB DeMarco Murray, the NFL's leading rusher in 2014. The Cowboys were second in the NFL with 147.7 rushing yards per game.
Cowboys' play-caller Scott Linehan has been unpredictable and vital to keeping defenses guessing.
Dallas' defense will not single cover WR Calvin Johnson. The last time that happened (at Detroit in 2013), Johnson toasted CB Brandon Carr for 329 receiving yards on 14 receptions.
Matchup to watch – Lions LB DeAndre Levy vs. Murray: Levy is a powderkeg of a linebacker and is free to dart into the backfield and to the sideline to make plays with the Lions' line drawing blockers' attention. The Lions led the NFL with 133 tackles for loss.
Player spotlight – Cowboys WR Dez Bryant: When the Cowboys consciously push the ball to Bryant, he delivers, leading the NFL in TD catches in 2014 (16) with 1,320 receiving yards. He's driven to make a statement with Megatron on the other sideline.
Fast facts: Cowboys coordinators Rod Marinelli and Scott Linehan both coached in Detroit. Marinelli was head coach, Linehan offensive coordinator. … Cowboys coach Jason Garrett is making his playoff coaching debut. … Dallas has one postseason win since 1997. Detroit last won in the playoffs in 1991 (38-6 vs. Dallas).
WHO WILL WIN AND WHY
Detroit is never dead, as the Cowboys know all too well from Stafford-led comeback wins down 10 (2013) and 24 (2011). But if Tony Romo takes care of the ball, and his line takes care of him, the Cowboys cruise into Green Bay for the divisional playoff round.
Our pick: Cowboys 27-20