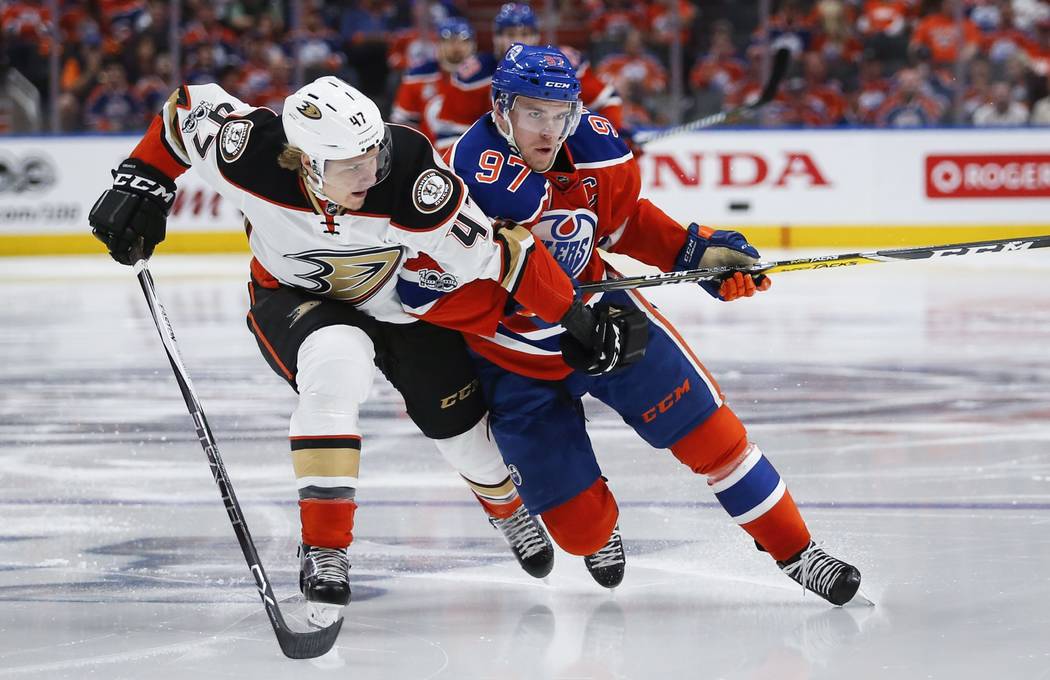 The Ducks can't lose at home to the Flames, winning 29 straight over Calgary in Anaheim, including their only Game 7 win at home in 2006.
The Ducks have since lost four straight Game 7s at home and hockey handicapper Dana Lane is betting on that trend to continue Wednesday night at the Honda Center.
Lane is backing the Oilers as plus 110 underdogs to Anaheim, which is 2-6 overall in Game 7. Edmonton won the first two games of the series in Anaheim and drilled the Ducks 7-1 in Sunday's Game 6 to tie the series.
"Edmonton is the team I picked to go to the Stanley Cup Finals," said Lane (@DanaLaneSports). "I love their depth. Their second and fourth line produced 14 points in Game 6."
Lane said the key move of the series was when the Oilers put Connor McDavid and Leon Draisaitl on different lines to counter Anaheim's breakup of Ryan Getzlaf and Corey Perry. Draisaitl had a hat trick and two assists in Game 6.
"That put more scoring on each line," Lane said. "As soon as (Edmonton coach Todd) McLellan made that change, Anaheim was less effective. They weren't as aggressive having to worry about two guys."
Ducks goalie John Gibson was pulled from Game 6 after giving up three goals on six shots. He also was pulled from his only Game 7 start in 2014 after allowing four goals on 18 shots.
Lane also likes over 5½ goals (plus 120) in the Edmonton-Anaheim game and over 5½ goals (plus 105) in Wednesday's Game 7 between the Capitals and Penguins.
"If you're taking all the plus prices, even if you won one of those, you don't get hurt too much. And if you win two or three, you're looking really good," Lane said. "Unless you anticipate a 1-0 or 2-1 game, I always look to the over in Game 7 because of desperation and empty-net goals.
"You pull your goaltenders a little bit earlier, especially if you're down a couple goals. In the last five minutes of desperation, you could see two or three goals scored because of that."
Five of six games have gone over in the Oilers-Ducks series, including the last four, and Lane said injuries to Anaheim and Pittsburgh also factor into his over plays.
"Guys like (Anaheim defenseman) Brandon Montour are asked to play more because of injuries and I always look to the over when guys are in positions they're not used to being in," he said. "Sometimes when they're asked to play more minutes, that often leads to mistakes and mistakes often lead to more offensive chances.
"(The Penguins) are without their No. 1 goaltender and No. 1 defenseman and, at this point, they're not as sound defensively. The Capitals scored five goals in Game 6 and could've scored more but they called off the dogs. And the Penguins still have plenty of firepower."
Washington, which has lost six of nine Game 7s in the Alex Ovechkin era, is favored between minus-180 and minus-200 over defending Stanley Cup champion Pittsburgh.
Boyd Gaming sports book director Bob Scucci said the game has generated dead even two-way action.
"A dollar separates the two of them, it's that close. It's the same thing with the Oilers and Ducks. It's almost the exact same amount," he said. "We're setting a lot more over money on both games."
Follow all of our sports betting coverage online at reviewjournal.com/betting and @RJ_Sports on Twitter.
Contact reporter Todd Dewey at tdewey@reviewjournal or 702-266-6080. Follow @tdewey33 on Twitter.