Patriots still 4½-point favorites despite 4 $1 million bets on Eagles
February 3, 2018 - 6:11 pm
Updated February 3, 2018 - 6:19 pm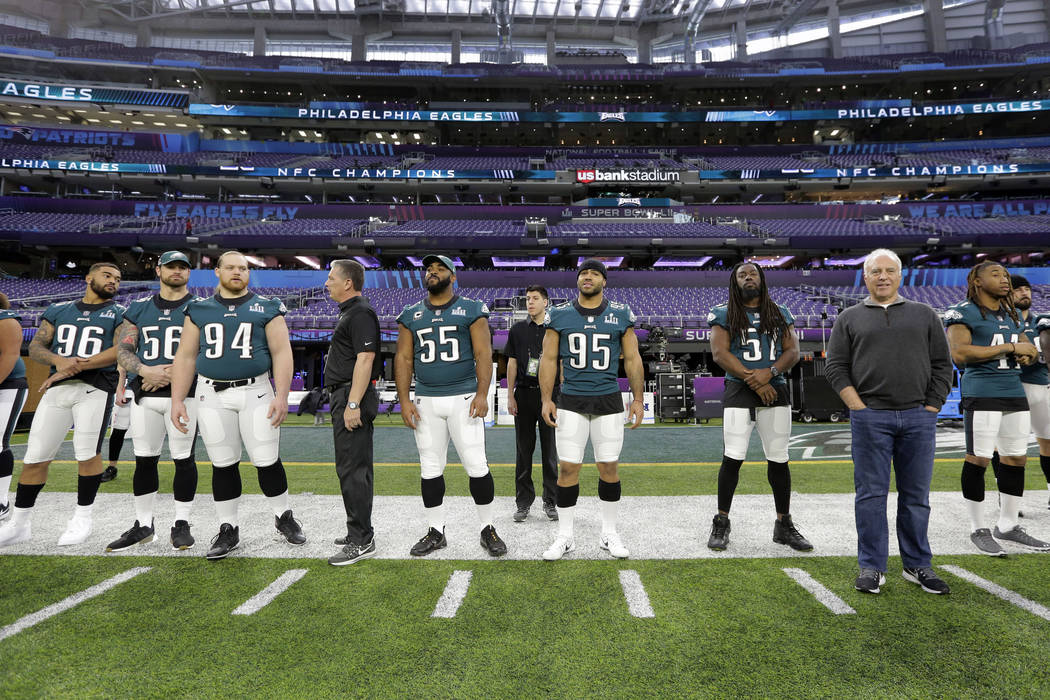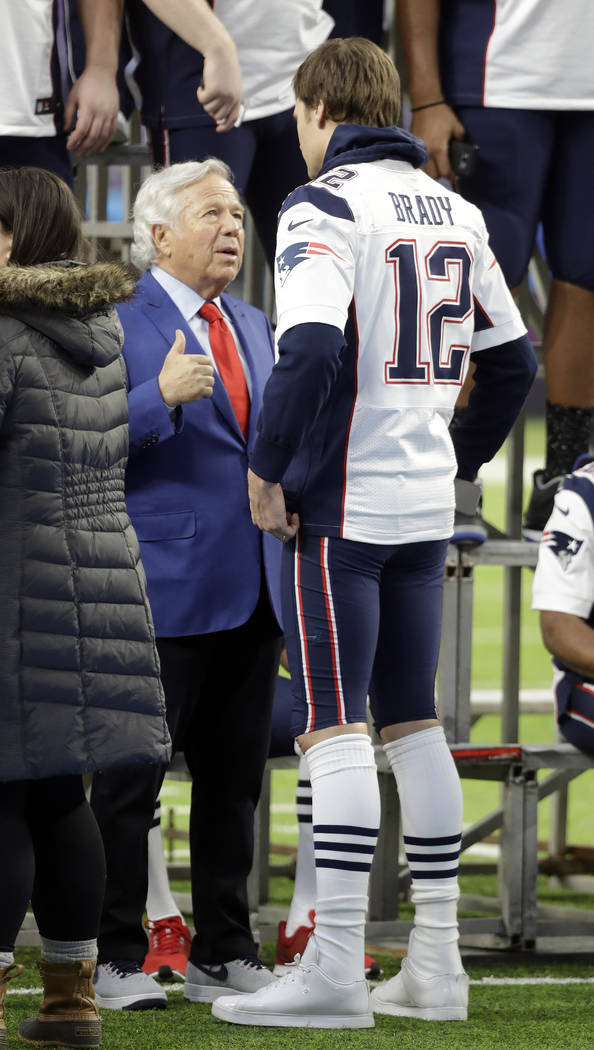 In what is believed to be the biggest bet ever placed on a sporting event in Las Vegas, an MGM Resorts bettor lost a $7.6 million money-line wager on the Rams in their 20-17 loss to the Patriots in Super Bowl XXXVI.
With St. Louis a 14-point favorite and laying about 10-1 on the money line, MGM Resorts sports book would have been liable for about $750,000 had the Rams won the 2002 game.
MGM faces a much larger liability on a $3 million wager it took on the underdog Eagles over the Patriots in Super Bowl LII. MGM Resorts sports book director Jay Rood on Saturday confirmed the $3 million bet, which he initially described as a "multimillion-dollar" wager when it was placed Jan. 24.
"The risk we've taken on the Eagles here was bigger," Rood said.
Most Las Vegas sports books are in the rare position of needing New England to cover the spread in Sunday's game. Despite heavy action on Philadelphia — including four $1 million-plus bets — the Patriots remained 4½-point favorites Saturday afternoon at every Las Vegas book.
William Hill sports book took two $1 million money-line wagers on the Eagles and a total of $1.6 million on Philadelphia plus 4½ points. But sports book director Nick Bogdanovich, who was waiting on another $1 million bet, said the company was comfortable with the number staying at 4½.
"It's a big, big decision, but there's so much money in the pot, we could lose the game and still get out relatively unscathed," he said, referencing the additional money wagered on props and futures bets.
Bogdanovich said he didn't expect the line to move much before Sunday's kickoff.
"You might see a 4, you might see a 5," he said. "But there isn't going to be much of a move."
While MGM Resorts needs the Patriots to win but not cover and for the total to go under 48½, William Hill and Wynn Las Vegas need New England to cover.
"We're still heavy on Philadelphia, and I don't see a lot of Patriots money coming back," Wynn Las Vegas sports book director Johnny Avello said. "We hope to get some Patriots money."
The Wynn Las Vegas sports book is staying open 24 hours before the game.
"This is probably the worst Patriots team of the last five or six years," Avello said. "Brady is older, and the defense is average. That's why people are taking a shot on the Eagles."
Avello took a $500,000 money-line wager on the Eagles from the same bettor who beat Las Vegas out of millions of dollars on the World Series.
The unidentified bettor also reportedly placed the $3 million wager at MGM, the two $1 million money-line bets at William Hill and a total of $700,000 each on Philadelphia on the money line at CG Technology and South Point sports books.
Avello has taken plenty of action from other bettors, too. He estimates he's taken 10 to 20 six-figure wagers on the game.
"We've had a lot of good-sized bets for $300,000, $200,000," he said. "About 15 or 20 years ago, $100,000 bets on the Super Bowl were good-sized bets. But they're becoming pretty common now."
Not every book needs the Patriots. The best-case scenario at the Westgate sports book is for the Eagles to win outright and for the game to go under.
"It's the complete opposite of a normal Super Bowl. We have way more Patriots money-line (action) than the Eagles. That rarely happens," Westgate sports book manager Ed Salmons said. "People have learned through the years that the Patriots will win, so take them on the money line."
That would be fine with MGM, just as long as New England doesn't score exactly 27 points.
"That's a pretty big decision," Rood said. "We had a guy bet that prop at 10-1. He bet a pretty good five-figure wager on it."
Contact reporter Todd Dewey at tdewey@reviewjournal.com. Follow @tdewey33 on Twitter.
Related
William Hill sports book takes 3rd $1M wager on Eagles
Multimillion-dollar wager placed on Eagles at MGM Resorts
Conservative Eagles should fly under their Super Bowl point total prop
More than a feeling: Patriots the play in Super Bowl LII
Patriots fall to 4-point favorites over Eagles in Super Bowl LII
Eagles are value play against Vikings in NFC championship game
Here are the Westgate sports book's Super Bowl LII props