Poker book put on hold as Maria Konnikova continues to cash
Updated July 3, 2018 - 11:08 pm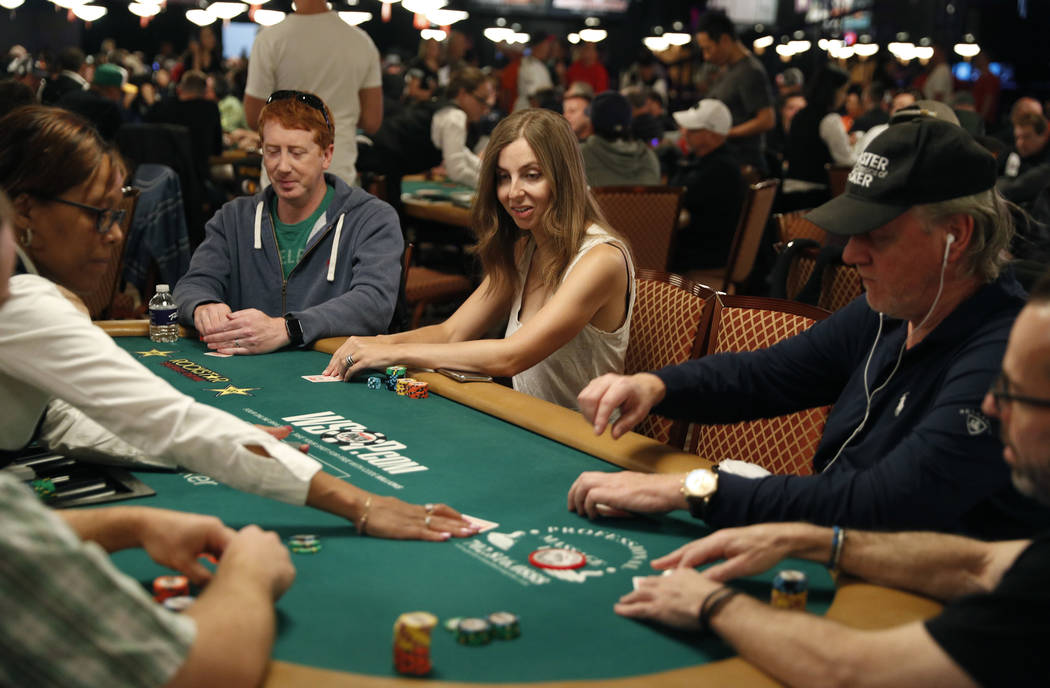 Maria Konnikova graduated magna cum laude from Harvard, earned her doctorate in psychology from Columbia and has written two New York Times best-sellers — "The Confidence Game" and "Mastermind: How to Think Like Sherlock Holmes."
Her third book, "The Biggest Bluff," will be about trying to learn how to play high-stakes poker. But she hasn't had much time to work on it lately. She's been too busy cashing at high-stakes poker tournaments.
Konnikova already has earned $177,722 in 2018, less than two years after being introduced to the game.
"Nobody could've anticipated that I would actually start winning tournaments and be good at poker," she said.
Konnikova, 34, quickly graduated from poker novice to poker pro while being coached by Erik Seidel, an eight-time World Series of Poker bracelet winner who was runner-up in the 1988 WSOP Main Event to Johnny Chan. The final hand was featured in the 1998 movie, "Rounders."
Konnikova had "zero" poker experience before her first trip to Las Vegas in the fall of 2016, when Seidel arranged for her to sweat his cards in a high roller tournament at Aria, where she also shadowed top poker pros Isaac Haxton and Jason Koon.
"It was extraordinary," she said. "I think one of the reasons I've been able to advance as quickly as I have is that I've had access to some of the best players in the world and they've been really supportive and they've helped me through a lot.
"Erik has been invaluable. I talk to him basically every day."
Under Seidel's guidance, Konnikova, who lives in New York, worked her way up from $30 tournaments to major events.
"We basically started from the ground up because he wanted to make sure that I built my bankroll naturally and really took this journey seriously and figured out what it took to be a professional player, including managing my money and not playing above my level," she said. "His main thing was, 'Until you win one of these ($30 events), you can't play anything else.'"
After winning her first tournament at Planet Hollywood, Konnikova used the winnings to buy into high-stakes daily tournaments at Aria.
Her first major event cash was in April 2017 at the Monte Carlo Casino in Monaco.
"That was the beginning of my full immersion into the poker world," she said.
Konnikova won her first major pro tournament on Jan. 7, earning $84,600 — and a $30,000 Platinum Pass — after outlasting a field of 290 players at the PokerStars Caribbean Adventure National tournament in Paradise Island in the Bahamas.
The next day, she entered the PCA Main Event and finished 42nd in a field of 582 players to win $22,020.
"It felt like my game had suddenly gone to a new level," she said.
With the plot thickened, Konnikova and her editor decided to be patient with the book and go all-in on her poker career.
The decision paid dividends in March, when Konnikova won $57,519 for placing second at an Asia Pacific Poker Tour event in Macau.
Konnikova, who also writes for The New Yorker, has been working on her book during breaks in her poker schedule. She wrote her first book on con artists and said her background in psychology has been a huge part of her success on the tables.
"I think that's what gives me one of my biggest edges, that I do come from this outsider perspective and do have tools to kind of analyze things on a different level because I've studied decision making," she said. "I actually did my dissertation on risky decision making under emotional conditions, so it's very applicable to the poker world."
Konnikova came up with the idea for her book in 2016, when she learned that poker was the inspiration for John von Neumann's groundbreaking 1944 book on game theory.
"I wanted to write about skill and chance and kind of the balance of the two and basically answer the question of how much of our lives do we actually control," she said. "(Von Neumann) thought solving poker would give him the rubric for being able to solve the most complex strategic decisions in life.'"
Konnikova solved the first starting flight for the Main Event on Monday, bagging 33,500 chips, and will return to action Thursday.
The ending of her book is still a work in progress, but she plans to keep playing poker after "The Biggest Bluff" is finished.
"There's no future where I'm only playing and not writing because I love writing," she said. "But if I keep doing well at poker and keep enjoying it and keep learning, why in the world would I not do both?"
Contact reporter Todd Dewey at tdewey@reviewjournal.com. Follow @tdewey33 on Twitter.
Maria Konnikova
Age: 33
Born: Moscow, moved to United States when she was 4
Degrees: Bachelor's in psychology and creative writing from Harvard, doctorate in psychology from Columbia
New York Times best-sellers: "The Confidence Game," 2016
"Mastermind: How to Think Like Sherlock Holmes," 2013
Total live poker earnings (since March 2017): $209,326
49th annual World Series of Poker
Main Event
($10,000 buy-in No-limit Hold 'em World Championship)
Rio Convention Center
Dates: July 2-14 (final table July 12-14)
TV: ESPN, ESPN2