Poker broadcasters Lon McEachern, Norman Chad continue to entertain viewers
Updated July 7, 2017 - 6:03 pm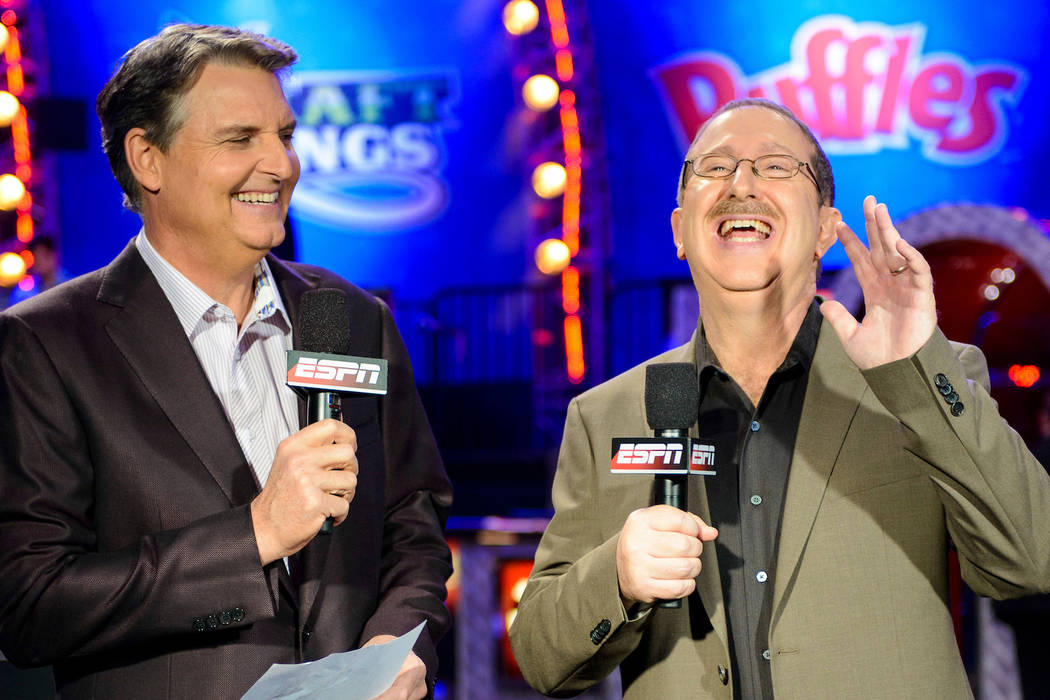 Lon McEachern was working as a loan officer at a bank when he got the call in 2003.
Norman Chad figured it was a one-time gig.
"I loved poker and I thought poker on TV would be pretty cool," Chad said, "but I never thought anybody would really watch it in any numbers."
McEachern and Chad, the ESPN broadcast partners, are as synonymous with the televised poker boom as Chris Moneymaker and hole-card cameras.
Poker's favorite odd couple will team up for their 15th World Series of Poker Main Event starting Saturday at the Rio Convention Center, as ESPN/ESPN2 airs same-day coverage of the $10,000 buy-in No-limit Texas Hold 'em World Championship for the first time.
"We want to keep it consistent with what people expect but also evolve along with the shows and bring something new each year. And people are responding," McEachern said. "They tell us every year they love what we're doing, and we're really gratified by that.
"But we both are the types of personalities who aren't going to sit back and say, 'OK, let's do what we did last year and that'll be great.' We always look for something new, something more, something different, and that's why we work so well together."
McEachern worked with actor/poker player Gabe Kaplan on ESPN's broadcast of the 2002 Main Event but was out of television prior to his serendipitous pairing in 2003 with the self-depricating Chad, known at the time for his syndicated sports humor columns.
Combined with Moneymaker's unlikely victory and the rise of online poker, those early broadcasts helped push poker into the mainstream and made McEachern and Chad instant celebrities.
"I've said it many times, Lon and I were just passengers in the getaway car," Chad said. "That thing was going to take off with or without us."
While many of those recorded broadcasts focused on the tournament's unusual personalities and Chad's trademark one-liners, the coverage of the Main Event has evolved over the years.
Both McEachern and Chad credit ESPN's change in production companies in 2011 for the shift to more poker-centric broadcasts.
"The way poker's going, it is more of the young online pros coming to (play) live who are really into the math of the game and the new theories that are coming out," McEachern said. "So, it's a different crowd that's playing the game, and it's a different crowd, I think, that's watching the game. … We're trying to keep alive the personality aspect of it, as well."
This year, ESPN/ESPN2 will air more than 40 hours of the Main Event on a 30-minute delay, a dramatic shift from the days of recorded shows preceeding the November Nine final table. Also, PokerGo will show more than 60 hours of additional coverage to online subscribers.
Coverage of Day 1A on Saturday starts at 1 p.m. on ESPN2.
"To a lot of people, the taped thing seems just archaic at this point," Chad said. "I think there's a mix there. We can still do the strategy, and you can still do the other things that I hope that I do well, which is the entertainment part, the humor part and the story-telling part, because I still think it's important."
Contact David Schoen at dschoen@reviewjournal.com or 702-387-5203. Follow @DavidSchoenLVRJ on Twitter.
World Series of Poker
What: $10,000 Main Event No-limit Texas Hold 'em World Championship
When: Saturday through July 22
Where: Rio Convention Center
TV: ESPN/ESPN2 or Poker Central (online stream)
Admission: Free (21 and older)