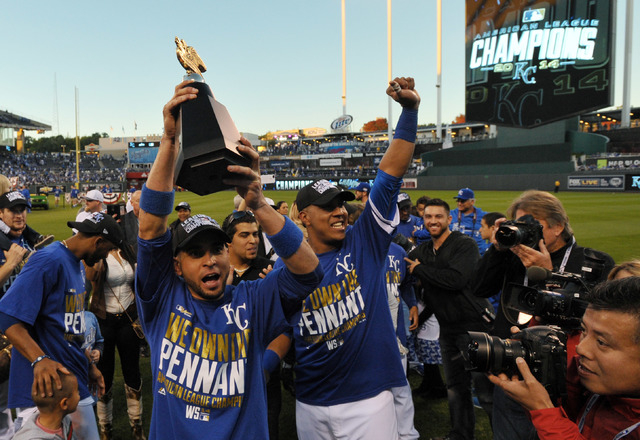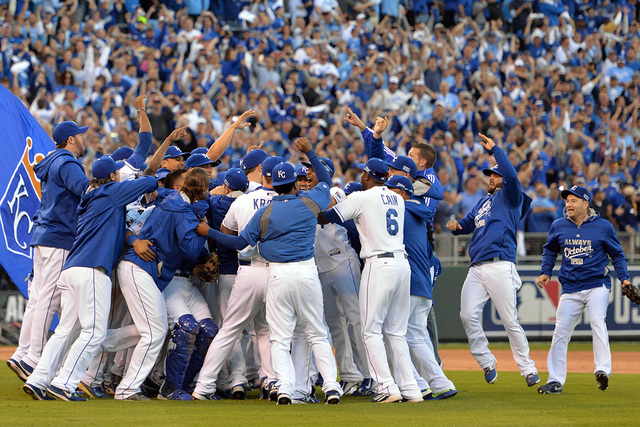 Finally, the World Series is set to begin, but the Kansas City Royals and their fans have been celebrating for nearly a month. When you have not reached the playoffs for 29 years, just having an opportunity to play in one wild-card elimination game is reason enough to pop the champagne corks.
Kansas City only pretends to be a big city. In its heart it's a sprawling college campus, everything adorned in blue. If you were in K.C. now you would swear it was Homecoming. It's the kind of town that officially renames one of its busiest downtown streets — Baltimore Avenue — "Royals Way" just for the American League Championship Series.
For three decades, George Brett has been Kansas City's Big Man on Campus. Brett took full advantage of his hero status in the 1970s, holding court at Kelly's in Westport after every home victory, enjoying a Miller draft or two with the fans. George is in his 60s now. He's too old to be BMOC. He's ready to hand that honor to a deserving youngster. Will it be Alex Gordon? Eric Hosmer? Mike "Moose" Moustakas? We may find out this week.
Twenty-nine years of losing has been a difficult burden for proud Kansas City baseball fans. Now that the Royals are settled comfortably in the postseason, the huge weight that comes from decades of disappointment finally has been lifted from everyone's shoulders. Now it's time to relax and celebrate — and play some ball.
When Alcides Escobar stepped to the plate in the bottom of the eighth inning against Oakland's playoff-savvy ace, Jon Lester, with the Royals trailing 7-3 in the wild-card game, the slide-rule crowd calculated the A's probability of winning and advancing at slightly better than 97 percent. Escobar, fortunately, didn't realize the situation was hopeless. He slapped a single to left, started a three-run rally and the rest, as they say, is history. The Royals have not lost in this postseason and have won 11 straight dating to 1985.
With a win in today's series opener, the Royals will tie the 1927 New York Yankees for most consecutive playoff wins with 12. The '27 Yankees had Babe Ruth and Lou Gehrig. It was a pretty solid club. The 2014 Royals will probably never enjoy the legendary status of that Yankees team; on the other hand, I can't picture The Babe cutting off a line drive in the gap and holding Lorenzo Cain to a double.
If Royals fans want to dream a little, they could become the only team other than the 1976 Cincinnati Reds to go undefeated in the postseason, if they can sweep the Giants. The mighty Reds were also legendary, still considered one of the greatest teams of all time. They were practically unbeatable. Pete Rose, Tony Perez, Johnny Bench. That might have been the year "Charlie Hustle" first realized that sports betting could be really profitable. Who would have guessed when this season began that in October we'd be comparing the Royals with the '27 Yankees and the '76 Reds?
Kansas City's improbable win in the wild-card game was the second key turning point in its magical season. The first took place June 30, exactly midway through the season. The Royals re-signed Raul Ibanez, who had played with the team from 2001 to 2003. He came over from the Los Angels Angels after spending one season on their roster.
At the time, the Royals were languishing around .500. They won that day against the Minnesota Twins, the first time in two weeks they had won back-to-back games. On June 30, no one talked about the Royals as potential world champions.
Ibanez, who was signed more for his leadership in the clubhouse than for his contributions on the field, had a talk with the team. He told his new teammates that every player in the Angels' dugout thought Kansas City had the most talented group of young players in baseball. He asked them, "If those guys recognize that, why can't you?" Whether or not his pep talk was a factor, the Royals started putting together their impressive second-half run, at one point winning 24 of 30 games to place themselves solidly in the playoff mix.
General manager Dayton Moore's "Eight-Year Plan" was finally coming together. Moore explained once that "power is expensive." Having sluggers up and down the lineup was never an option. Fortunately for the Royals, they play in a huge ballpark where power largely goes unrewarded. Speed is essential. Pitching and defense win games. In the first eight games of the postseason, the Royals put that winning formula on display.
This is not your typical small-market team. Kansas City features capable players at every position, many of whom are destined to become stars. This is a phenomenon that rarely happens in baseball. These kids are ballplayers. Enjoy this talented, precocious bunch while you can.
So who's going to win it? The Giants' plan is to win with dominant pitching from their ace, Madison Bumgarner, a decent bullpen and a dependable, productive middle of the lineup with Buster Posey, Pablo Sandoval, Hunter Pence and Brandon Belt — along with some of that inexplicable good fortune they have come to expect.
The Royals' plan is to "find a way," their mantra throughout this postseason run, whether it's with a home run or a sacrifice bunt. Mike Tyson once famously said that "everyone has a plan 'til they get punched in the mouth." Bumgarner has a pretty good punch. The Royals will feel it early in the series. If they're still on their feet after that, they'll be baseball's next world champions.
Finally, the crown will be returned to the Kansas City Royals.
PREDICTION: Royals in four.
James Price, a Henderson resident, is a fan of the Royals, the Kansas Jayhawks and any team he happens to bet.