Sharps on Jets, betting public on Knights in Game 4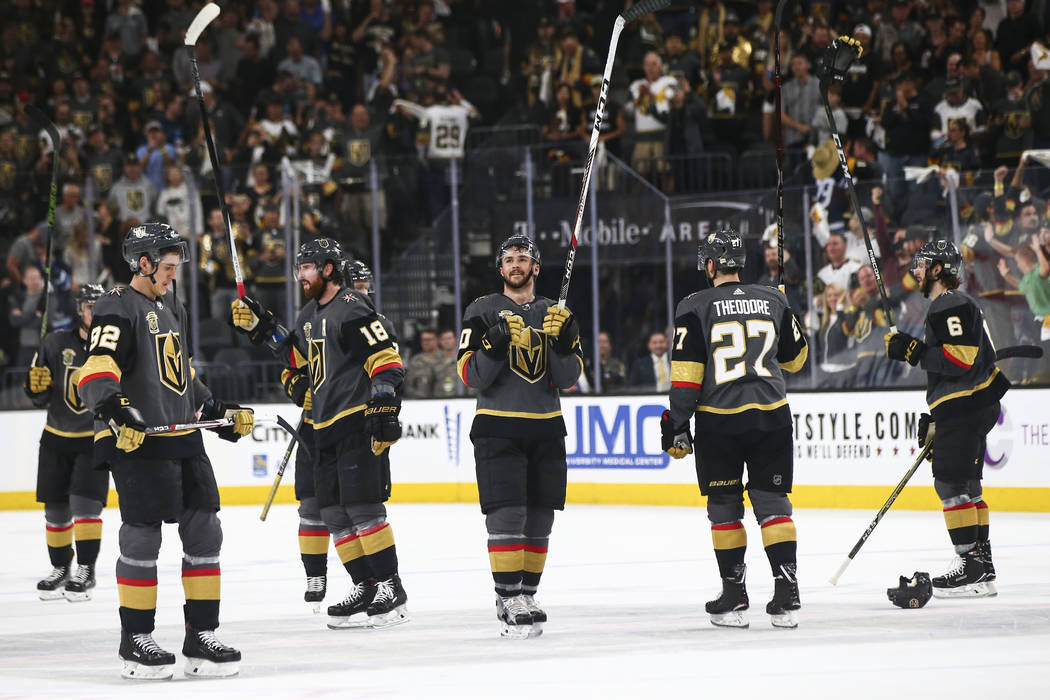 It's another Pros vs. Joes showdown at Las Vegas sports books in Game 4 of the NHL Western Conference Final on Friday night at T-Mobile Arena.
The so-called sharp bettors are wagering on the Winnipeg Jets for the second consecutive game as small underdogs, while the betting public is again backing the Golden Knights, who opened as high as minus 135 favorites but were down to as low as minus 115 on Friday afternoon at the Westgate sports book.
The Knights, leading the series 2-1, are minus 120 favorites at Boyd Gaming, Caesars Palace, Wynn Las Vegas and the Golden Nugget sports books.
"It seems like Winnipeg is the sharp play," Caesars Palace oddsmaker Jeff Davis said. "We have noticeably more money on Winnipeg (in Game 4) than for most Knights games. The money is 1½-to-1 in favor of Winnipeg, but there's a 2-to-1 ticket count on the Knights."
The ticket count is 5-1 in favor of the Knights at Boyd Gaming
"All the early money was on the Knights both in terms of dollars as well as the number of tickets," Boyd Gaming sports book director Bob Scucci said. "The price got driven up 20 cents higher than where it would normally be. If the team wasn't in Las Vegas, the price would be about (minus) 115. But it was inflated based on all of those tickets.
"We went as high as (minus) 135 on Vegas, and that's when we started getting some sophisticated play on Winnipeg, which drove the line back down to (minus) 120. They know there's an inflated price here. It should be close to pick'em."
The Knights are getting up to plus 230 on the puck line (minus 1½).
"We haven't taken a single Winnipeg straight puck line bet," Davis said.
The total is 5½ (Over minus 115).
"Everyone's betting the over," Scucci said.
Jonathan Marchessault's empty-net goal with 2.7 seconds left in Game 3 on Wednesday night covered the puck line and pushed the game over the total in the Knights' 4-2 win.
"It was just a dagger for us," Scucci said. "But as a Vegas fan, you want to see that insurance."
The Jets applied plenty of pressure in the third period, but Knights goalie Marc-Andre Fleury came up with several spectacular saves to preserve the lead.
"It was a miracle they didn't score," Scucci said. "When you look at the way the three games have panned out, they're two great teams and Winnipeg has shown signs of being the dominant team.
"You take that third period, for example, and you can certainly make a case for the Jets being the faster, better team."
Prop bets
Game 4, Golden Knights-Jets
Posted at Westgate sports book
Will either team score in the first 10 minutes?
Yes -130
No +110
Will the game go into overtime?
Yes +300
No -400
Will either team score three straight goals?
Yes +190
No -240
Will the team that scores first win the game?
Yes -260
No +210
Will Patrik Laine score a goal?
Yes +180
No -220
Will Mark Scheifele score a goal?
Yes +170
No -200
Will Paul Stastny get a point?
Yes -130
No +110
Will Dustin Byfuglien get a point?
Yes -110
No -110
Will the Jets score at least one goal in the first period?
Yes -130
No +110
Will William Karlsson score a goal?
Yes +170
No -200
Will Jonathan Marchessault score a goal?
Yes +170
No -200
Will James Neal score a goal?
Yes +220
No -270
Will Erik Haula score a goal?
Yes +230
No -280
Will Reilly Smith get a point?
Yes -160
No +140
Will Erik Haula get a point?
Yes -125
No +105
Will the Golden Knights score at least one goal in the first period?
Yes -160
No +140
Total shots on goal by Jets 31½
Total goals by Jets
Over 2½ -125
Under 2½ +105
Total shots on goal by Golden Knights 31½
Total goals by Golden Knights
Over 2½ -150
Under 2½ +130
Player to score first goal
Mark Scheifele 6-1
William Karlsson 7-1
Jonathan Marchessault 7-1
Patrik Laine 7-1
James Neal 10-1
Erik Haula 15-1
Reilly Smith 18-1
Kyle Connor 18-1
Paul Stastny 18-1
Alex Tuch 18-1
Blake Wheeler 18-1
Dustin Byfuglien 20-1
Nikolaj Ehlers 25-1
Mathieu Perreault 25-1
Bryan Little 40-1
David Perron 40-1
Cody Eakin 40-1
Shea Theodore 40-1
Tomas Tatar 40-1
Colin Miller 50-1
Nate Schmidt 60-1
Joel Armia 60-1
Tyler Myers 60-1
Ryan Carpenter 80-1
Andrew Copp 80-1
Adam Lowry 100-1
Brandon Tanev 100-1
Josh Morrissey 100-1
Brayden McNabb 100-1
Deryk Engelland 100-1
Pierre-Edouard Bellemare 100-1
Jacob Trouba 100-1
Toby Enstrom 100-1
Ryan Reaves 200-1
Luca Sbisa 200-1
Ben Chiarot 200-1
Field (all others) 30-1
Contact reporter Todd Dewey at tdewey@reviewjournal.com. Follow @tdewey33 on Twitter.