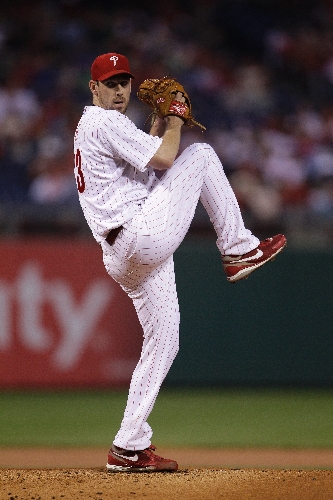 With a pair of aces in Roy Halladay and Cliff Lee, the Philadelphia Phillies sit in a dominant position in the postseason.
The Phillies, who won a major league-high 102 games behind baseball's best starting rotation, are minus-170 to win the National League pennant and 3-2 favorites to win the World Series.
Halladay starts today's best-of-5 NL division series opener as a minus-220 favorite against the St. Louis Cardinals.
"I don't think anyone has a shot against the Phillies," said handicapper Ted Sevransky of SportsMemo.com. "Unless they have bullpen meltdowns, their lineup is good enough and their starting pitching is good enough to win them another World Series title."
Philadelphia is a minus-310 series favorite over St. Louis. In the other NL series, Milwaukee is a minus-175 favorite over Arizona.
The Cardinals appear to be a long shot, but the Diamondbacks have a more realistic shot. Arizona, which won 94 games to easily surpass its regular-season win total of 72½, could be considered a live underdog.
The New York Yankees, 3-2 favorites in the American League, are at 4-1 odds to win the World Series. The Yankees' strength is offense, but their rotation after CC Sabathia is filled out by mystery men.
The showdown between aces Sabathia and Justin Verlander of the Detroit Tigers was put on hold when Friday's Game 1 was suspended because of rain in the second inning. The game, tied 1-1, was not postponed and will resume today at the point of suspension.
For wagering purposes, most sports books — depending on house rules — will treat the game as a rainout.
"The first inning was action. Everything else is a refund," Las Vegas Hilton sports book director Jay Kornegay said.
The Hilton offered this proposition: Will there be at least one run scored in the first inning? The "Yes" bet cashed at plus-130.
Sabathia was a minus-125 favorite in the game, and the Yankees opened as minus-150 series favorites. The pitching rotations will be altered for the rest of the series.
The Tampa Bay Rays, who were plus-140 series underdogs, recorded the first upset with a 9-0 victory Friday at Texas. The Rays played their way in as a wild card on a memorable Wednesday. Baseball stole the spotlight for a night, but it has returned to its place in the shadows of football betting.
"The other night you had one of the best nights of regular-season baseball I've ever seen, and you thought there would be a little bit of a carry-over," said Jimmy Vaccaro, director of operations for Lucky's sports books. "But there's nothing going on. It's minimal action."
Contact reporter Matt Youmans at myoumans@reviewjournal.com or 702-387-2907.