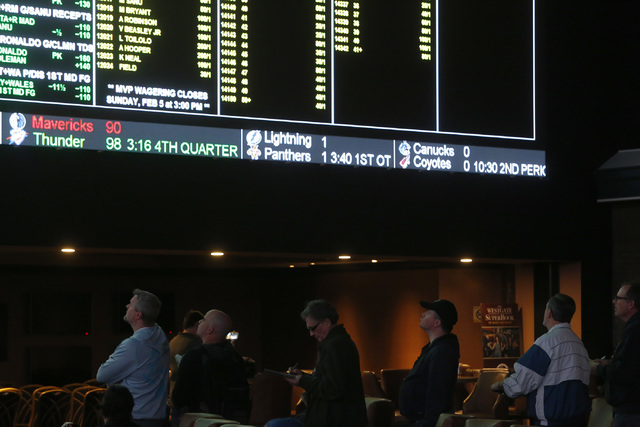 Super Bowl LI will be remembered as one of the worst bad beats ever by Falcons bettors, including the unidentified gambler who lost his $1.1 million wager on Atlanta plus-3 with CG Technology after it blew a 28-3 second-half lead Sunday in its 34-28 overtime loss to the Patriots.
Another bettor lost a $470,000 money-line wager on the Falcons at MGM Resorts while a gambler at the Westgate lost a $1,000 futures bet on Atlanta to win the Super Bowl at 100-1 odds and a bettor at CG Technology lost a $5,000 wager on the Falcons at 40-1 odds.
"It was a historically bad beat for Falcons bettors," MGM Resorts sports book director Jay Rood said.
On the other side of the betting window, Caesars Palace sports book director Frank Kunovic suffered a bad beat of his own. He came up with a new prop this year, "Will the ball hit the uprights on a kick?" Bettors pounded the 'Yes' on 89 percent of the tickets on the prop, which opened at plus-450 and cashed at 4-1 odds when Stephen Gostkowski's missed extra point clanged off the goal post in the third quarter.
"We got crushed on that one," he said. "That cost us quite a bit at Caesars Palace."
Bettors also cashed tickets on the missed extra point (plus-330).
Las Vegas sports books won on the game overall, as usual, but lost on a bevy of popular prop bets, with overtime paying as much as 7-1. Other plus-money props that cashed were successful two-point conversion (plus-250), over 2½ players with passing attempt (plus-175), defensive or special teams touchdown (plus-170), fourth-down conversion (plus-145) and will Tom Brady throw an interception (plus-140).
"It could've been worse for the casual fan who had an Atlanta ticket. He had a couple of outs," Rood said. "The guy who lined up and put all his eggs in one basket on the Falcons' money line might've taken it on the chin. But the casual fan could recover a little bit on the carnival props."
DON'T WAIT UNTIL NEXT YEAR
The Patriots are 5-1 favorites at the Westgate to win Super Bowl LII on Feb. 4, 2018. The Cowboys are the second choice at 8-1, the Steelers are 10-1 and the Falcons, Seahawks and Packers are each 12-1. The Broncos are 16-1, the Chiefs are 18-1 and the Browns and 49ers are the 300-1 longshots.
Gaughan Gaming and VSiN oddsmaker Vinny Magliulo posted an early Super Bowl LII line on Sunday night with the AFC minus-1½ and a total of 57.
"We're always in look-ahead mode," Magliulo said.
COVER MACHINE
New England, which was a 16-1 underdog to win the game in in-progress wagering at William Hill when they trailed 28-9 in the fourth quarter, finished the season with a 16-3 record against the spread. According to The Gold Sheet, that mark matched the 1989 49ers for the NFL's best ATS record ever.
The Patriots went 3-1 ATS without Brady and 13-2 ATS with him, covering their final eight games while cashing Patriots-and-over parlays in their last four, including all three playoff games.
CLOSING BOOKS ON 2016
While the betting public had one of their most successful NFL seasons in years in 2016, the books still won $91.7 million on football, including college, for an increase of 10.5 percent over 2015, according to the gaming revenue report released by the Nevada Gaming Control Board.
The state's 190 sports books won a total of $219.1 million overall for the year, which was a 5.4 percent decrease from 2015.
In December, sports books won $13.8 million on football, an increase of 54.5 percent from the same month in 2015. But their numbers were down 17.8 percent in the months of October, November and December, when they won $50.6 million on football. The parlay card numbers were way down as the books won $148,000 in December (72.1 percent decrease), $4.7 million the final three months (55.8 percent decrease) and $10.4 million on the year (34.8 percent decrease).
Contact reporter Todd Dewey at tdewey@reviewjournal.com or 702-383-0354. Follow @tdewey33 on Twitter.