Supreme Court sports-betting ruling to have limited Nevada impact
Updated April 28, 2018 - 6:28 pm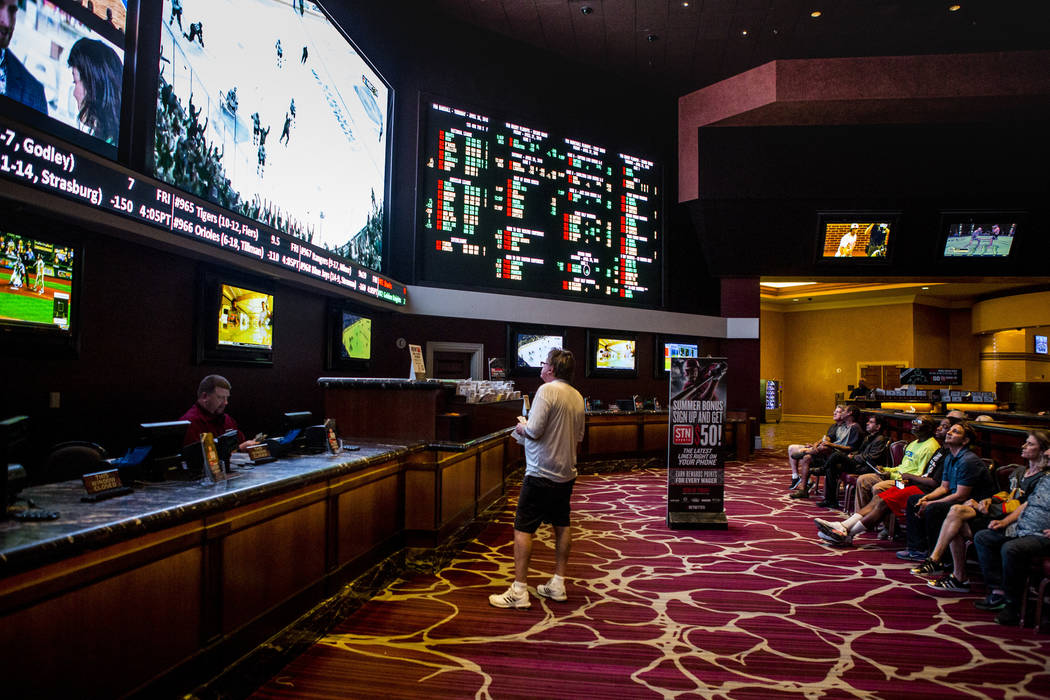 Sports betting could become legal nationwide as soon as Monday.
Or it could take a few more weeks.
The gaming industry, technology providers and weekend gamblers across the country have been anticipating a decision since Christie v. NCAA was argued before the U.S. Supreme Court on Dec. 4. But the justices move at their own pace.
Their decision will determine the fate of the Professional and Amateur Sports Protection Act, which prevents sports wagering in all but four states. Under the law, Nevada is the only state that takes single-game sports bets.
New Jersey wanted in on the action. The NCAA and professional sports leagues sued to block New Jersey's plan. Lower courts ruled against New Jersey. Now it's the Supreme Court's call.
Industry leaders, regulators, advocates, and critics have weighed in on what a PASPA repeal would mean. The decision will have consequences for the states that have enacted, or plan to enact, legislation to legalize sports betting, and possibly for the Silver State. Would Nevada lose market share with a proliferation of sports betting?
No effect on Nevada
"I don't think it will affect Nevada at all," said Nevada Gaming Commission Chairman Tony Alamo. "I think some of our licensees that have other properties in other jurisdictions will jump in and do some sports betting there because they have the infrastructure and expertise. But will it hurt Nevada? It won't make any difference at all. At the end of the day, our handle will stay the same and our win percentages will stay the same. It's an amenity to bring people into our gorgeous properties."
States that anticipate massive increases in gaming tax revenue will be disappointed with what they take in because sports wagering is such a low-margin profit center, Alamo said.
"Everyone needs to keep in mind that this is a small-margin business, and it's not going to move anyone's needle in any of the states," Alamo said. "We have a very beneficial tax structure here in Nevada, and I believe last year the win for all of sports gaming in Nevada was about $250 million (it was $248.8 million, according to the Gaming Control Board), divided by all our licensees that participate in sports betting. That's not a lot of money."
Alamo said he thinks lawmakers in some states are dazzled by the potential handle — the amount of bets made illegally, which are estimated at between $100 billion and $300 billion annually. But handle isn't what's taxed; it's a book's winnings.
Amenity to draw traffic
Alamo said sports books are built as an amenity to attract gamblers to casinos so they can spend at other resort profit centers — the hotel, food and beverage, nightclubs and gaming.
Companies that already have sports books in Nevada and resorts in other states or manage casinos on tribal land are the best positioned to profit from the repeal of PASPA. Those companies include MGM Resorts International, Caesars Entertainment Corp., Boyd Gaming Corp., Penn National Gaming, Eldorado Resorts and, to a lesser extent, Wynn Resorts Ltd., Golden Entertainment and Red Rock Resorts.
"Our legal experts seem very confident that PASPA will be overturned,'' MGM Resorts CEO Jim Murren told Wall Street analysts on the company's Thursdays earnings call. "With our singular dominance in sports so far, we intend to be the biggest beneficiary of commercial sports betting, should the Supreme Court overturn PASPA as early as June."
The New York-based Jefferies Group brokerage believes the publicly traded companies most likely to benefit from legalized sports betting are the largest regional casino operators — Caesars and Penn National, as well as technology suppliers Scientific Games Corp. and IGT.
Las Vegas-based Scientific Games positioned itself in January, weeks after the Supreme Court heard the PASPA arguments, to be on the forefront of sports-wagering technology. Scientific acquired NYX Gaming Group, developer of the OpenBet sports betting platform, for $630 million and kept its CEO, Matt Davey.
Based in Las Vegas, Davey said, the company has developed the top online betting platform and sports-betting engine. It handles 80 percent of sports-betting transactions in the United Kingdom, the largest online gaming market in the world.
Scientific CEO Kevin Sheehan said his company's goal is to be the world's leading supplier of digital gaming and lottery technology with products for land-based casinos, the internet and mobile wagering.
OpenBet is used by top operators William Hill, Ladbrokes and Paddy Power, and Scientific has relationships with casinos and lottery outlets nationwide.
"By coupling that technology and product with Scientific Games' physical distribution and regulated position in the U.S., it becomes a very powerful solution to what we see in the marketplace," Davey said in a telephone interview.
States preparing
Twenty to 30 states already have sports-betting legislation introduced, with approvals completed in New York and Pennsylvania, Davey said. Integration would take a minimal amount of time in order to begin wagering, he said.
With potential startups just around the corner, there are still a few nagging questions.
Will sports betting be viable in other states with all the investment that needs to occur? With margins so narrow, what's an appropriate tax rate? Will Congress consider federal oversight? Most advocates believe monitoring sports betting is best left to the states.
Sports book operators would have to invest in sports-betting infrastructure as well as pay taxes on any net revenue.
Casinos that offer online wagering would have lower costs and higher profit margins, according to Global Market Advisors.
"A state tax any higher than 10 percent would make it very difficult for a sports betting operation to compete against illegal operators who do not pay anything in tax and do not have the burden of paying for land-based operations,'' said GMA.
Jefferies expects the sports betting black market to remain large even if it is legalized. Sports fans may not want to take the time and effort to register with the appropriate agencies, pay taxes on any earnings or break existing relationships they have with illegal betting operations, the brokerage said. Jefferies pointed to the cannabis market, which still has a black market even in states where it's legal because of high taxes.
With the exception of the largest operators like MGM and Caesars, most smaller casinos will likely outsource their bookmaking to third parties like William Hill and CG Technology, Jefferies analyst David Katz said in an April 16 note on the subject.
Not a big impact
Katz doesn't expect legal sports betting to have an immediate big impact on the casino industry.
"It could take longer to evolve than some initial optimistic estimates,'' he wrote. However, the total impact is not easily captured by just the potential win on sports betting.
"The presence of a sports book with casino floors in Nevada does intuitively drive traffic to casino floors, especially during heavier sports-betting periods, such as the Final Four and Super Bowl," he said.
Companies as well as their products will have to be licensed in each state. As providers of slots and lottery systems in many states, both Scientific Games and IGT are licensed at the corporate level. This will give them a "first movers advantage'' when sports betting is legalized, Katz said.
Alamo, meanwhile, is hopeful that Nevada will be considered a resource when the industry takes off.
"I hope Nevada is in charge, because nobody does it better than Nevada," Alamo said. "Why? Because we've done it for so long and we've done it right."
Contact Richard N. Velotta at rvelotta@reviewjournal.com or 702-477-3893. Follow @RickVelotta on Twitter. Contact Todd Prince at tprince@reviewjournal.com or 702-383-0386. Follow @ToddPrinceTV on Twitter. Review-Journal writer Todd Dewey contributed to this story.
Small margins
The reason sportsbook margins are so small is that bookmakers regularly try to persuade both sides of a game to place bets by adjusting point spreads and odds. The objective is to be able to pay off gambler winnings with revenue brought in from the losing side. The book profits by taking a small percentage of the total wagered.
The hold percentage for sports betting generally ranges between 4.5 percent and 5.5 percent, but that can fluctuate significantly, according to a report by Global Market Advisors.
In addition, the expenses for an average sports book — such as employee payroll, marketing, rent and back office expenses — are nearly 50 percent of their win, according to the Global Market report. Thus, a casino operator that handles $1 billion a year in wagers would generate gross revenue of about $50 million and net revenues of $25 million before taxes.
Win percentage also fluctuates by event.
Nevada sports books won only 0.7 percent of the $159 million wagered this year on the Super Bowl for a profit of $1.17 million.
The 2014 Super Bowl generated a record profit for the books of $19.7 million for 16.5 win percentage.