Time to back resurgent Chiefs
October 26, 2014 - 12:00 am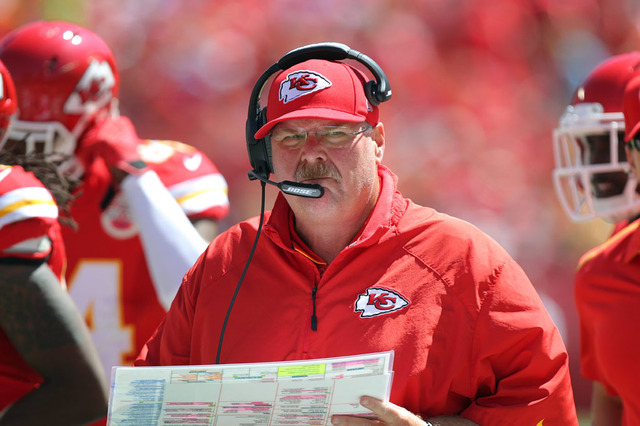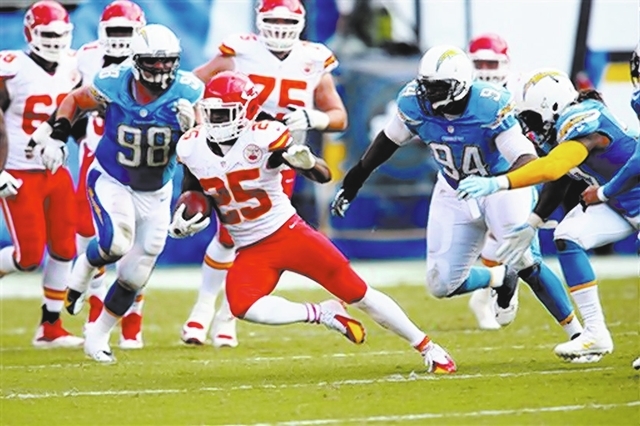 On the season's first Sunday, Alex Smith was a bad quarterback, and it appeared it might get worse for the Kansas City Chiefs.
Smith threw three interceptions in the Chiefs' 26-10 loss to Tennessee in Week 1. After a surprising 11-5 finish in coach Andy Reid's first season in Kansas City, his team seemed to be crashing back to reality.
But a narrow loss at Denver was followed by back-to-back blowout victories over Miami and New England, and suddenly the Chiefs' season-opening flop was all but forgotten.
"The Chiefs have amazingly turned it around," Westgate Las Vegas sports book manager Ed Salmons said. "Ever since that game against the Patriots they have looked like the Chiefs of last year."
Smith passed for 221 yards and a touchdown, and Jamaal Charles rushed for 95 yards in a 23-20 win at San Diego last week that lifted Kansas City to 3-3. Smith has been more efficient, throwing only one interception in the past five games, and the Chiefs are rolling with the No. 3 rushing offense in the NFL.
"The Chiefs beat up on the Chargers last week, and it felt like that game was more one-sided than the score," said Salmons, who is siding with Kansas City today as a 7-point home favorite over the St. Louis Rams.
Bettors supported the Chiefs after the line opened at 6.
"From watching the market in the NFL, these numbers move more than they have ever moved before," Salmons said. "This line is creeping to 7½."
St. Louis was a 7-point home 'dog in a 28-26 upset of Seattle last week.
"The Rams are down both cornerbacks, and their center and left guard are out, so they are in bad shape. I would be stunned if the Rams have anything left for this game," Salmons said. "If they run the ball, play good defense and don't turn it over, I think the Chiefs are going to win pretty handily."
Salmons (@LVSuperBook on Twitter) analyzes the rest of today's Week 8 schedule:
■ Detroit (-3½) vs. Atlanta at London: This game starts at 6:30 a.m. here, the earliest kickoff in NFL history. Atlanta is on a third-string center and its offensive line has been torn apart. I thought with wide receiver Julio Jones healthy, the Falcons would be better, but they are somehow worse than last year. The Lions are 5-2 after getting a gift win last week, and with a bye next week, there is no way they will play Calvin Johnson. I would lean to the Lions, but I don't think I could bet it.
■ Minnesota at Tampa Bay (-2½): We went from 2½ to 3 to 2½ minus-120. This is just one of these spot games. The Vikings played a tough game at Buffalo last week and travel to Tampa in the heat. The Buccaneers are off a bye after an atrocious showing at home against Baltimore when it was 38-0 at halftime. But the Buccaneers always seem to bounce back. Tampa Bay defensive coordinator Leslie Frazier is the former Minnesota coach. There is a ton of motivation for the Buccaneers, and you've got to think they will play their 'A' game and probably get a win.
■ Chicago at New England (-6): The Bears are terrible at home and, for some reason, they play well on the road. All the stuff that happened last week with wide receiver Brandon Marshall and quarterback Jay Cutler after the loss to Miami, that usually motivates an NFL team. The Chicago offense should be one of the top five in the league with Marshall, Alshon Jeffery and weapons everywhere. But the Bears fall into the play-calling routine of running Matt Forte up the middle, throwing it to Forte, and you've got two weapons out there and you're just not using them. The Patriots lost another key player this week, defensive end Chandler Jones. Jets quarterback Geno Smith looked like Johnny Unitas against New England, and the Patriots made him look that good. The Bears should definitely score points in this game and keep it close.
■ Seattle (-5) at Carolina: The Panthers have injuries all over their defense. The Seahawks need the win in the worst way, and they probably will win, but by more than 5? The public will bet them. Seattle has been a great team for the house, saving the books by losing the last two weeks. I would not bet the Panthers, but I wouldn't be surprised if they keep it close.
■ Buffalo at N.Y. Jets (-3): We opened the Jets minus-2, and we knew the Bills were banged up at running back with C.J. Spiller and Fred Jackson out. Buffalo did get a miracle win last week against the Vikings. The Jets are 1-6 after losing six straight, and they need the win bad. But laying 3 with Jets, you take your life in your hands.
■ Miami (-6) at Jacksonville: The Jaguars are down two or three starters on defense, including Paul Posluszny, their best linebacker. I think Miami is better than its 3-3 record shows, but this team has underachieved for three years. I think their coach, Joe Philbin, is an idiot, and the Dolphins have to win despite him. The Miami pass rush is as good as you'll see, and defensive end Cameron Wake is amazing. I think the Dolphins win here, but I'm not sure about laying the points.
■ Houston (-3) at Tennessee: This line opened at 1 and it might climb to 3½. The Titans are going with Zach Mettenberger at quarterback. The rookie from Louisiana State played well during the pre­season, but this is not preseason. I'm not sure what to expect with the new quarterback. I thought Tennessee could be a .500 team this season, but it has been really disappointing. The Texans are trying to play through Ryan Fitzpatrick, and he's just a terrible quarterback. I could not bet either team in this game.
■ Baltimore (-2) at Cincinnati: Bengals wide receiver A.J. Green is probably not going to play. You watch Cincinnati, and your eyes tell you there's so much talent on the field. But it's the same old stuff with the Bengals, because they look great and then get blown out by the Patriots. You would think the Bengals would have some motivation, but they have not showed a pulse of late. They have injuries on defense, and the offense just refused to get a first down last week in the 27-0 loss at Indianapolis. The Ravens are great at beating bad teams, and I think that is all coaching from John Harbaugh. It is a revenge game. Cincinnati opened as a 2½-point favorite. If you look at this game last year, the Bengals were laying 7 and killed the Ravens 34-17. To me, it's an impossible game to figure.
■ Philadelphia at Arizona (-1½): The Cardinals are 5-1, and they remind me of the Ravens because they are really good at beating bad teams. Arizona is really overachieving. The Cardinals should have lost to the Chargers and the Redskins played them tough at home. I'm still not a believer that quarterback Carson Palmer is back, and I think his arm strength is terrible. The Eagles' center has been out, they lost their left guard and their right tackle was suspended. Running back LeSean McCoy really hasn't done anything, and I think that points back to the offensive line. But the Eagles had a bye week, and I expect them to play well here and win this game.
■ Indianapolis (-3) at Pittsburgh: The three most popular teams in the league would be the Broncos, Seahawks and Colts, and the Colts are covering spreads like crazy. The public is in love with the Colts, and quarterback Andrew Luck is so good it's ridiculous. I expect this line will go to 3½ at some point, and the wiseguys might buy it back. I keep thinking the Colts are going to have a down game, but they are like a machine and they keep winning and covering. The Steelers look like a mess. I think Mike Tomlin is a great coach, but this looks like an aging team. I would pass on the game. I know we'll be rooting for the Steelers, and this will be a big game for us.
■ Oakland at Cleveland (-6½): Everyone was celebrating how great the Browns were after the Pittsburgh game, and they got their heads knocked in by Jacksonville. You could kind of see that one coming. The Raiders will play a decent game, and then when you start to trust the Raiders, they don't show up. Based on their cycle, they should be in for a close game here. In the old days, you probably would have bet the Raiders plus-9½ in this game, and now you're getting 6½. But I could never lay the points with Cleveland.
■ Green Bay at New Orleans (-2½): If 75 percent of the tickets are on Green Bay, probably 80 percent of the money is on New Orleans. This game is wiseguys versus the public, and the wiseguys want to bet the Saints. The Saints have been awful, and this is their season. The Packers are 5-2 and kind of sitting fat and happy. But look at the Packers' road games, and they lost at Seattle and Detroit, had a miracle win at Miami and they always match up well with the Bears. I expect a big effort from New Orleans. If I'm betting the game, I would only bet the Saints.