Tony Miles eliminates Joe Cada, takes lead in WSOP Main Event
Updated July 14, 2018 - 12:31 am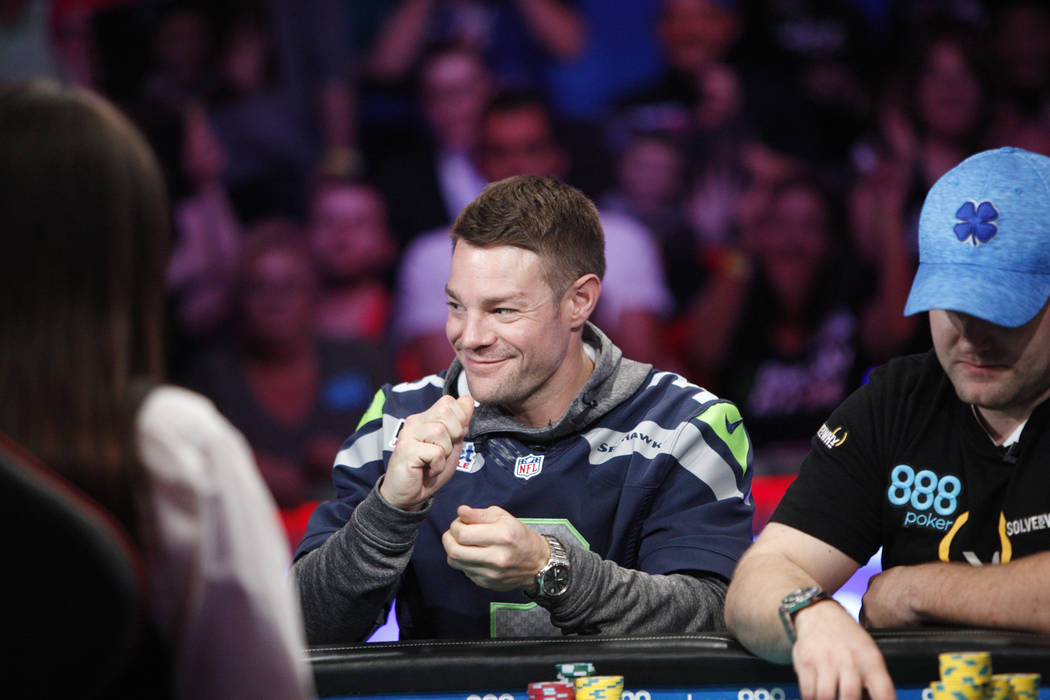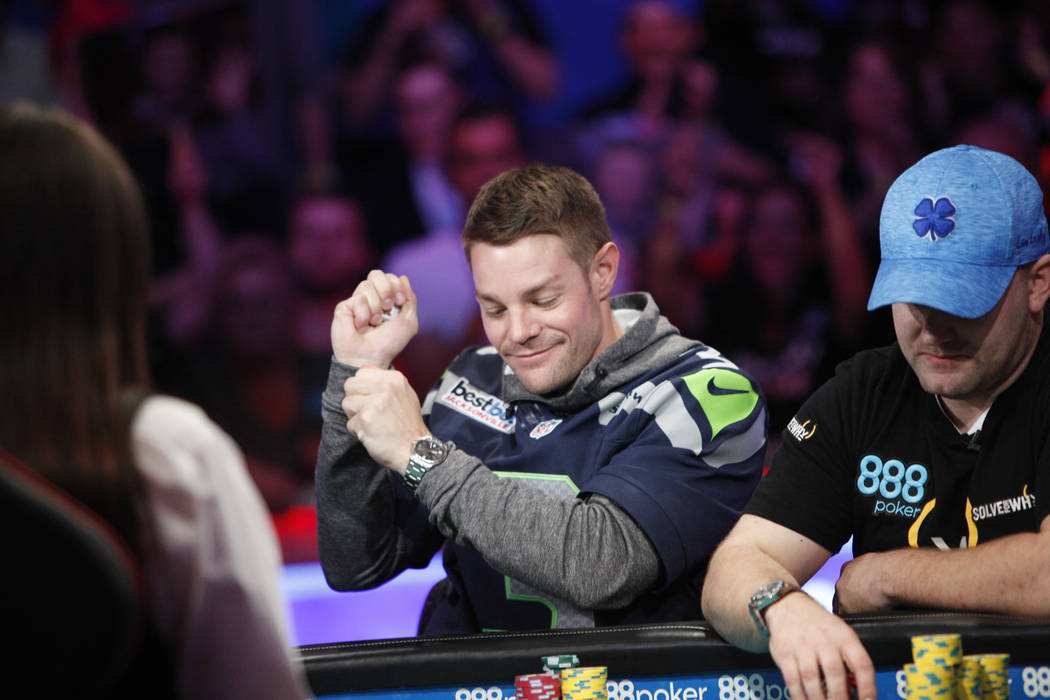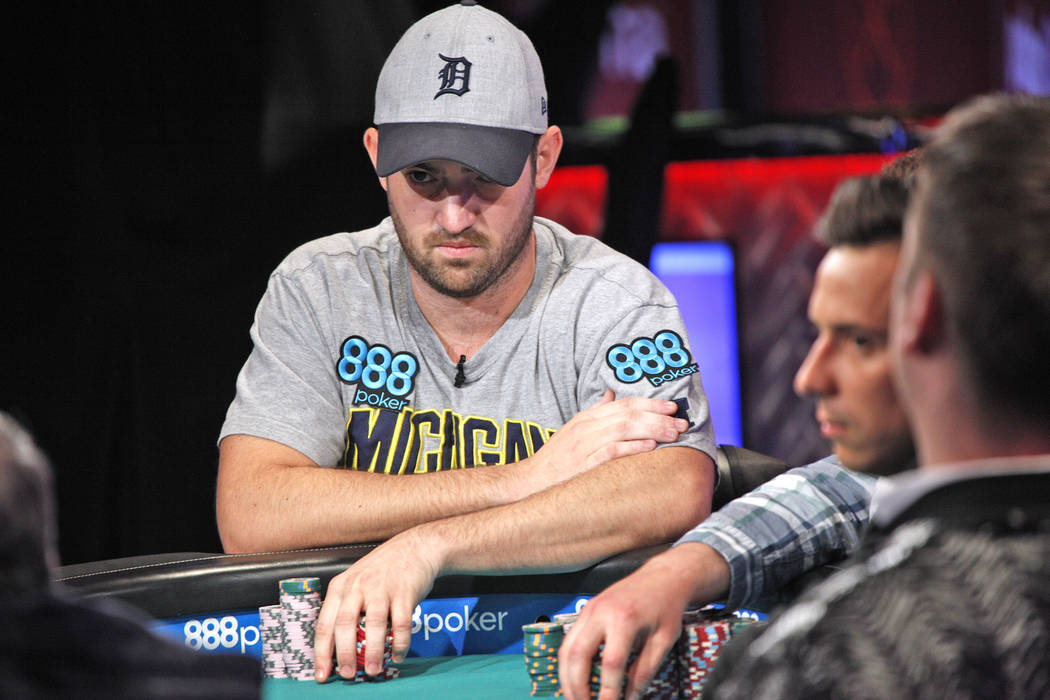 Tony Miles overcame drug addiction before cashing in his first World Series of Poker event in June.
Miles then overcame some adversity on the felt to make the final table of the WSOP Main Event, doubling up Wednesday to stave off elimination in 10th place.
The Jacksonsville, Florida, resident continued his hot streak on Friday the 13th, knocking out 2009 Main Event champion Joe Cada and taking the lead from Michael Dyer in short order.
Cada went all-in with pocket 10s and Miles, 32, took five minutes before calling with ace-king.
"This is going to make good TV either way," Miles said on the ESPN broadcast before calling. "I've been running pretty good this tournament."
Cada had a 57-percent chance to win the virtual coin flip before Miles flopped a pair of kings and won with two pair.
"Sometimes you win flips. Sometimes you lose," Cada told Casino City. "I ran good the last time I was here. Today it was my turn to lose a flip."
In arguably the greatest feat in the history of the Main Event, Cada finished in fifth place in the field of 7,874 after outlasting 6,494 players in 2009, when he was the youngest to win it at age 21.
To put his accomplishment in perspective, three-time Main Event champion Stu Ungar beat a total of 460 players in his three title runs (1980, 1981 and 1997), and Johnny Chan outlasted a total of 319 players in his back-to-back Main Event wins in 1987 and 1988.
Miles, wearing a Steph Curry jersey after sporting a Russell Wilson jersey Thursday, soared to second place after winning the pot, which was worth more than 97 million in chips.
Less than 30 minutes later, Miles won a hand worth 67 million in chips heads-up against Dyer, who entered the night with more than twice as many chips as any other player.
Miles had pocket 3s and flopped three 3s. Dyer flopped two pair. Miles made a full house on the river and bet 27 million in chips. Dyer snap-called as he lost the hand and the lead of the $10,000 buy-in No-limit Texas Hold 'em World Championship.
Before ESPN even started its 6 p.m. broadcast, which is on a 30-minute delay, Aram Zobian was eliminated in sixth place.
Zobian, from Cranston, Rhode Island, and the youngest remaining player at age 23, went all-in with an 8-6 suited and Dyer called him with ace-eight and held on to win with an ace-high hand.
Zobian, who entered with $110,444 in career tournament earnings, took home $1.8 million and lived up to the "Aggro Aram" nickname printed on shirts by his family and friends for his aggressive style.
"Throughout the entire (tournament), I wasn't afraid to pull the trigger," he said. "That gives me a lot of confidence moving forward."
Miles and Dyer were virtually even at 151 million in chips shortly before Miles won another huge pot in heads-up play at 10:07 p.m. when he flopped a pair of aces, caught three aces on the turn and made a full house on the river.
Miles bet 27 million and Dyer called with two pair, losing the hand while dipping to 100 million in chips in second place. Miles, who has $54,333 in career tournament earnings, saw his stack soar to 199.9 million.
In another impressive accomplishment, John Cynn of Indianapolis made it to the final table after placing 11th in the 2016 Main Event.
Cynn was in fourth place when Cada was eliminated but climbed to third place ahead of Nic Manion of Muskegon, Michigan. Manion started the final table in first place after winning an epic final hand Wednesday when his pocket aces held up against two pairs of pocket kings in a three-way all-in.
But Manion quickly fell to second place Thursday and was the short stack at 10:30 p.m. even after doubling up earlier against Miles.
Play continued on Day 9 of the Main Event until three players remained.
The difference between fourth place ($2.825 million) and first place ($8.8 million) is almost $6 million.
The final three players will return at 5:30 p.m. Saturday and play will continue until there's a winner.
More Betting: Follow betting coverage at reviewjournal.com/betting and @RJ_Sports on Twitter.
Contact reporter Todd Dewey at tdewey@reviewjournal.com. Follow @tdewey33 on Twitter.
WSOP Main Event
Rio Convention Center
Final table chip counts and results as of 10:30 p.m. Friday
Place, Player, Chips
1. Tony Miles — $195.6 million
2. Michael Dyer — $93.85 million
3. John Cynn —$73.75 million
4. Nic Manion — $30.575 million
Results Payout
5. Joe Cada — $2.15 million
6. Aram Zobian — $1.8 million
7. Alex Lynskey — $1.5 million
8. Artem Metalidi — $1.25 million
9. Antoine Labat — $1 million
Remaining payouts
1. $8.8 million
2. $5 million
3. $3.75 million
4. $2.825 million