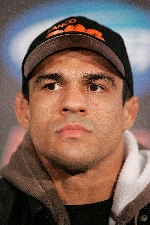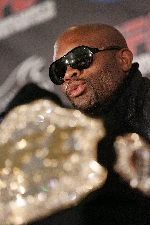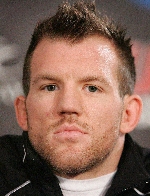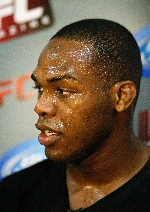 Anderson Silva (27-4) vs. Vitor Belfort (19-8)
■ Class: Middleweight title fight
■ Line: Silva minus-250
■ Storyline: Silva, the light heavyweight champion and one of the two best pound-for-pound fighters in mixed martial arts, barely escaped with his belt the last time out against Chael Sonnen. Belfort might be an even bigger test but provides a better style matchup. Like Silva, Belfort prefers to stand up. This should be a striking battle and though Belfort has the power to knock out Silva, nobody is more dynamic on his feet than Silva. Both fighters are natives of Brazil, where they are two of the most popular fighters, so national pride is on the line.
■ Pick: Silva by second-round knockout
Forrest Griffin (17-6) vs. Rich Franklin (28-5)
■ Class: Light heavyweight
■ Line: Franklin minus-160
■ Storyline: There's really no mystery to this matchup of ex-champs. Both are action fighters who prefer to stand in the center of the cage and throw shots. Griffin has spoken in recent days about being nervous to return to action after nearly 14 months away because of injury. Griffin should have a slight size advantage on fight night, but that probably won't be much of a factor.
■ Pick: Griffin by third-round KO
Jon Jones (11-1) vs. Ryan Bader (12-0)
■ Class: Light heavyweight
■ Line: Jones minus-280
■ Storyline: A matchup of rising contenders on the verge of superstar status. Jones is considered the "next big thing" in the sport, but Bader is unbeaten and could take all the hype for himself should he find a way to win. Jones' only loss was by disqualification on a technicality in a fight he was dominating. He has yet to show any reason not to believe the hype.
■ Pick: Jones by third-round KO
Jake Ellenberger (23-5) vs. Carlos Eduardo Rocha (9-0)
■ Class: Welterweight
■ Line: Ellenberger minus-270
■ Storyline: After consecutive technical-knockout victories, Ellenberger was supposed to face perennial contender Jon Fitch on this card but instead drew a lesser-known, very dangerous opponent. There is no secret to what Rocha wants to do. All but one of his victories were by submission and all but one have come in the first round. He will look to take the fight to the ground immediately against Ellenberger, a wrestler with good knockout power.
■ Pick: Ellenberger by decision
Miguel Torres (38-3) vs. Antonio Banuelos (18-6)
■ Class: Bantamweight
■ Line: Torres minus-340
■ Storyline: Torres held the World Extreme Cagefighting bantamweight title and successfully defended it three times, but a two-fight losing streak dropped him back in the rankings. He changed his training camp and is coming off a second-round submission of Charlie Valencia in September. Both fighters are making their UFC debut after the WEC merger. Banuelos has won four of his last five and gone to decision in four straight bouts. Torres is a gifted submission artist and the more technical striker, while Banuelos has a wrestling background and likes to brawl.
■ Pick: Torres by decision
ADAM HILL/LAS VEGAS REVIEW-JOURNAL; PHOTOS BY JOHN LOCHER/LAS VEGAS REVIEW-JOURNAL