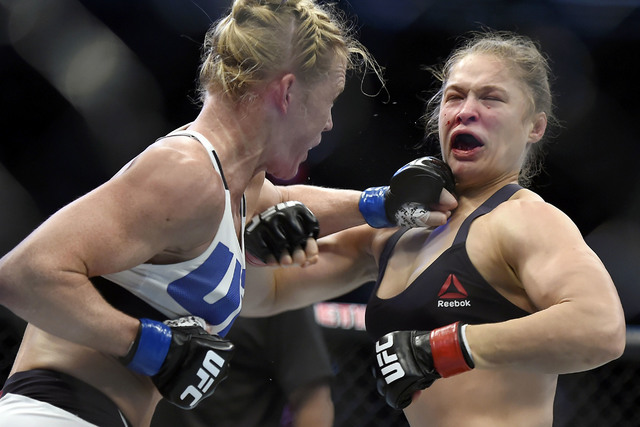 A year ago, if bettors had seen Ronda Rousey on the board as a slight favorite, a mixed martial arts bout might have broken out in the sports book because of a race to the window.
Times have changed.
Rousey, never less than a minus-500 favorite in seven previous UFC fights and only twice below minus-1,000, is minus-135 to defeat women's bantamweight champion Amanda Nunes in the main event of UFC 207 on Friday at T-Mobile Arena.
The bout marks Rousey's return after more than a year off following a stunning knockout loss to Holly Holm in November 2015 in Melbourne, Australia. Rousey entered the fight as a minus-1,650 favorite, according to bestfightodds.com, with underdogs cashing on Holm at plus-800.
Whether it's the memory of Rousey battered and beaten on the mat, the immense power Nunes displayed in taking the belt from Miesha Tate in July or Rousey's odd media blackout leading up to her comeback, bettors don't expect to see the Rousey who once dominated the sport return to form Friday.
"The action we're getting is all Nunes," Golden Nugget sports book director Tony Miller said. "We opened up at minus-155 on Rousey, and we're currently at minus-135. We got hit on Nunes pretty good. They took plus-135, they took plus-125, and now they're taking plus-115.
"I've got kibbles and bits on Ronda. All the big bets are on Nunes."
Miller said despite the massive prices Rousey was laying during her dominant run as champion, bettors consistently backed her at the window.
"We won a lot of money on Holm," Miller said.
Now, he estimates 75 percent of the tickets the Golden Nugget has written on the fight have been on Nunes.
"I don't know if they're betting on her or against Ronda," he said.
William Hill sports books reported similar action, with 64 percent of the tickets on Nunes. Their price is still at minus-145, but 60 percent of the money is on Rousey. That means the bigger bets have been on Rousey.
Those players probably believe there is value in the discounted price on the former champ, whose lowest prior number was minus-475 against Sara McMann in 2014. Since then, Rousey closed at minus-1,400 against Alexis Davis, minus-1,150 against Cat Zingano and minus-1,975 against Bethe Correia before the Holm fight.
The price on Rousey isn't the only thing in decline.
Miller said the handle on the fight also is well down from Rousey's peak, though he hopes visitors flooding the city for New Year's weekend will boost that number with late action.
In the other title fight on the card, bantamweight champion Dominick Cruz is a minus-210 favorite over undefeated knockout artist Cody Garbrandt. Miller said action on that fight and the rest on the card has been minuscule.
Contact Adam Hill at ahill@reviewjournal.com or 702-277-8028. Follow @adamhilllvrj on Twitter.