January 26, 2013 - 2:03 am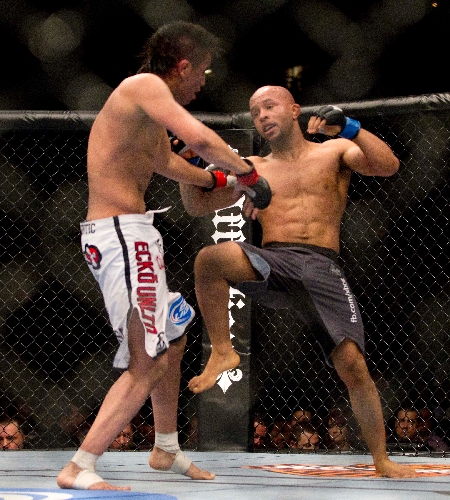 CHICAGO – A breakdown of the fights on the main card of UFC on Fox 6 tonight at the United Center:
Demetrious Johnson (champion, 16-2-1) vs. John Dodson (14-5)
■ CLASS: For flyweight title
■ LINE: Johnson -210
■ STORYLINE: Just about every flyweight in the UFC is lightning quick, but these two stand out as probably the fastest competitors in the organization. Johnson might have a slight speed advantage over Dodson, but not by much. A bigger edge might be that Johnson has been on the big stage. He won a decision over Joseph Benavidez in a back-and-forth thriller in September in the first UFC flyweight title bout as the co-main event of a pay-per-view card that also featured Jon Jones. He won't be scared of the moment. Dodson has shown no signs of intimidation, acting as goofy as ever with his ever-present smile, but it's always hard to predict how a fighter will handle the bright spotlight. Dodson has a power advantage, but Johnson's technique might be too good.
■ PICK: Johnson by decision
Quinton "Rampage" Jackson (32-10) vs. Glover Teixeira (19-2)
■ CLASS: Light heavyweight
■ LINE: Teixeira -300
■ STORYLINE: Teixeira's run of 17 straight wins is one of the sport's most impressive streaks. The big caveat is the level of competition. The UFC had been trying to sign the Brazilian for several years, but visa issues prevented it until last year. Teixeira racked up win after win outside the organization and has shown no signs that the run was a fluke in two impressive victories since joining the UFC. This is a big step up, however. Jackson has lost more than a step, but still has tremendous power. He's also motivated. The former UFC light heavyweight champion and PRIDE superstar is on the final fight of his contract and insists he will become a free agent after tonight. What better way to drive up his market value than to end Teixeira's winning streak? He has challenged Teixeira to stand and trade with him, and he might get his wish for a while, but Teixeira knows he has an edge on the ground and might exploit that advantage as the fight progresses. From a betting perspective, however, Jackson offers the best value on the card.
■ PICK: Teixeira by second-round submission
Anthony Pettis (15-2) vs. Donald Cerrone (19-4, 1 NC)
■ CLASS: Lightweight
■ LINE: Pettis -120
■ STORYLINE: This is about as close to a tossup as you will find. Both are fast-paced, high-volume strikers with dynamic submission ability. The fight could go to the ground and become a grappling exhibition, but both fighters seem to be keenly aware of how high fans' expectations for a slugfest are going into this long-awaited matchup. Cerrone has been pleading for this matchup for nearly two years, insisting all along it's a sure-fire fight-of-the-night winner. The only possible hindrance to all-out aggression by both guys could be the importance of a victory. The fact a potential lightweight title shot could be at stake might create hesitation. Even if both throw caution to the wind, a finish might be tough to come by. Pettis never has been stopped as a professional, and Cerrone has been submitted once but never knocked out. This has 15 minutes of action written all over it, but Cerrone might have an edge on the scorecards at the end by virtue of a higher volume of shots.
■ PICK: Cerrone by decision
Erik Koch (13-1) vs. Ricardo Lamas (12-2)
■ CLASS: Featherweight
■ LINE: Koch -150
■ STORYLINE: Koch is coming off what he refers to as "a lost year." He didn't fight in 2012 and hasn't competed since beating Jonathan Brookins in September 2011. Koch was injured in early 2012 but healed in time for a title shot against Jose Aldo in July. But Aldo was forced to withdraw because of an injury. By the time the rebooked fight was scheduled, Koch got hurt again. Now that he's back, Koch finds himself needing a win to secure the title shot. It won't be easy against Lamas, a Chicago resident who is 3-0 in the UFC. The biggest challenge for Koch might be shaking off the rust. Lamas is a tough competitor, but Koch is particularly explosive when he's healthy. Eight of his 13 wins have come in the first round.
■ PICK: Koch by second-round knockout
ADAM HILL/LAS VEGAS REVIEW-JOURNAL