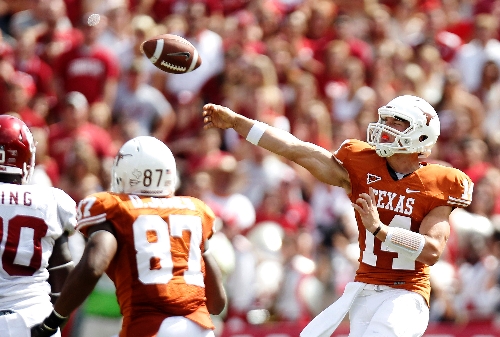 Play Q & A with handicapper Kelly Stewart, who will answer selected questions from Las Vegas Review-Journal readers. Email her at Askkelly@reviewjournal.com.
Q: You hit Florida over Louisiana State last week. What is your top college upset pick this week?
– Adam, Baker, Calif.
A: Yes! I loved that game! This week, I like Texas over Oklahoma. The Sooners are 1-4 against the spread in their past five Big 12 Conference games. Senior quarterback Landry Jones hasn't really showed me much this season. Oklahoma had a less-than-impressive win over Texas-El Paso and a big home loss to Kansas State.
Texas, on the other hand, has really started to shine, at least on offense. David Ash played great against Mississippi and even in last week's loss to West Virginia. He is completing 77.5 percent of his passes with 11 touchdowns and only one interception. I think Ash leads the Longhorns to victory in Dallas. Texas is a 3- to 3½-point underdog, and I'll take plus-150.
Q: Notre Dame has looked good, especially on defense, but I'm not sure it deserves to be an 8½-point favorite over Stanford. Is the line inflated on the Irish?
– Melvin, Henderson
A: Well, the betting public sure thought so! The line opened at 9½ and now is down to 7. I'm all over it. Notre Dame is 5-0 and ranked No. 7 with some great wins against Michigan and Michigan State. The Irish also blew out Miami 41-3 last week in Chicago. Their rushing attack is strong, and they are getting solid quarterback play from freshman Everett Golson and backup Tommy Rees.
I wanted to bet Notre Dame last week but got talked out of it. That's not happening this time.
Aside from upsetting Southern California, what has Stanford done? The Cardinal played awful in a 17-13 loss at Washington and squeaked by in overtime last week against Arizona. Stanford is on the road for just the second time this season, and Notre Dame ranks 13th in total defense. The line is pretty close to where it needs to be, and I'm on the Irish.
Q: Do you ever tease (pun intended)? Actually I'm more interested in whether you play teasers. Why or why not?
– Tony, Las Vegas
A: I've always been told that teasers are the way to go in the NFL. I just don't do it. I'm a plus-money-line parlay and a straight-bet kind of girl. I guess I feel like my bets don't need extra points for a reduced payout.
Q: Do you think the Raiders are the worst team in the NFL?
– Sam, Las Vegas
A: No, I don't think the Raiders are the worst, but they're definitely close. Maybe they're a step ahead of Jacksonville and tied with Tennessee. All three teams have only one win, but I think Oakland has the most notable win against Pittsburgh. The Raiders rank 25th in total offense and defense, but they're not last. I guess we will see who truly is the worst in the league when Oakland hosts Jacksonville in Week 7.
Kelly Stewart of Hottiehandicappers.com can be reached at Askkelly@reviewjournal.com. Follow her on Twitter: @kellyinvegas.
KELLY'S HOT TIPS
The weekend's five best bets:
• Texas (+3.5) over Oklahoma
• PITTSBURGH (+3) over Louisville
• NOTRE DAME (-7) over Stanford
• West Virginia (-3.5) over TEXAS TECH
• LOUISIANA TECH (+7.5) over Texas A&M
• Last week: 3-2