USFantasy football set for kickoff at sports books around Las Vegas
September 8, 2016 - 11:14 pm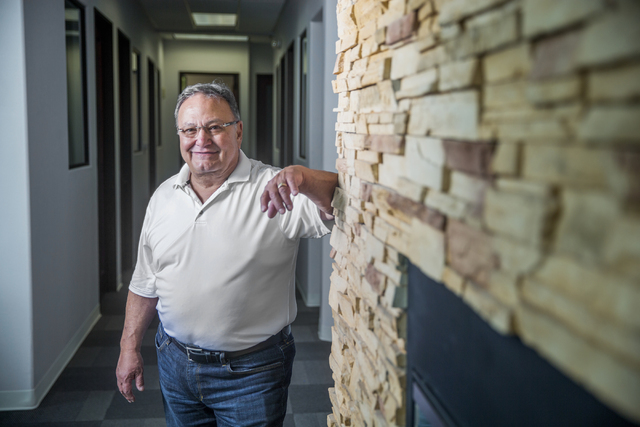 Instead of 14 horses lined up in a starting gate, there are 14 NFL quarterbacks. The overnight line shows New Orleans' Drew Brees is the favorite at 6-1 odds.
One point is awarded for a passing yard, one point is awarded for a rushing yard, and passing and rushing touchdowns are worth 30 points each. The highest-scoring quarterback wins the race.
Green Bay's Aaron Rodgers and Pittsburgh's Ben Roethlisberger are posted at 8-1 odds. San Diego's Philip Rivers is one of the long shots at 18-1. As money pours into the wagering pool, the odds change. Place your bets — win, place, show, exacta or trifecta.
This is how fantasy football is debuting in Nevada sports books for Week 1 of the NFL season. It comes courtesy of USFantasy, which in late June won unanimous approval from the Nevada Gaming Commission to operate daily fantasy sports (DFS) contests through a pari-mutuel wagering system similar to horse racing.
"I like the concept," Westgate sports book director Jay Kornegay said. "I think it has a chance to find a niche in the business."
The concept is Vic Salerno's vision. A longtime Las Vegas bookmaker, Salerno owns USFantasy and holds the first DFS license granted by any regulatory body in the United States.
Salerno has credibility, and as of now, he's operating the only fantasy game in town. FanDuel and DraftKings ceased operations in Nevada in October, when the Gaming Control Board declared that DFS is gambling under state law and the companies required a license to operate. Until those companies make a comeback, USFantasy owns this market.
But how marketable is Salerno's product in Las Vegas? It's time to find out.
USFantasy games will be offered this weekend at most Caesars, CG Technology and MGM Resorts books in addition to the Westgate. Station Casinos books are expected to sign on with Salerno later in the month.
"We have to crawl before we can walk and run," Salerno said. "The interest is unbelievable out of state."
Fantasy players dreaming of super-sized DraftKings and FanDuel jackpots are not likely to get as excited about USFantasy initially. As a startup operation, USFantasy will be paying off players from relatively small pari-mutuel wagering pools limited to one state.
Salerno is still working to get his business licensed in several other states that do not offer legal sports wagering. His sights are set on Colorado, Indiana, Iowa, New Jersey, New York, Pennsylvania and West Virginia, among others. Bringing more states into the pool with Nevada will be critical to the growth and popularity of USFantasy.
The state receives a percentage of the handle, and the average takeout from the pari-mutuel pools is set to be less than half of the approximate 20 percent in horse racing.
The games figure to catch on quickly with horseplayers and at racetracks, but there will be a learning process with football bettors at sports books.
USFantasy is offering seven events for the NFL this weekend — two for quarterbacks, two for running backs and three for wide receivers. The details regarding scoring, odds and rules are posted at USFantasy.com.
"It's pretty easy," Salerno said. "It's a racetrack with football players. It's just like looking at scratch sheets at the races."
The easiest selling point is a $1 million guaranteed Pick 7 contest for correctly selecting the winners of all seven categories, with a minimum wager of $1.
For various reasons, USFantasy has skeptics within the industry.
Some bookmakers fear confused fantasy players congesting lines at betting windows. Imagine a fantasy bettor scratching his head and deliberately plotting his picks for a $1 ticket while an angry mob forms behind him five minutes before the Sunday morning games kick off.
Salerno has been tackling assorted issues for the past two months in an effort to get his business off the ground. It's only crawling now.
It could take another two months or more to accurately determine USFantasy's odds of a successful run.
"We'll just wait and see and get the word out there," Kornegay said. "It's going to take awhile to get the word out because a lot of people don't know about it. It will take some time for people to understand it and warm up to it. I believe it's going to be a slow process, but it has a shot."
Contact sports betting reporter Matt Youmans at myoumans@reviewjournal.com or 702-387-2907. Follow on Twitter: @mattyoumans247