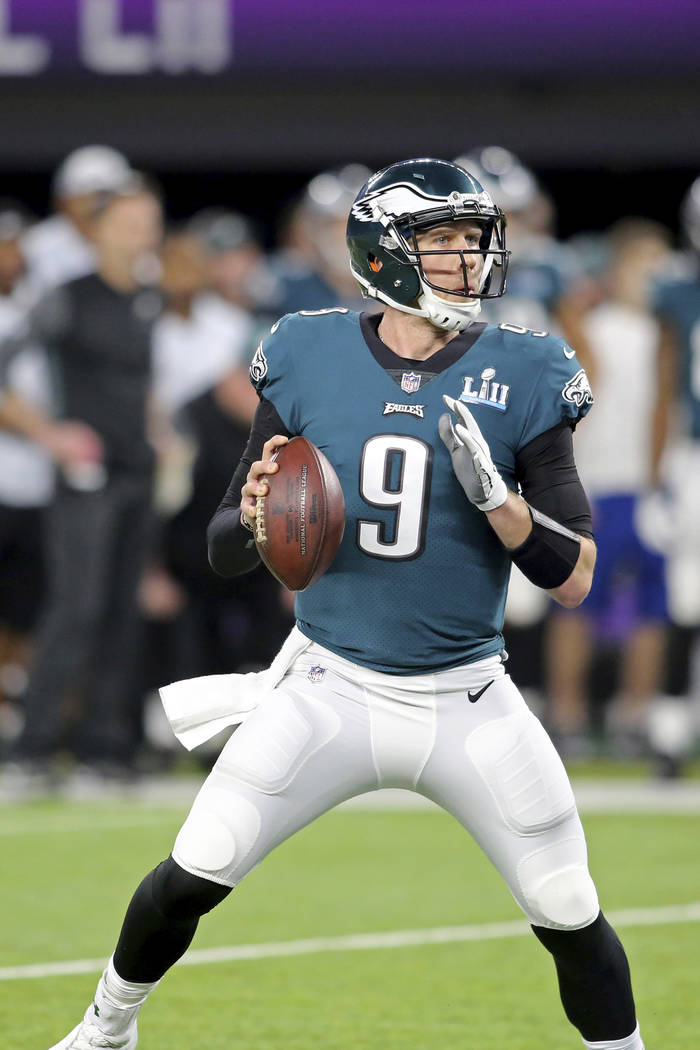 The Super Bowl champion Philadelphia Eagles will kick off the NFL season Sept. 6 against the Atlanta Falcons in a rematch of last year's NFC divisional playoff game.
The Eagles opened as 3½-point home favorites over the Falcons at the Westgate sports book, which posted lines on each of the 16 Week 1 games shortly after the NFL announced its schedule Thursday.
The line was based on the belief that Philadelphia quarterback Carson Wentz won't play. With Wentz under center instead of Super Bowl LII MVP Nick Foles, Westgate sports book manager John Murray said the spread would have been 5 or 6.
"Even though Foles played great in the Super Bowl, Wentz is still the guy there," he said. "One great thing about the Eagles is they don't need to rush Wentz back."
Other quarterbacks who are questionable for Week 1 are Indianapolis' Andrew Luck and Houston's Deshaun Watson.
The Colts are 1-point home favorites over the Cincinnati Bengals, and the Texans are 7-point road underdogs to the New England Patriots.
"Nobody really knows what's going to happen with Andrew Luck, if he's going to start and how effective he'll be if he does start," Murray said. "I think Watson will go, but we're not 100 percent sure. We wanted to err on the side of being a little high. If he couldn't start, the line would be much higher.
"We definitely think (Tom) Brady and (Rob) Gronkowski are both going to play."
The Oakland Raiders are one of four home underdogs in Week 1. They're getting 1½ points from the Los Angeles Rams in the second game of a "Monday Night Football" doubleheader.
"The game we had the most discussion about was Rams-Raiders," Murray said. "Some guys made the Raiders a favorite, but the Rams are going to be such a popular team this year. And with that game being on Monday night, there will probably be a lot of parlays going to the Rams.
"We want the Rams favored. I wouldn't be surprised if that line went up a little bit."
As expected, the San Francisco 49ers are getting a ton of respect from Las Vegas oddsmakers after finishing the 2017 season on a five-game winning streak engineered by quarterback Jimmy Garoppolo.
The 49ers are 4½-point underdogs at the Minnesota Vikings, who went 8-1 at home last season.
"That line is about as short as it can get," Murray said. "Considering how good Minnesota is at home, its improved quarterback situation (with Kirk Cousins) and that it gets (running back) Dalvin Cook back from injury, that shows you how highly respected the 49ers are."
Contact reporter Todd Dewey at tdewey@reviewjournal.com. Follow @tdewey33 on Twitter.
NFL Week 1 lines
Posted at Westgate sports book
(Home team in CAPS)
Thursday, Sept. 6
Favorite Line Total Underdog
EAGLES 3½ 47½ Falcons
Sunday, Sept. 9
Steelers 7 48 BROWNS
VIKINGS 4½ 47½ 49ers
COLTS 1 47½ Bengals
RAVENS 3½ 42 Bills
Jaguars 4 44½ GIANTS
SAINTS 7½ 52½ Buccaneers
PATRIOTS 7 51 Texans
Titans 2½ 47 DOLPHINS
CHARGERS 3 48½ Chiefs
BRONCOS 2½ 42 Seahawks
PANTHERS 2½ 45 Cowboys
CARDINALS 1 45 Redskins
PACKERS 9 48½ Bears
Monday, Sept. 10
LIONS 6 44 Jets
Rams 1½ 49½ RAIDERS