Westgate SuperContest to offer mobile app, pay top 100
Updated June 7, 2018 - 6:24 pm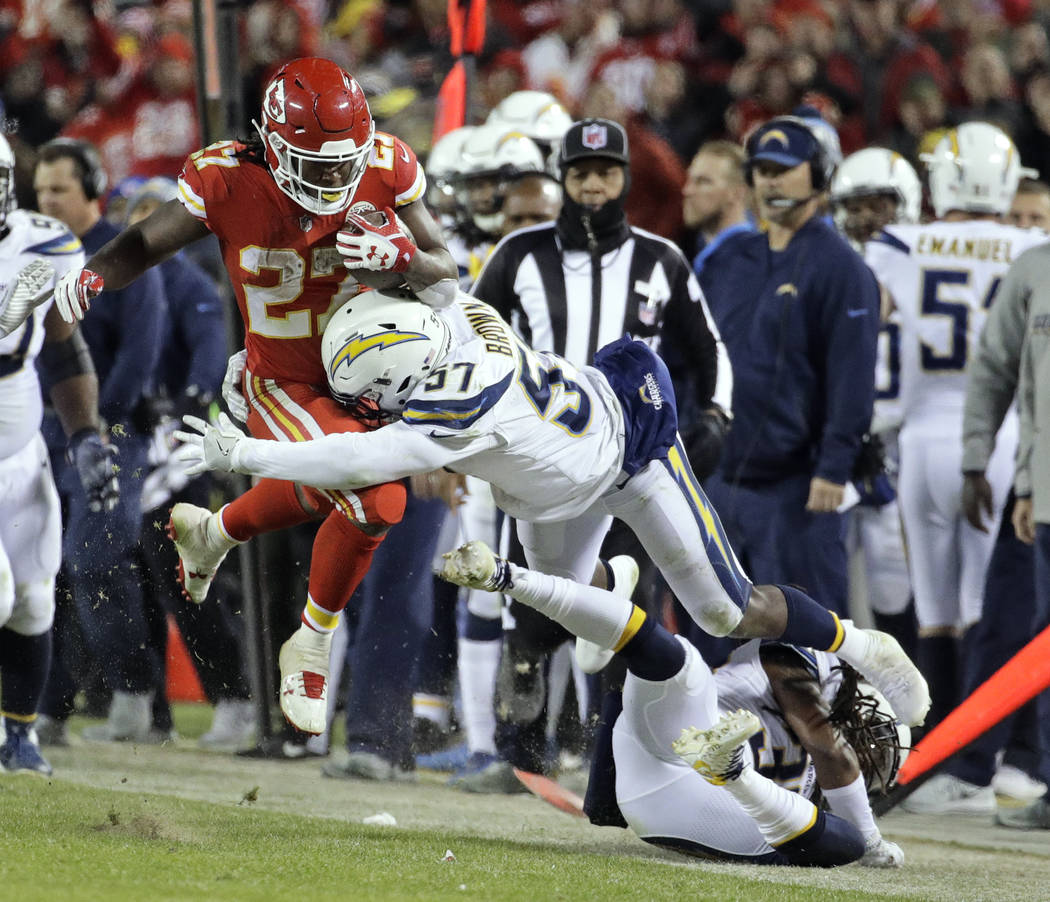 The Westgate SuperContest is going mobile.
The world's most prestigious NFL handicapping contest expects to have a SuperContest mobile app available for the 2018 season that will allow contestants to submit their weekly selections over the phone.
The app will work only in Nevada. Out-of-state entries, which have fueled the explosive growth of the contest from 342 contestants in 2007 to 2,748 in 2017, still will have to use a proxy service to enter their picks.
"Locals want convenience," Westgate sports book director Jay Kornegay said. "This is really going to boost our local participation.
"We're expecting anywhere from 3,500 to 4,000 entries this year."
The SuperContest app, which is separate from the Westgate sports book app, is still a work in progress.
"Right now, it's going through some testing," Kornegay said. "It probably won't be confirmed until late July."
To guard against technical glitches and issues on Westgate's side or the user's side, the mobile selections will be due at 11 p.m. Friday. Picks made in person are due by 11 a.m. Saturday.
"It allows them 12 hours to make adjustments," Kornegay said. "We just thought that would be the safe route at this point in time."
SuperContest to pay top 100
Another notable change to the contest, which requires a $1,500 entry fee and five weekly NFL picks against the spread, is that the top 100 finishers plus ties will be paid this year. The top 50 finishers plus ties were paid last year, when the contest produced its first $1 million winner.
"Because of the tremendous growth we've seen with the SuperContest, we are going to extend the payouts," Kornegay said. "But we'll still have top prizes of significant amounts because that's part of the attraction."
Briceton Jamar Branch, using the alias Granny's Boy, went 58-22-5 (72.5 percent) to win the 2017 SuperContest and a $1.3 million grand prize.
The 2018 winner also is expected to win more than $1 million. In 2017, 35 percent of the prize pool went to the winner and 14 percent to second. This year, 33 percent will go to first place and 12 percent to the runner-up.
SuperContest Gold
Stag Capital (51-31-2) edged Midwest Square (49-31-5) by a half point to win $470,000 in the inaugural winner-take-all SuperContest Gold contest, which featured 94 entries at $5,000 per entry. Kornegay said the contest format will stay the same.
"We think the uniqueness of the Gold is the fact it's a winner-take-all contest, and that's going to remain," he said.
Ultimate Football Challenge
The Golden Nugget is starting a $1,000-entry contest, the Ultimate Football Challenge, in which contestants pick seven college and/or NFL sides ATS during the 17-week season.
Contestants can buy up to two entries and use two proxies. The contest will pay out 100 percent of the entry fees to the top 20 finishers, with 40 percent to first place, 20 percent to second and 10 percent to third.
The contest will replace the Nugget's Friday Football Showdown, which featured a $2,000 entry fee, a bracket format and sides and totals. It attracted 94 entries last year.
"We wanted to create something to get more entries and interest, so we cut the entry fee in half and made the format really simple instead of the head-to-head format," Golden Nugget sports book director Tony Miller said. "This keeps everybody alive."
Miller said he eliminated totals from the contest to avoid stale numbers, and contestants can choose from every college game on the board, including added games. Registration opened May 29.
Golden Tee betting
The Golden Tee world championship will take place Friday to Sunday at The Orleans, and Boyd Gaming has posted odds on the event after getting approval from the Nevada Gaming Control Board.
"I'm actually surprised at how much action we've got," Boyd Gaming sports book director Bob Scucci said. "Maybe a little less than the lesser NASCAR events.
"It's exciting because it's our first nonsporting event that we've booked and we've initiated."
Scucci said the most tickets are on Andy Fox, who opened as the 6-1 third choice to win the world title of the popular arcade golf game. The second-most tickets are on two-time defending champion Andy Haas, who opened as the 9-2 favorite.
A field of 64 will compete for more than $100,000 in prizes.
More betting: Follow sports betting coverage at reviewjournal.com/betting and @RJ_Sports on Twitter.
Contact reporter Todd Dewey at tdewey@reviewjournal.com. Follow @tdewey33 on Twitter.
2019 Stanley Cup
Odds posted at Westgate sports book
Tampa Bay Lightning 8-1
Golden Knights 10-1
Nashville Predators 10-1
Pittsburgh Penguins 10-1
Winnipeg Jets 10-1
Boston Bruins 10-1
Toronto Maple Leafs 12-1
Washington Capitals 12-1
Columbus Blue Jackets 20-1
Edmonton Oilers 20-1
San Jose Sharks 20-1
Dallas Stars 20-1
Anaheim Ducks 20-1
Philadelphia Flyers 30-1
Calgary Flames 30-1
Los Angeles Kings 30-1
Minnesota Wild 30-1
Chicago Blackhawks 30-1
Florida Panthers 40-1
St. Louis Blues 40-1
Colorado Avalanche 40-1
New Jersey Devils 40-1
New York Islanders 60-1
Carolina Hurricanes 60-1
Montreal Canadiens 60-1
New York Rangers 80-1
Vancouver Canucks 80-1
Buffalo Sabres 80-1
Phoenix Coyotes 80-1
Ottawa Senators 100-1
Detroit Red Wings 100-1