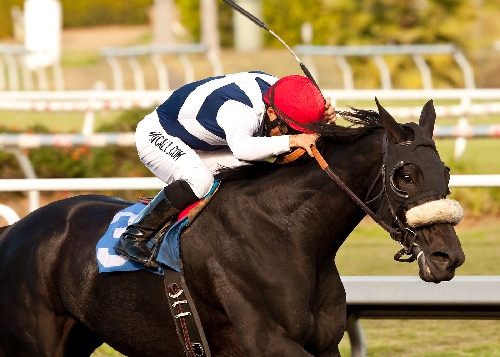 In sports, being the sibling of a Hall of Famer is no guarantee you'll be one, too. Just ask the Aaron brothers: Henry hit 755 home runs, kid brother Tommie 13.
In horse racing, many champions' siblings try to follow in their footsteps. Seldom do they come close to the same level of achievement.
So, when champion Zenyatta's 3-year-old half-sister, Eblouissante, made her career debut at Betfair Hollywood Park on Nov. 16, it was hold-your-breath time. Adding to the intrigue, trainer John Shirreffs had put 45 recorded workouts into Eblouissante. That, my friends, is a lot before a horse's first start.
Eblouissante debuted in a 1 1/16th-mile maiden special-weight route race, no easy task for a first-time starter to win going long. Jockey Corey Nakatani got the honor of the ride.
When I first saw Eblouissante in the post parade, she towered over her pony. She looked as big as Forego, up to now the biggest racehorse I've seen. No wonder Shirreffs couldn't start her until late in her 3-year-old season; she needed to grow into herself.
When the race began, Eblouissante clearly emulated the running style of Zenyatta. She lagged well back early on and then rocketed to the lead by midstretch. She won by as many lengths as Nakatani pleased.
It was a fabulous debut for a filly who showed enormous potential. Credit Shirreffs for putting in the time and work necessary to have Eblouissante ready to win her first time out.
The pressure came, in large part, from the fact that Zenyatta won her first 19 starts before losing in her last by a head to Blame in the 2010 Breeders' Cup Classic. You can't go undefeated without winning the first one.
Shirreffs, who also trained Zenyatta, made sure this debut wouldn't be a clunker. Eblouissante's next race probably will be a first-level allowance. Stakes races can wait until she is mentally good and ready.
■ COAST CASINOS QUALIFIER – Coast Casinos will host the first of four live money handicapping tournaments Nov. 30. The top two finishers will receive a free berth into the 2012 Horseplayer World Series.
You can play at any of Coast's four local race books: Gold Coast, The Orleans, Sam's Town or the Suncoast.
I have been an advocate of live-money tournaments for some time now. The closer the rules approximate real-life play, the better.
Live-money rules help the players and the host casino. In a live-money tournament, the players keep all of their profits. Their bankroll total becomes the means for keeping score. Thus, it's possible for every player in the tourney to win money.
The host casino benefits from the high volume of money churned through the betting windows. That helps pay their expenses, and then some.
Richard Eng's horse racing column is published Friday in the Las Vegas Review-Journal. He can be reached at rich_eng@hotmail.com. Follow him on Twitter: @richeng4propick.