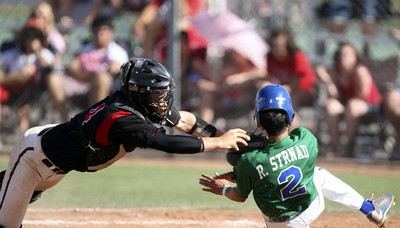 After his team was retired in order in the bottom of the first inning Friday, Green Valley baseball coach Nick Garritano worried the door might have been left open for an emotional Las Vegas squad.
But the Gators slammed that door quickly, scoring six runs in the second on the way to a 15-5 victory over the Wildcats in the Sunrise Region title game.
Green Valley (25-10) advances to next week's state tournament at the College of Southern Nevada. Las Vegas (27-10) plays Sunset runner-up Bishop Gorman (36-4) at noon today at Green Valley for the final state berth.
"When we got zero in the first inning, I was real nervous due to the fact that they just won a huge game before and had a huge emotional win," Garritano said. "So for us to come up and get a six spot in the second was gigantic."
Las Vegas had rallied for three runs in the bottom of the seventh to defeat Foothill 7-6 Friday to advance to the title game.
But the Wildcats' pitching staff clearly was worn thin by the time the team reached the title game, which was the sixth in four days for Las Vegas.
Green Valley took advantage, scoring six runs on seven hits and two errors in the second inning.
A dropped fly ball helped start the rally, and the Gators poured it on from there, getting a two-run triple from Rudy Strnad, a two-run double from Kyle Larimer and RBI singles from Tyler Blair and Bobby Shiroky.
"We came in fresh, and we put it to them," Green Valley senior second baseman Jordan Van Hoosier said. "What we want to do is never give up, and we want to lay it on them as much as we can.
"Whatever we can do to get them out of the game is really what we're trying to do, trying to get them to give up, almost."
Las Vegas got a two-run homer from Bryce Harper in the third to make the score 6-2. It was Harper's third homer of the day and seventh in six tournament games.
But the Gators scored in every inning from there, ending the game in the sixth because of the 10-run rule.
Van Hoosier went 4-for-5 with two triples, a double, three RBIs and three runs to lead Green Valley's 16-hit attack. Blair added three hits and three RBIs, and Brett Harrison, Shiroky and Evan Van Hoosier each had two hits.
Early in the season, a return to the state tournament didn't look likely for Green Valley, which was 8-10. But the Gators have reeled off 15 straight wins.
"In the beginning of the year, most people weren't even thinking about making the playoffs," Jordan Van Hoosier said. "It's definitely one of the best feelings to go back (to state) and give it another shot in my last year. It's good to give it another run."
Las Vegas had to complete an incredible seventh inning to get to the title game.
Wildcats pitcher Miguel Ortiz took a no-hitter into the seventh, and Las Vegas led 4-0 before Foothill rallied for six runs, capped by a Jake Ferdinand grand slam, to take the lead.
Harper led off the bottom of the seventh with a solo homer, and Brig Jensen doubled. Two outs later, Quinnton Mack walked to bring Robert Melendrez to the plate.
Melendrez hit a 2-and-2 pitch into the gap in left-center field to score both runs to give Las Vegas the win.
The Wildcats had won four straight after losing their tournament opener.
"When you lose that first one, it's a long road," Las Vegas coach Sam Thomas said. "Green Valley did it the right way. We put ourselves in a position, and our kids battled to get this far.
"And that's a great effort. Now they have to realize that they get one more chance and it's not over."
Contact Prep Sports Editor Damon Seiters at dseiters@reviewjournal.com or 702-380-4587.
In-depth high school sports coverage