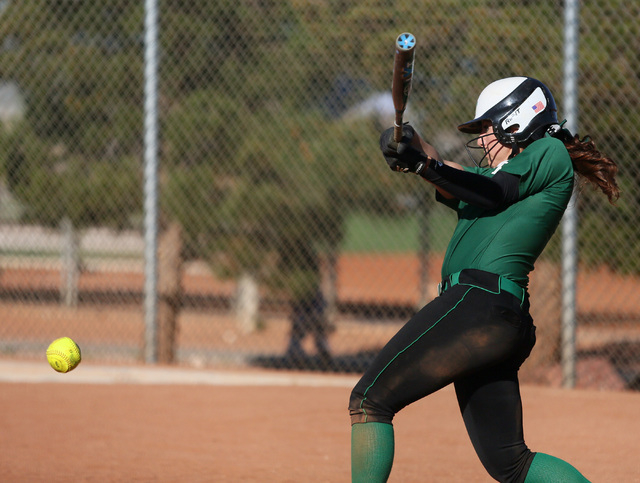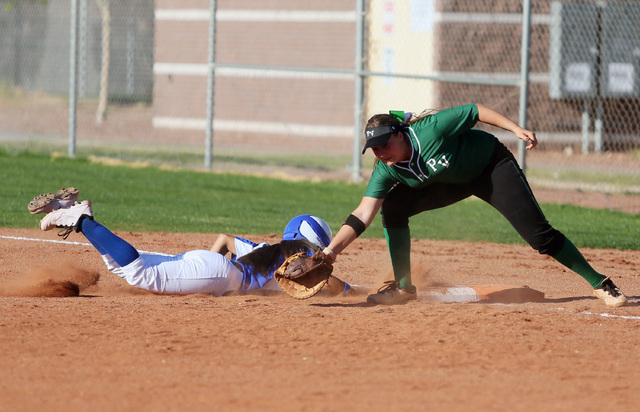 Early-season softball games often are about players working out kinks and reacquiring their timing at the plate.
But just six days and six games into her senior year, Brooke Stover was in midseason form on Tuesday.
The Palo Verde catcher went 3-for-3 with a home run, a double and three RBIs, and guided freshman pitcher Haylee Lupinetti to a four-hit shutout as the Panthers downed visiting Green Valley 5-0 in a matchup of two of last year's Division I state semifinalists.
"She's by far our rock right now," Palo Verde coach Kelly Glass said of Stover. "She's just pretty much everywhere, and the girls look up to her. She has been helping our pitching staff. She is taking on the big sister role very, very well."
Stover drove a 1-1 pitch over the left-field fence for a two-run homer in the first inning and short-hopped the fence in left for a double in the third.
But her most impressive at-bat came in the fifth inning, when with runners at second and third, she fouled off four straight 2-2 pitches before lacing a single up the middle to score Rachel Williams and give the Panthers (5-1) a 3-0 lead.
"I was trying to hit to the right side, get something through," Stover said. "I just wanted to score a run. The mentality I had going into that at-bat really helped."
Breanna Beatty hit the next pitch into right-center to score Lupinetti and Stover and put the game out of reach.
It was more than enough offense for Lupinetti, who kept the Gators' hitters off-balance and struck out seven.
Three of Lupinetti's first four strikeouts came with a Green Valley runner at third base.
"Haylee is working her butt off," Stover said. "I just try to be her No. 1 fan. She's got a head of her own, and she knows what's right and what's wrong, what's working and what's not. I just do my best to get on the same page with her. What she wants to do, I'm just there to back her up."
Green Valley helped out by often being too anxious at the plate. The Gators (0-1) had seven batters retired on the first pitch of an at-bat and made Lupinetti throw only 80 pitches in the game, 55 for strikes.
"Haylee is not pitching like a little freshman," Glass said. "She's pitching like an advanced upperclassman. She has a great presence on the mound. Her pitch location is right there. She doesn't miss very often, but when she does, she owns it and fixes it."
Contact reporter Bartt Davis at bdavis@reviewjournal.com or (702) 387-5230.