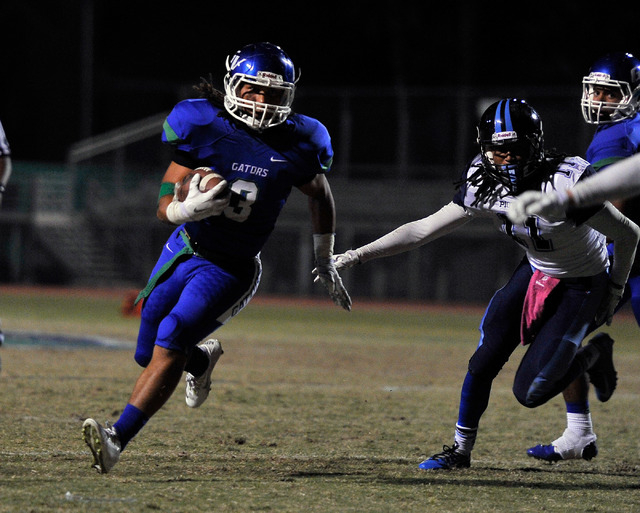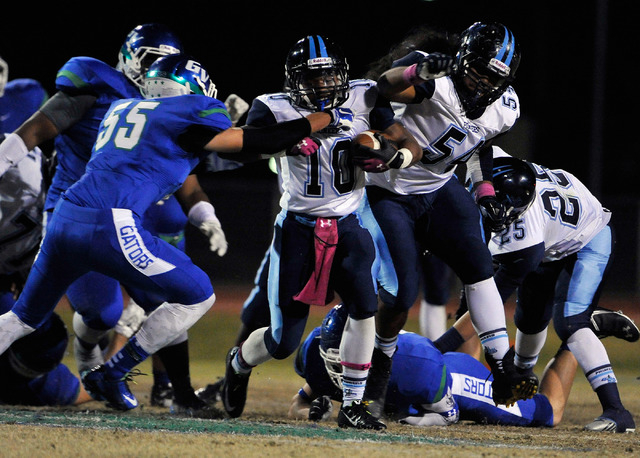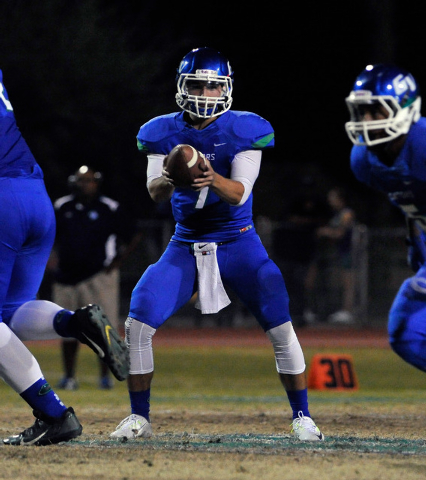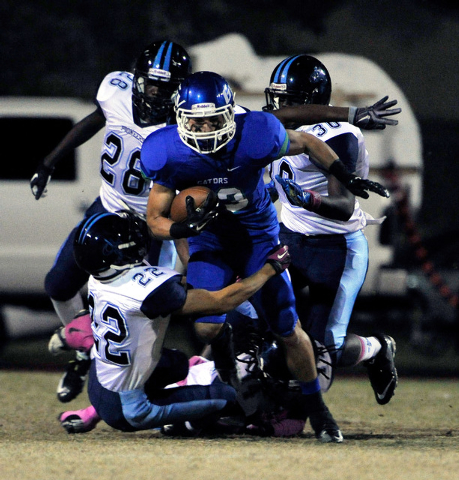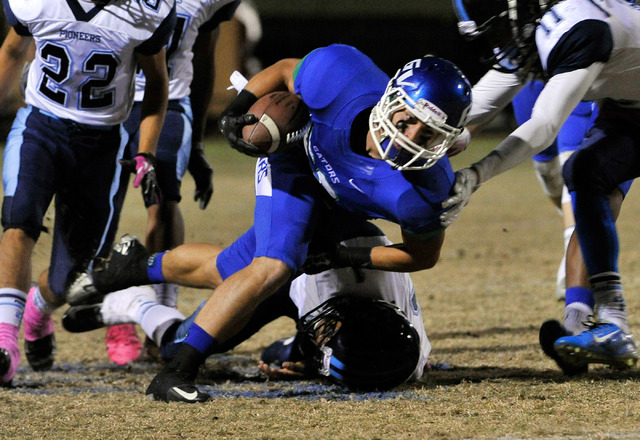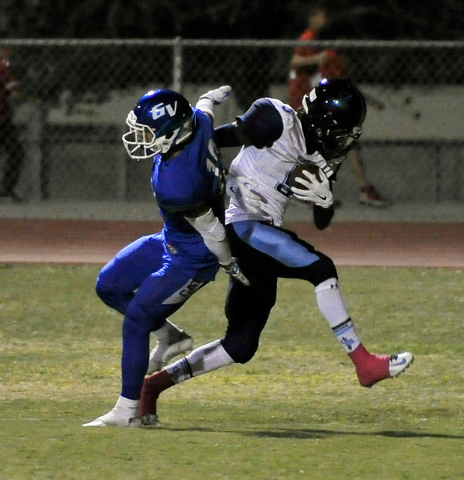 On a night the Green Valley offense was in control, it was the Gators defense that needed to make a play to preserve a victory.
Several Green Valley defenders combined to stop C.J. Jones Jr. 2 yards short of a first down on a fourth-down play near midfield to seal a 45-37 home victory over Canyon Springs on Friday night.
"Those guys have been playing well," Green Valley coach Brian Castro said of his defense. "I know the score doesn't always indicate that, but those guys are doing what they need to do, and we're very fortunate to have them when we need a big play."
Albert Lake provided plenty of those for the offense as well. He ran for 203 yards and three touchdowns for the Gators but had to watch as the defense tried to hold on after he fumbled while Green Valley attempted to run out the clock.
"That was my first high school fumble, and it did not feel good at all," the senior said. "But I have faith in our defense, and we shut them down at the end."
It looked like Lake's 35-yard TD run with 3:04 left to put Green Valley (6-1) ahead 45-31 might end the drama, but Canyon Springs (4-3) scored quickly and had one last chance after the turnover.
Lake's strong game before the fumble put the Gators in position to win.
"My line did great as usual," he said. "We had a good push, especially toward the end, and I just ran hard."
Green Valley started to take control early in the second half. Canyon Springs had tied the game in the closing seconds of the second quarter and had the ball first after halftime.
Jacob Rivero came up with an interception on the Pioneers' second play, however, and the Gators capitalized with a 17-yard touchdown on a reverse pass from receiver Austin Warhop to Dakota Prussia.
The Pioneers went three-and-out, and a 4-yard touchdown run by Lake to pushed the Green Valley lead to 31-17.
"That was big for us," Castro said of the interception. "We knew we were going to get their best shot coming out of the half with whatever adjustments they were going to make. We talked to our guys about that at halftime that they were going to have to make plays, and they did."
Each time Canyon Springs threatened to get back in it, the Gators had an answer.
Canyon Springs cut the deficit to 31-24 with a 1-yard touchdown run by Jaleel Rogers on the first play of the fourth quarter, but Lake responded with a 2-yard scoring run less than two minutes later. The touchdown was set up by a 59-yard catch-and-run by Prussia to the 2-yard line.
The Pioneers again got within a touchdown with 8:18 to play and then got the ball back. The Green Valley defense held, and the Gators got the ball at Canyon Springs' 35-yard line after a short punt, setting up Lake's final score.
Casey caught nine passes for 124 yards and two touchdowns.
Brenan Adams added 102 yards and a touchdown on the ground for Green Valley. Lopez threw for 137 yards and ran for a score.
■ Coronado 40, Eldorado 6 — At Coronado, Nick Trejo scored on his team's first offensive play and finished with 61 yards on seven carries for the Cougars (4-3, 1-1 Southeast).
Travis Boman made five catches for 93 yards, and Daqu'an Davis had four carries for 107 yards for Coronado.
Barnes led Eldorado (3-4, 0-3) with three catches for 102 yards.
— Jeff Wollard
■ Arbor View 62, Bonanza 0 — At Bonanza, seven players scored as Arbor View (7-0, 2-0 Northwest) remained unbeaten.
Morris Jackson scored on runs of 60 and 55 yards, his only two carries. Curtis Jones scored on a 42-yard run and a 25-yard interception return.
Maurice Harvey added 88 yards, including a 61-yard TD, while Herman Gray racked up 45 yards and a score.
Wyatt Allison and Cannon Reid combined to complete five passes for Bonanza (0-8, 0-3), including three to ByJon Large.
— Mike Bailey
■ Cimarron-Memorial 38, Desert Oasis 3 — At Cimarron, Derek Morefield threw for 221 yards and four scores to lead the Spartans (3-4, 1-1 Northwest) over the Diamondbacks (1-6, 1-2).
Michael Soukup hauled in a 39-yard TD pass to give the Spartans a 17-0 lead. Edwin Jones snagged his second interception on the 1-yard line, and the Spartans drove 99 yards capped by a 51-yard TD from Morefield to Channing Reagan as time expired in the first half.
— Adam Berchin
■ Bishop Gorman 70, Legacy 13 — At Bishop Gorman, sophomore quarterback Tate Martell threw for 178 yards and four touchdowns as the top-ranked Gaels celebrated homecoming.
Russell Booze scored on a 67-yard run to give Gorman (9-0, 3-0 Southwest) the lead for good, 7-6. Booze totaled 141 yards on four carries.
Martell threw three touchdown passes to Cordell Broadus — 18, 28 and 67 yards. Alapati completed 12 of 26 passes for 118 yards for Legacy (2-5, 1-1).
— Sam Leeper
■ Palo Verde 69, Durango 13 — At Palo Verde, the No. 7 Panthers (4-2, 1-0 Southwest) racked up 433 rushing yards to beat the Trailblazers (1-5, 0-2).
Jaren Campbell had TD runs of 10, 20 and 23 yards for Palo Verde. Christopher Johnson (111) and Aaron Chisolm (105) topped 100 yards rushing for the Panthers.
Zayvion Wilson (61 yards) and Jonathan Schofield (16 yards) each caught fourth-quarter TD passes from K.C. Moore, who connected on 9 of 11 passes for 173 yards for Durango.
— Brennan Karle
■ Del Sol 60, Sunrise Mountain 14 — At Del Sol, Del Sol (4-4, 2-4 Division I-A Sunrise) rushed for 370 yards and five touchdowns while running two pass plays.
Freshman Taaric Flowers scored on runs of 29 and 58 yards in a 138-yard night and returned the second-half kickoff 78 yards for a touchdown.
The highlight for the Miners (1-6, 0-5) was a 90-yard interception return by Trellis Quinn.
— Mike James
■ Faith Lutheran 38, Pahrump Valley 14 — At Faith Lutheran, the Crusaders (5-3, 4-2, Division I-A Sunset) were led by 100 yards rushing from Christian Marshall and a 235-yard, three-touchdown passing performance from Greg Benson. Mark Rubalcaba had eight receptions for 165 yards with two touchdowns.
T.J. Milk amassed 91 yards on 5-of-10 passing for Pahrump Valley (3-5, 2-4).
— Neil Grepke
■ Cheyenne 67, Western 0 — At Western, the Desert Shields (4-4, 4-2 Sunset) rushed for 332 yards, 228 in the first half. Deriontae Green led all rushers with 96 yards and two touchdowns on seven carries. Matthew LaBonte rushed for 92 yards and three TDs. Zavieh Harrell added 78 yards and two scores.
Western fell to 0-8 and 0-6.
— Jesse Vineyard
■ Desert Pines 64, Rancho 7 — Marckell Grayson threw for three touchdowns and ran for one to lead the Jaguars (7-1).
Grayson found Gianni Breland for a 24-yard score on the first drive of the game, then Andre Watts from 37 yards out to end the first quarter. He finished 7 of 13 for 157 yards and added 29 rushing yards.
Isaiah Morris tallied 148 yards and three touchdowns on six carries for Desert Pines.
Robert Howard rushed for 109 yards for Rancho (0-8).
— Jesse Granger
■ Centennial 62, Shadow Ridge 14 — At Shadow Ridge, Juan Rodriguez accounted for 272 yards and six touchdowns to lead the Bulldogs.
Rodriguez completed 7 of 10 passes for 167 yards and four touchdowns and had 13 carries for 105 yards and two scores for the Bulldogs (7-0, 2-0 Northwest). Rhamondre Stevenson ran for 94 yards on 14 attempts and scored two TDs.
Chris McDearmon led Shadow Ridge (2-5, 0-2 Southwest) with 13 carries for 92 yards.
— W.G. Ramirez
■ Moapa Valley 27, Boulder City 0 — At Overton, Nate Cox completed 13 of 20 passes for 250 yards to lead the Pirates.
Cole Mulcock finished with seven catches for 95 yards and two touchdowns, and Hubert had three grabs for 83 yards and two TDs for Moapa Valley (8-0, 5-0 Division I-A Sunrise).
Logan Branscum rushed 12 times for 35 yards for Boulder City (4-4, 2-3).
■ Pahranagat Valley 64, Sandy Valley 14 — At Alamo, Jordan Cryts ran for 188 yards and two TDs on five carries as the Panthers (7-0, 5-0 Division IV Southern) took over first place.
Lane Eastham rushed for 91 yards and a score on 25 carries to lead Sandy Valley (6-1, 4-1).
■ Lincoln County 51, Calvary Chapel 12 — At Panaca, McClain O'Connor ran back the opening kickoff for a touchdown, tossed two TD passes and ran for a score to lead the Lynx (4-3, 3-2 Division III Southern) by the Lions (0-6, 0-5).