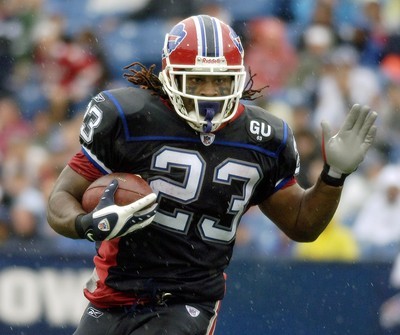 As long as he stays healthy, rookie running back Darren McFadden will be one good reason to watch the Oakland Raiders.
And that about sums up what's positive with the Raiders. The entire organization is in disarray, starting with the senile old-timer at the top, Al Davis.
Two weeks into the season, Davis wants to fire Lane Kiffin, the coach he never should have hired last year. Kiffin might be a quality NFL head coach someday, but the 33-year-old got his shot too soon and with the wrong team.
Across the country, things are looking up for the Buffalo Bills, who suddenly are the popular pick to win the AFC East. The Bills are for real and almost everything the Raiders are not.
Buffalo has a sturdy defense, which ranks fifth in the league, a steady quarterback in Trent Edwards, a strong runner in Marshawn Lynch and exceptional special teams.
There are several reasons to side with the Bills as 9-point home favorites over the Raiders on Sunday.
Buffalo, 12-5 against the spread at home under coach Dick Jauron, is the league's only 2-0 team to win each of its first two games against opponents — Seattle and Jacksonville — that went to the playoffs last season.
Oakland, off an upset victory at Kansas City, is completely one-dimensional on offense because second-year quarterback JaMarcus Russell looks lost. Russell completed 6 of 17 passes for 55 yards against the Chiefs, who happen to be terrible.
McFadden carried the Raiders last week with 164 yards rushing, and Michael Bush and injured Justin Fargas also are tough runners. But the Bills' defense can load up to stop the run and force Russell to struggle.
The Raiders lack leadership and rarely travel well to the East Coast. After they get blasted in Buffalo, Davis finally can fire his coach.
Davis' list of replacements for Kiffin is rumored to include Jerry Glanville, Art Shell, Marty Mornhinweg, Tony Kornheiser and Carrot Top.
Four more plays for Week 3 (Home team in CAPS):
• Panthers (+31/2) over VIKINGS: Assume Adrian Peterson, the league's leading rusher, will play for Minnesota despite a hamstring injury. Peterson's status is a game-time decision, and he probably will try to go for a 0-2 team that desperately needs him.
The Vikings are switching quarterbacks to veteran Gus Frerotte, who passed for seven touchdowns with 12 interceptions in limited action last season. Carolina, 19-9-2 as a road underdog, gets wideout Steve Smith back to help Jake Delhomme and the passing attack.
• Saints (+51/2) over BRONCOS: Jay Cutler is clicking with his wideouts, and the Denver offense is dangerous. Expect this to be a shootout, and Drew Brees can trade punches with Cutler and keep New Orleans in it until the end.
• EAGLES (-3) over Steelers: Philadelphia, an elite team in the NFC that needs to avoid a 1-2 start, has more scoring potential with Donovan McNabb and running back Brian Westbrook. The Eagles' defense will find ways to pressure Ben Roethlisberger, who has a sore shoulder.
• Cowboys (-3) over PACKERS: The Dallas defense has a few holes, and Green Bay running back Ryan Grant will take advantage. The Cowboys are the only road favorite this week. This is about Tony Romo being far better than Tavaris Jackson and Jon Kitna, the two quarterbacks the Packers have faced.
Last week: 2-2-1 against the spread
Season: 6-3-1
Contact reporter Matt Youmans at myoumans@reviewjournal.com. or 702-387-2907.