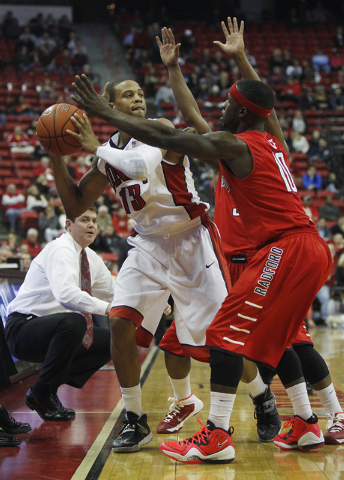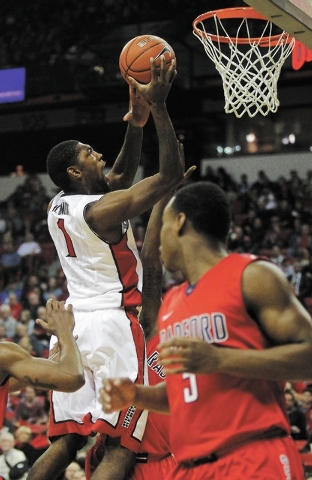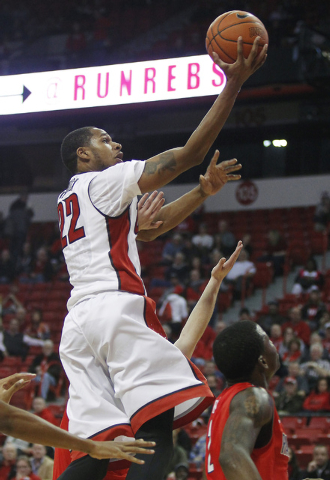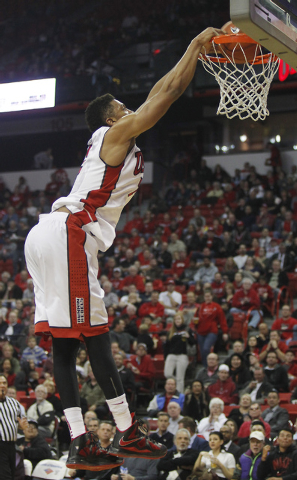 Only once this season did Khem Birch feel that UNLV was outmanned on the front line, and that was early this month against No. 1 Arizona.
The Rebels plan to overpower several teams on the schedule simply because their junior forwards are bigger, stronger and more athletic. Those post men, Birch and Roscoe Smith, delivered again Wednesday night.
"I don't think there's going to be a better frontcourt than us, though there's probably going to be a few equal," Birch said.
Junior guard Jelan Kendrick scored a career-high 18 points as UNLV bullied Radford in an 81-62 victory in the Las Vegas Classic at the Thomas &Mack Center.
The Highlanders, a small team from the Big South Conference, lacked the manpower equal to Birch and Smith. Birch totaled 16 points and 10 rebounds, and Smith had 13 points and 12 rebounds for the Rebels, who improved to 5-4 by winning consecutive games for the first time.
"Khem and Roscoe both seem to be double-double machines," coach Dave Rice said of the 6-foot-8-inch Smith, who has six double-doubles, and the 6-9 Birch, who has five.
Birch shot 6-for-6 from the field, 4-for-5 on free throws and blocked four shots. Smith shot 6-for-10, grabbed eight offensive rebounds and had two blocks. Even their backup, freshman forward Chris Wood, got into the act with 10 points and five rebounds in just 12 minutes.
The Highlanders hung around until a fast-break dunk by Birch and a Kendrick 3-pointer put UNLV up 58-39 four minutes into the second half.
Wood drove baseline for a dunk and three-point play to make it 70-45 with 8:58 to go.
Birch was impressed enough to predict the Rebels will find themselves in the NCAA Tournament in the middle of March.
Since a 21-point home loss to UC Santa Barbara on Nov. 12, he said UNLV's effort has been steadily more intense.
"Everybody is losing. Kansas is losing, and New Mexico is losing," Birch said. "We're not the only team that is losing. Unfortunately, we had one bad loss against Santa Barbara. I still have a lot of confidence in this team.
"We can still redeem ourselves, and we can still win the conference. I feel like we're a tournament team, regardless what our record says right now."
He confirmed he was not talking about the National Invitation Tournament.
The Rebels have work to do even before opening Mountain West play on New Year's Day, as they are in the midst of four games in a six-day stretch.
"I feel like we have to win all of them," Birch said.
Rice was effusive in his praise of Kendrick, whose previous career high was 12 points in the Rebels' win at Southern Utah on Saturday.
Kendrick, with a troubled past that led him from Memphis to Mississippi to Indian Hills (Iowa) Community College prior to UNLV, played 31 minutes off the bench. After starting Saturday, Kendrick was moved back to a reserve role when Rice opted to start Bryce Dejean-Jones.
"I thought Jelan epitomized what I want our program to be about. He made a sacrifice, and he played terrific basketball," Rice said. "J.K. is extremely important. His attitude is sensational. Whatever those people wrote and said about J.K., I don't know that guy."
Kendrick made 6 of 9 shots, including both of his 3-point attempts, and 4 of 6 free throws.
"I just want to win," Kendrick said. "This is what everybody on our team has been waiting for, getting these back-to-back games to get things rolling."
The Rebels got key contributions from other guards, freshman Kendall Smith (eight points, five assists) and senior Kevin Olekaibe (six points), but Kendrick was the catalyst.
"With a player like Jelan coming off the bench," Birch said, "it's very scary for opposing teams."
Javonte Green, a 6-4 forward, led Radford with 18 points.
Birch, Smith and the Rebels also figure to overpower their next opponent, Sacred Heart, on Friday at the Thomas &Mack before the tournament shifts to Orleans Arena for the final two rounds Sunday and Monday.
"We had some tough outcomes early in the season," Rice said. "There's a lot of pressure on our guys to play well at home."
Contact reporter Matt Youmans at myoumans@reviewjournal.com or 702-387-2907. Follow him on Twitter: @mattyoumans247.