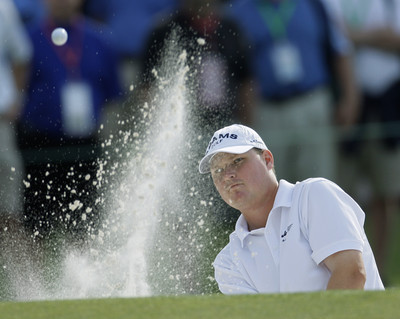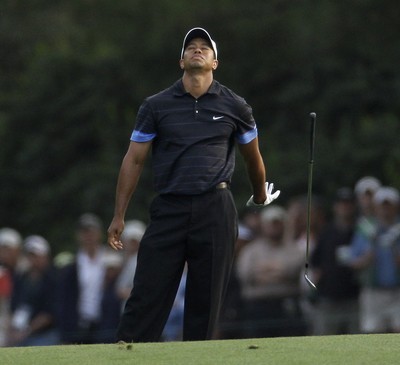 AUGUSTA, Ga. — Chad Campbell kept pouring in birdies, five in a row to start his round, then four straight on the back nine, as the gallery kept up its endless cheering on a day of record scoring.
There were 354 birdies and six eagles. There were 38 rounds under par, half of those in the 60s.
For all those staggering numbers, what made the Masters come to life Thursday was the sweetest of sounds.
The roars returned to Augusta National.
"This day was reminiscent of how it used to be," Tiger Woods said. "You could go out there on that back nine and make some birdies, and if you caught some good gusts, you could shoot some pretty good numbers."
No one did that better than Campbell.
The former UNLV star led a charge that dispelled the myth that the thrill was gone from the Masters, getting off to the best start in tournament history before two late bogeys forced him to settle for a 7-under-par 65 and a one-shot lead over Jim Furyk and Hunter Mahan.
Woods got into the action, too, running off three straight birdies late in the afternoon until his momentum stalled. He shot 70, his first time to break par in the first round of the Masters in seven years.
And more than 11 hours of action-packed golf gave the tournament the excitement it had been missing for most of the decade.
Augusta National cooked up the perfect formula for record scoring — warm sunshine and only a gentle breeze, along with inviting hole locations and greens that were soft and smooth.
"They must have felt sorry for us," Campbell said.
Masters chairman Billy Payne had said this year would be an important test to show that supersizing the golf course — it has been stretched more than 500 yards this decade — would not take the birdies out of the Masters.
The weather was ideal, yes, but the club did its part, too, with greens softer than they have been all week and hole locations that allowed players to attack the pins.
The 38 rounds under par and 19 rounds in the 60s set Masters records for the first round.
Greg Norman played for the first time since 2002, and the 54-year-old Shark was shocked by all the changes. Even more shocking was that he shot a 70 and was mildly disappointed.
The average score was 72.25, nearly two shots easier than a year ago and the lowest since it was 72.06 in 1992.
Larry Mize, in his rookie year on the Champions Tour, became only the second player over 50 to shoot a 67. The other was Jack Nicklaus, who did it twice.
Shingo Katayama also had a 67, while the group at 68 included 48-year-old Kenny Perry, former Masters champion Mike Weir, Sean O'Hair and former U.S. Open champion Angel Cabrera.
British Open and PGA champion Padraig Harrington opened with a 69, a strong start in his bid to join Woods and Ben Hogan as the only players to win three successive majors.
The course was only 10 yards shorter than last year, at least according to the scorecard, but the tees were moved forward on several holes, and the pins were in generous spots, where the ball could easily funnel down a slope near the cup.
"It is interesting for us and it is exciting for us when there is a buzz like that out there," Harrington said. "But definitely, when you hear a lot of cheers around, it makes you a little bit more anxious to be part of that, just a little more urgency to make sure you are making birdies, too."
That's what made Phil Mickelson so disgusted.
The two-time Masters champion, who has a chance to go to No. 1 in the world with a victory, failed to take advantage of the easier hole locations and made only two birdies in his round of 73.
"I drove it terrible," Mickelson said. "I played terrible."
A year ago, shooting a 73 would have been a relief on a course that players felt had become more like a U.S. Open. On a day like this, and a course like this, it felt like an opportunity wasted.
Campbell wasted a chance to make major championship history with his incredible opening round.
No one had ever started a Masters with five straight birdies, and Campbell added to that with four straight birdies on the back nine. A beautiful pitch to within a foot on the 15th put him at 9 under.
The course record at Augusta National is 63. No one has ever shot lower in any major. Campbell could not help but think of the record, and the gallery was there to remind him.
"They were yelling everything," Campbell said. "You know, 'One more. Get to 10. 63.' I heard it all. It was good, though."
But he pulled his tee shot on the 17th into the trees and made bogey, then three-putted for a bogey from 40 feet on the 18th. Even so, it was the best opening-round score at Augusta since Chris DiMarco had a 65 in 2001.
CHAD CAMPBELL
Age: 34
College: UNLV (1994-95 AND 1995-96 SEASONS)
Career victories: 4 (2003, TOUR CHAMPIONSHIP; 2004, BAY HILL INVITATIONAL; 2006, BOB HOPE CHRYSLER CLASSIC; 2007, VIKING CLASSIC)
Career earnings: $16,889,439 IN 212 PGA TOUR EVENTS
2009 earnings: $303,835 in eight events, 84th on money list
Best 2009 finish: TIED FOR NINTH, BOB HOPE CHRYSLER CLASSIC
Best Masters finish: TIED FOR THIRD, 2006