Bishop Gorman football stays unbeaten with Best of Nevada Preps award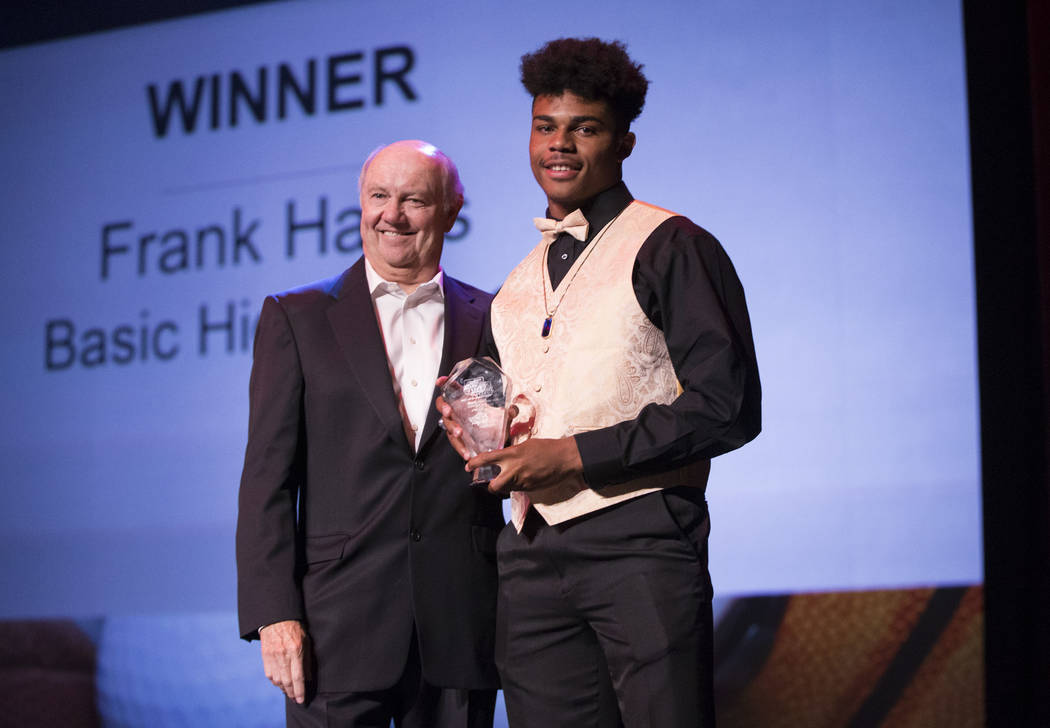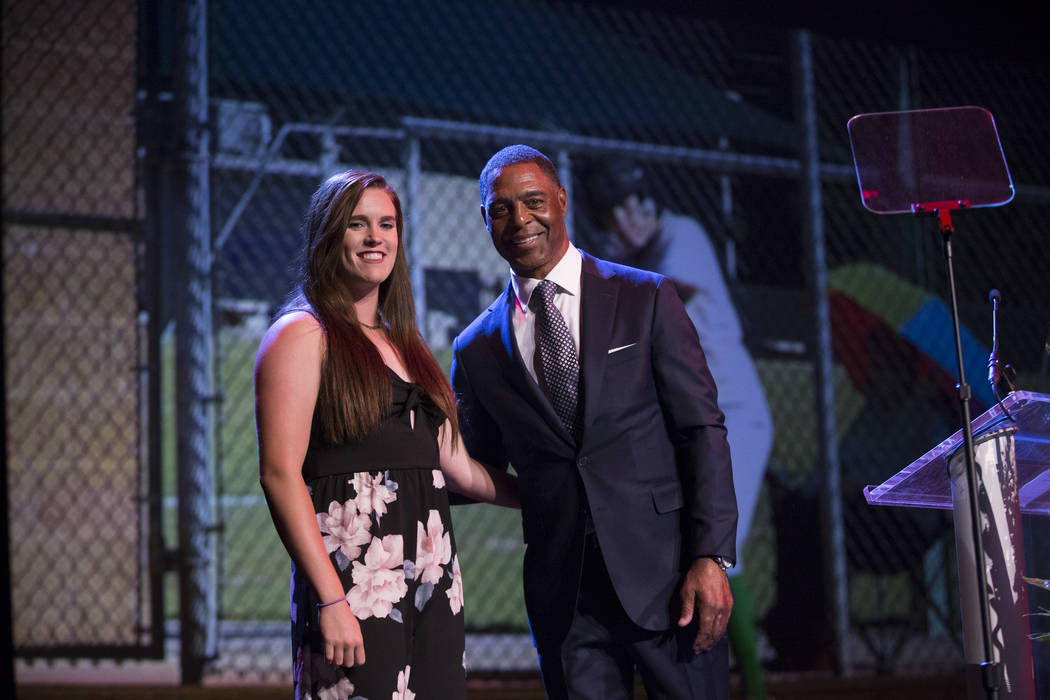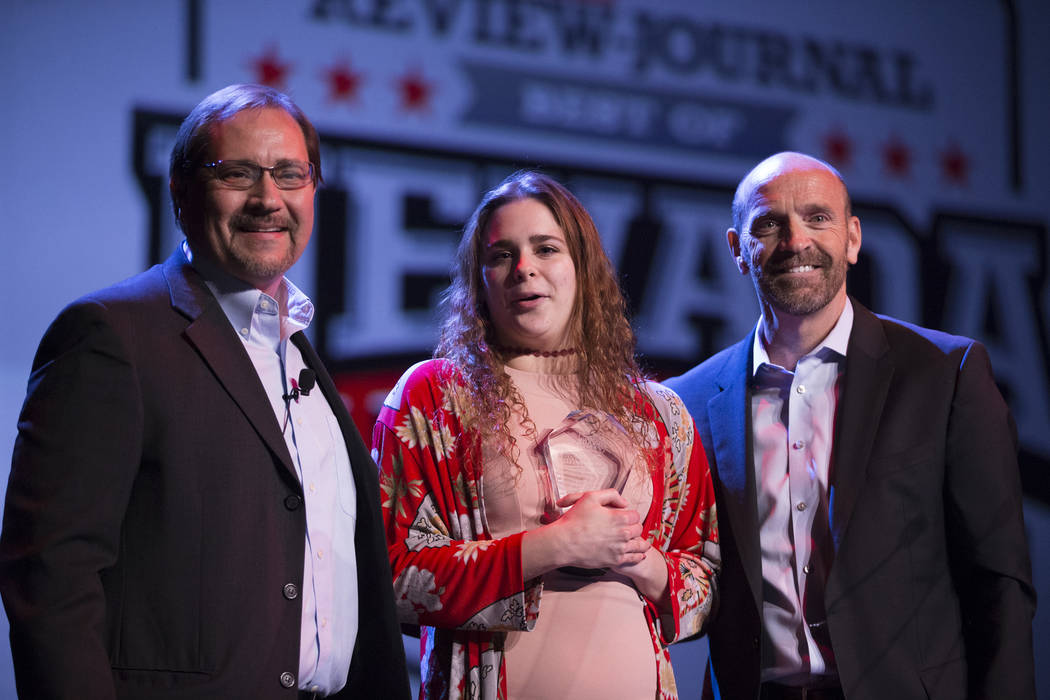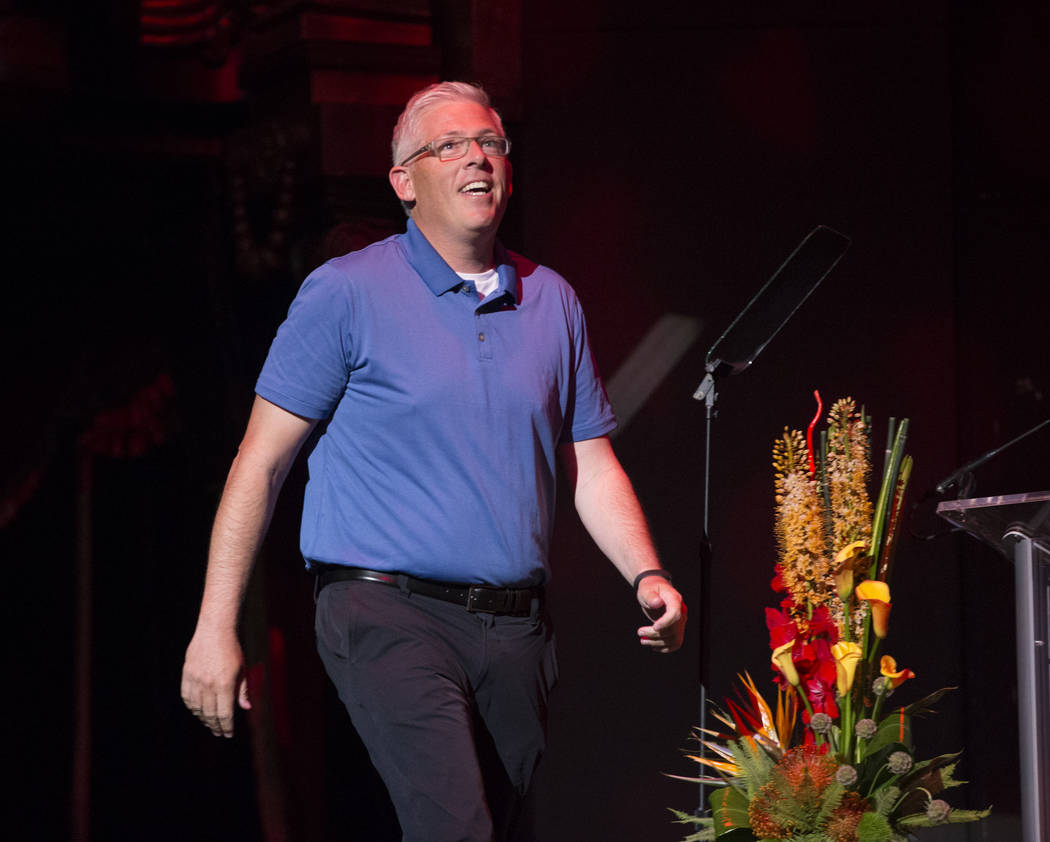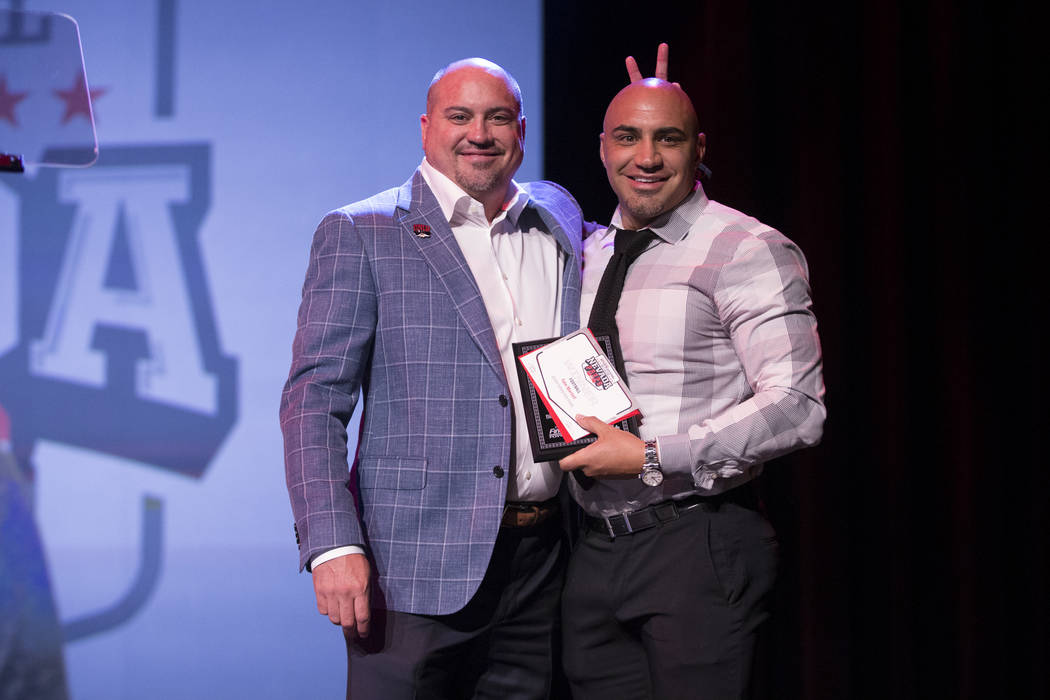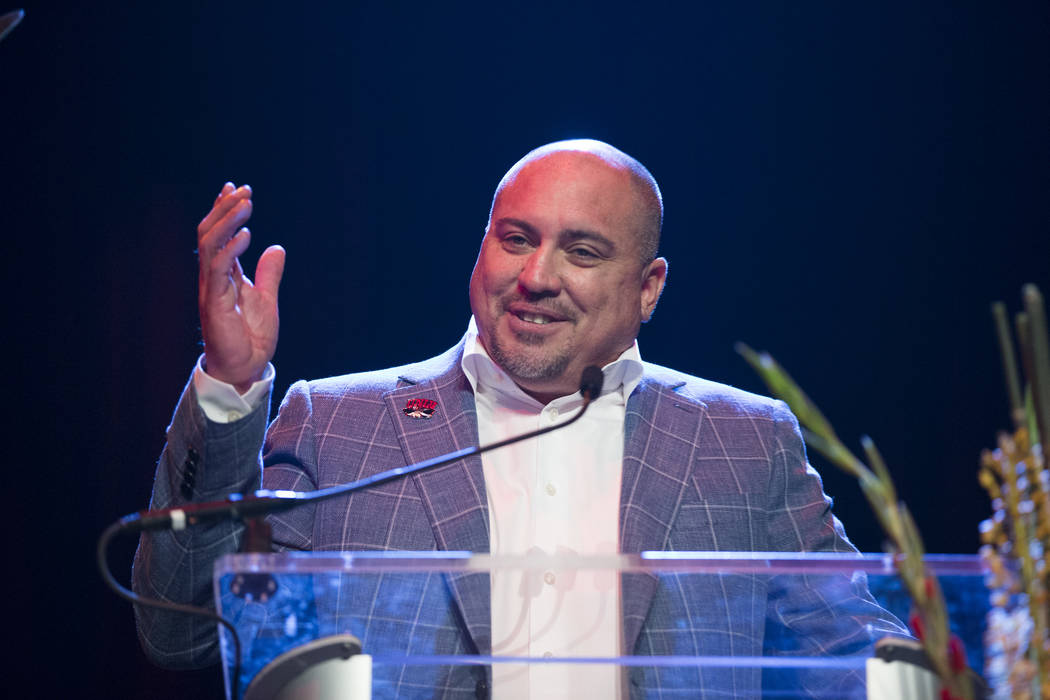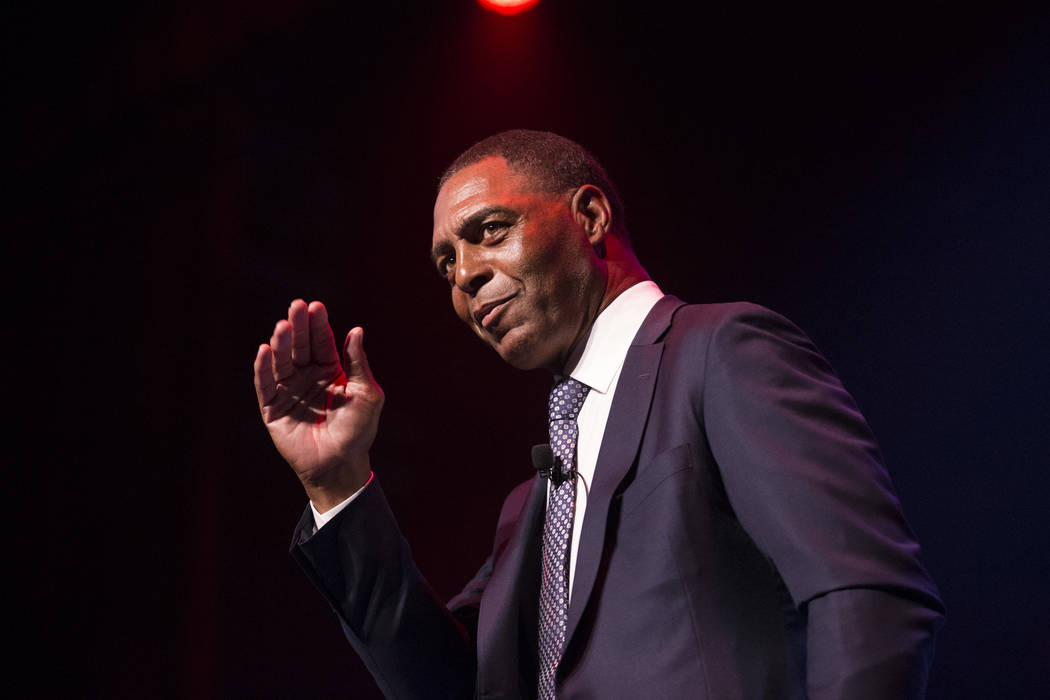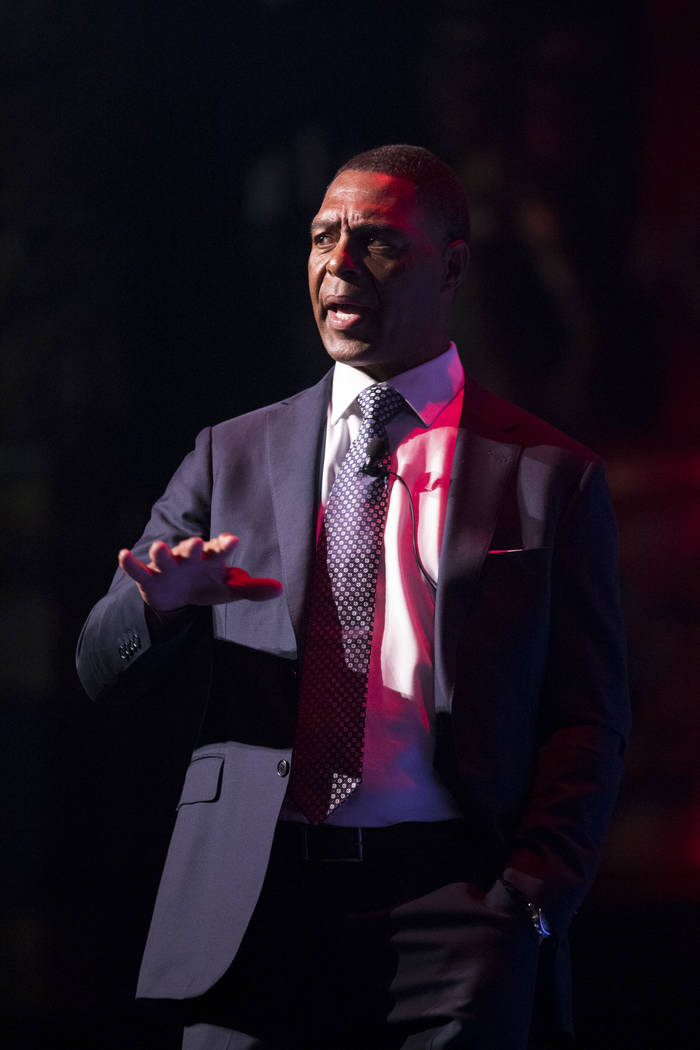 In a year full of awards for Bishop Gorman's football team, the Gaels added one more to their trophy case Saturday.
Bishop Gorman football, winner of eight straight state titles and three consecutive mythical national championships, earned Team of the Year honors, and senior quarterback Tate Martell won the award for top football player at the 2017 Best of Nevada Preps awards ceremony at The Venetian.
"It's always cool to reflect on what the kids have accomplished," Gorman coach Kenny Sanchez said. "It's a special night because you get to reflect on what the past was with those kids now that are gone that we're going to miss."
It was a night of triumph for Gorman, which has won 54 consecutive games dating to 2013 and is the only team in Nevada history to win a national title.
Martell was named Gatorade National Player of the Year in December after passing for 2,362 yards with 41 touchdowns to one interception. He was unable to attend Saturday's event because he enrolled early and joined the team at Ohio State. Sanchez accepted the award on his behalf.
"What people don't know about Tate was how tough he was," Sanchez said. "He never got hurt, he never missed a game, he never missed a practice, either.
"When you rank kids as far as the tough-o-meter, he's at the top."
The ceremony wasn't just about Bishop Gorman, as Basic and Rancho each had an athlete earn the highest individual honors for the season. Senior Frank Harris starred as a three-sport athlete for the Wolves and took home Male Athlete of the Year, and senior Sam Pochop won Female Athlete of the Year as a three-sport star for the Rams.
"I didn't know I was going to win it over Tate Martell, you know how good of an athlete he is," Harris said. "I'm very appreciative and blessed."
Harris made himself known on a national level for his prowess on the track. The 6-foot-3-inch, 210-pounder made waves in March when he cleared 7 feet in the high jump at a meet in California. He was the only Nevada athlete to clear the mark and one of 16 nationwide.
Harris also placed fourth at the Class 4A state track meet in the 100-meter dash, and his 400-meter relay team placed seventh. He also led Basic's football team with 978 receiving yards and 12 touchdown to help the Wolves finish 8-4 and runners-up in the Sunrise Region. He averaged 6.8 points for the basketball team.
Pochop established herself as one of the state's top softball players, helping Rancho to a berth in the state tournament with a 15-7 record, 1.16 ERA and 254 strikeouts in 175 2/3 innings. She also hit a team-leading five homers and led the Rams with a .377 average, 24 RBIs and five triples.
Pochop helped the Rams reach the basketball postseason averaging 4.4 points and 9.5 rebounds, and earned All-Northeast League honors for volleyball on the way to a league title.
"There's a lot of great athletes out there that I know could have had this," Pochop said. "It just shows the hard work I've put in that not a lot of people get to see."
Award winners
Team of the Year: Bishop Gorman football
Boys Athlete of the Year: Frank Harris, Basic
Girls Athlete of the Year: Sam Pochop, Rancho
Coach of the Year: Jay Howard, Arbor View
No Limits: Joelle Beachler, Legacy
Richard Nelson Courage: Isaiah Morris, Desert Pines
Baseball
Athlete — Christian Chamberlain, Reno
Coach — Scott Baker, Basic
Boys basketball
Athlete — Chuck O'Bannon, Bishop Gorman
Coach — Colin Darfour, Clark
Boys bowling
Athlete — Caleb Andrews, Clark
Coach — Randy Michalik, Tech
Boys cross country
Athlete — Anthony Ocegueda, Reed
Coach — Warren Mills, North Tahoe
Boys golf
Athlete — Jack Trent, Palo Verde
Coach — Jeff Van Orman, Spring Creek
Boys skiing
Athlete — Cole Matteson, Galena
Coach — Quinn Rescigno, Galena
Boys soccer
Athlete — John Lynam, Coronado
Coach — Dustin Barton, Coronado
Boys swimming
Athlete — Cooper DeRyk, Truckee
Coach — Sara Carroll, Boulder City, coach
Boys tennis
Athlete — Ben Gajardo, Desert Oasis
Coach — Zach Brandt, Palo Verde, coach
Boys track
Athlete — Jamaal Britt, Legacy
Coach — Maurice Senters, Sunrise Mountain
Boys volleyball
Athlete — Treven Clizbe, Arbor View
Coach — Erik Davis, Centennial, coach
Flag football
Athlete — Tiarra Del Rosario, Cimarron-Memorial
Coach — Mark Bailey, Cimarron-Memorial, coach
Football
Athlete — Tate Martell, Bishop Gorman
Coach — Aaron Masden, Spring Mountain
Girls basketball
Athlete — Samantha Thomas, Centennial
Coach — Laurie Evans-Gygax, Desert Oasis
Girls bowling
Athlete — Leah Glazer, Bishop Gorman
Coach — Randy Michalik, Tech
Girls cross country
Athlete — Samantha King-Shaw, Reed
Coach — Jim Parker, Reno
Girls golf
Athlete — Victoria Estrada, Coronado
Coach — Andy Schaper, Boulder City
Girls skiing
Athlete — Gigi Taylor, Bishop Manogue
Coach — Chris Gant, Galena
Girls soccer
Athlete — Macee Barlow, Palo Verde
Coach — Jay Howard, Arbor View
Girls swimming
Athlete — Abigail Richter, Green Valley
Coach — Brent Gonzalez, Palo Verde
Girls tennis
Athlete — Audrey Boch-Collins, Clark
Coach — Frideric Prandecki, The Meadows
Girls track
Athlete — Jessica Ozoude, Spanish Springs
Coach — Roy Session, Centennial
Girls volleyball
Athlete — Sydney Berenyi, Silverado
Coach — Ed Van Meetren, Bishop Gorman
Softball
Athlete — Ally Snelling, Palo Verde
Coach — Kelly Glass, Palo Verde
Wrestling
Athlete — Ian Timmins, Wooster
Coach — Jon Ferry, Green Valley