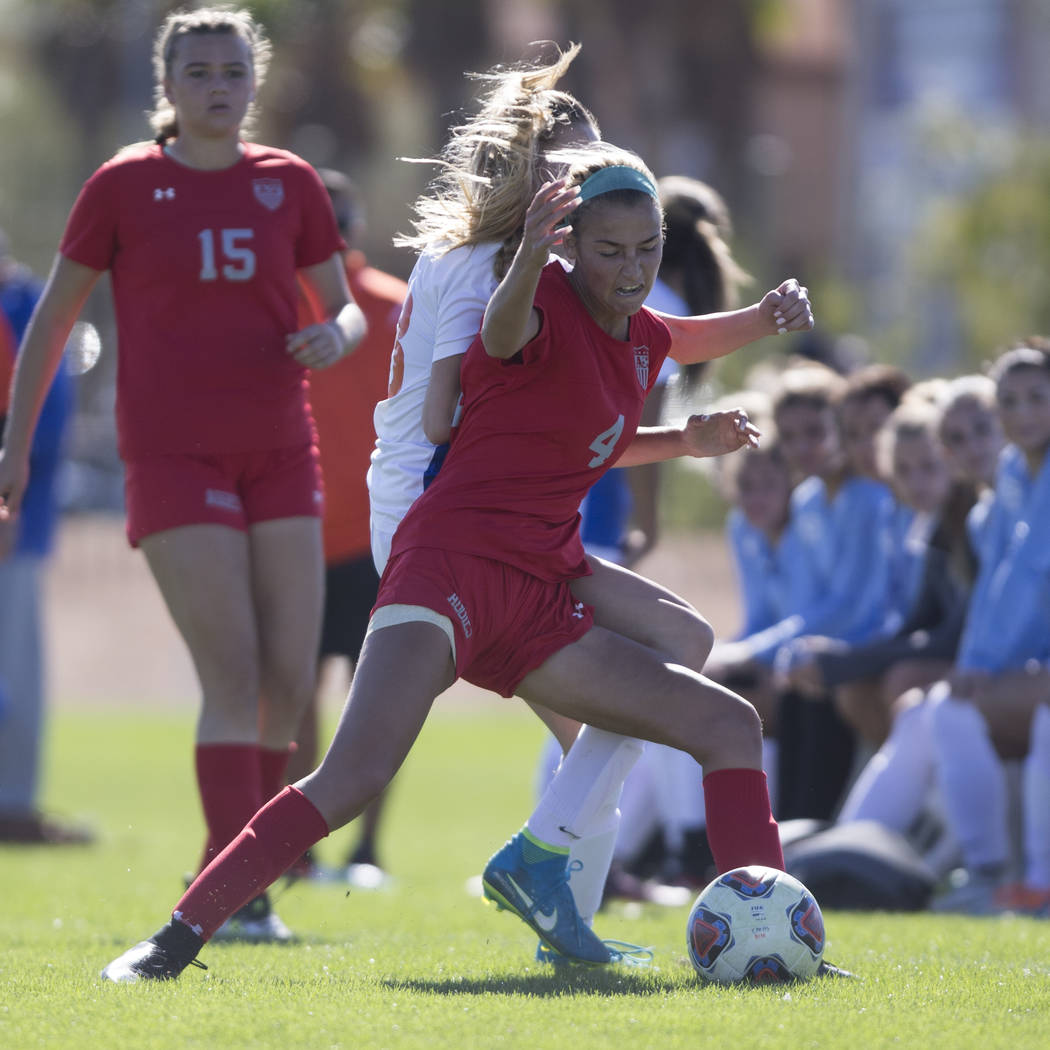 For the first time since 2011, Nevada will have a Class 4A state girls soccer champion that is not Arbor View.
Bishop Gorman answered each of the Aggies' goals with one of their own in the Sunset Region title game Saturday at Bettye Wilson Park, and once they had the lead, keeper Hannah Lee would not let it go as the Gaels held on to win, 2-1.
It is Gorman's first region championship since 2011-12 when soccer was a winter sport in Southern Nevada.
"I think we rallied and didn't give up, and that was the way to go," Lee said. "I just really wanted to work for my team because I wanted to make sure that we could go to state this year."
Last year, Arbor lost the region title game, then responded by winning the state play-in game and eventually going all the way. With the Northern Region hosting this year's state tournament, no play-in game exists, and the Aggies will be unable to defend their five-year state winning streak.
The Aggies can thank Lee for that.
The senior keeper was everywhere for the Gaels (21-2-2), making nine saves, including five in the second half once the Gaels took the lead. On one, she made a hockey-style kick save, and on another, she leaped and batted away harmlessly a ball destined for the top of the net.
"I'm a little short for a goalkeeper," Lee said with a chuckle. "But I do make up for it with my high jumps, so I was really proud of myself for that one."
The Aggies (15-5) opened the scoring courtesy of Sierra Vicente in the third minute, and the squads alternated goals afterward to bring the game tied at 2-2 to the half. In the 45th minute, Gorman's Taylor Cox collected a pass from Caitlyn Rueca and sent in the eventual game-winner.
Though the way the match was going, it didn't seem like the winning goal at the time.
"I honestly thought it was going to get up to fives or sixes," Cox said. "I was really hyped and more excited to know that was the game-winner."
Sunrise Region
Green Valley's girls soccer team appeared to be quite comfortable at Bettye Wilson Park on Saturday. But they're already eyeing their next destination.
Reno.
The Gators notched two first-half goals to score a 2-0 upset of Coronado in the Class 4A Sunrise Region championship game at Bettye Wilson Park.
The players received their championship trophy from an NIAA official and promptly huddled to ask, in unison, an important question with an obvious answer.
"Where are we going next week?" they screamed.
To play for the state championship for the first time since 2012.
"These girls are my kids. We laugh together, we cry together and we win region championships together," Green Valley coach Catherine Davis said. "Every one of them showed up today and played the game of their life. We knew we had to do that to win."
The Gators had lost two one-goal games to the Cougars in the regular season, but they adjusted their game plan and were ready for Saturday.
Green Valley capitalized five minutes into the game on an own goal via a corner kick. Freshman Celeste Millan tacked on an insurance goal in the 37th minute, giving keeper Ryan Sabol more than enough of a cushion to hold off Coronado's powerful offense.
"It really started to click after the first time we played Coronado," said Sabol, who made six saves. "After that, I feel like we really got a lot tougher as a team and we gained more confidence from that loss."
Class 3A Southern Region
The Sunrise Mountain girls soccer team's mantra has been "grit."
On Saturday in the 3A Southern Region final against Pahrump Valley, the Miners showed they had grit in grinding out a 2-1 win to claim the region crown.
"It showed me how great the girls can persevere whenever they put their mind to it, and going in today and winning is a very important part of what we have in mind," Sunrise Mountain coach Brently Garbutt said.
The Trojans (16-3-3) would strike first early in the second half when Kaitlyn Carrington scored on header assisted by Sydney Dennis.
The Miners would took advantage of the winds in the second half to attack, and at the 50-minute mark, Alexandria Trinidad found the back of the net to tie the game.
"I was shocked, honestly," Trinidad said. "I didn't expect that. I mean, I had to react fast and then get it in as soon as possible in order to catch up to them and try to beat them."
Trinidad scored again 10 minutes later on a shot from 20 yards out from the right side of the field that hooked into the top left corner of the net to give the Miners a 2-1 lead.
"If I'm being completely honest, she is a little bit of a game changer," Garbutt said of the junior forward. "She allows the girls to step up their games so we're all in the zone together. She's a special player."
More preps: Follow all of our Nevada Preps coverage online at nevadapreps.com and @NevadaPreps on Twitter.