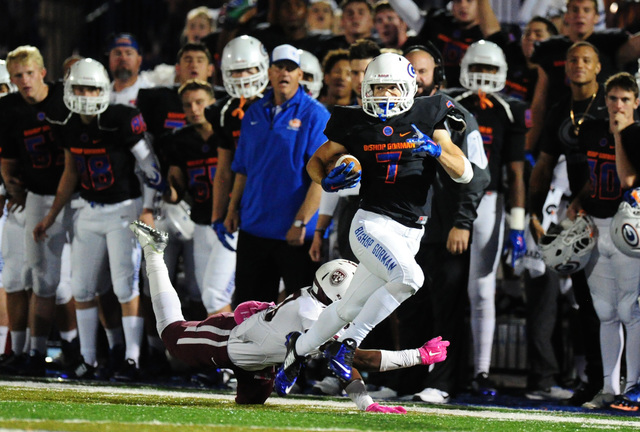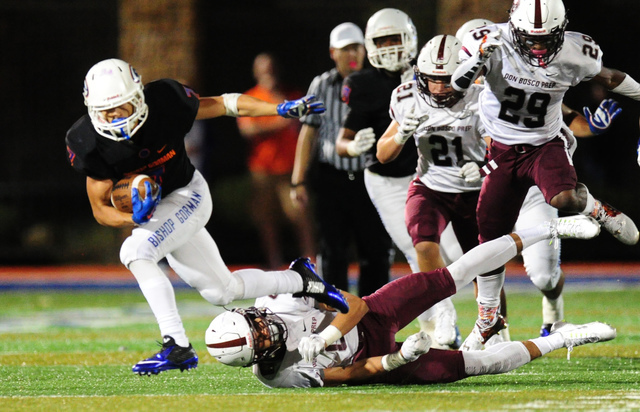 Bishop Gorman's Biaggio Ali Walsh already planned on dedicating his upcoming senior football season to his late grandfather Muhammad Ali.
Now the standout running back will be able to keep the legacy of "The Greatest" alive in another way: by looking pretty.
Ali Walsh, who was named the Review-Journal's Male Athlete of the Year on June 5, signed a modeling contract last week with Wilhelmina Models, an agency that represents stars such as Nick Jonas, Shawn Mendes and Demi Lovato.
"So excited that I signed with Wilhelmina Models!" Ali Walsh tweeted June 13. "Thank you and I'm excited to work with you guys!"
According to the NCAA's website, college-bound student-athletes may be compensated for modeling if he or she "was chosen for the commercial or other event for reasons other than athletic ability."
"We are always happy for our kids' success and new adventures they take on," Gorman football coach Kenny Sanchez said.
Ali Walsh was a first-team all-state selection last season as a junior after rushing for 2,451 yards and 33 touchdowns. He averaged 12.1 yards per carry, caught three TD passes and was the Southwest League Offensive Most Valuable Player.
He is a three-star prospect, according to Scout.com, and holds scholarship offers from Arizona, California, Hawaii, Louisville, UNR and UNLV.
Former Gorman wide receiver Cordell Broadus, the son of rapper Snoop Dogg, also signed with Wilhelmina Models last week.
Broadus, who signed with the agency June 16, and Ali Walsh were teammates with the Gaels during the 2014 season.
Muhammad Ali died on June 3.
RELATED
Biaggio Ali Walsh reflects at RJ Las Vegas banquet on grandfather Muhammad Ali's death