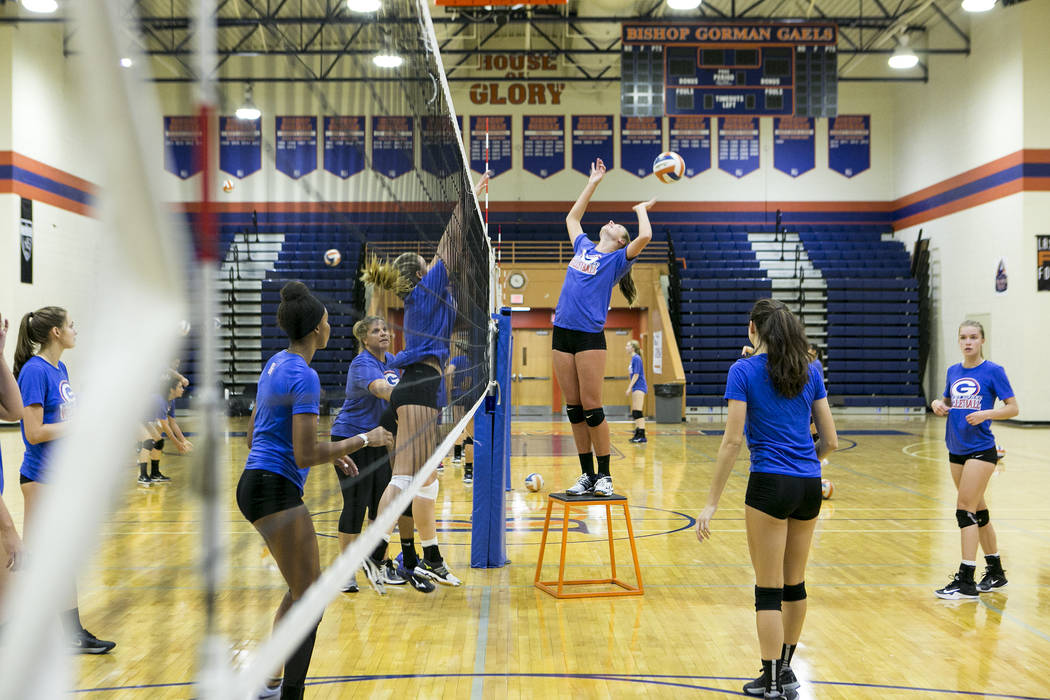 Sharing a gym with a boys basketball team that has won six consecutive state titles, and being a stone's throw away from a football mecca that houses the three-time defending national champions, it's not hard to see how Bishop Gorman's state-winning girls volleyball team flew under the radar last season.
But the anonymity the Gaels had is long gone.
Since defeating Reno High in the state final last November, the Gaels have shot up the national rankings and enter their current campaign with lofty expectations. Gorman is ranked No. 41 nationally, according to PrepVolleyball.com, and should be the overwhelming favorite to repeat in Nevada.
"We've got to live up to it now," said Gorman coach Ed Van Meetren, in his 18th season. "I'm excited for the opportunity. We're expected to compete any time we step on the court. …
"This might be one of my most physical teams. It has the ability to be one of the best teams we've had here in a long, long time. I've had some other physical teams. But this year is mentally stronger than those other ones have been."
The Gaels return nine lettermen, including five starters, from a team that finished 29-10 and 12-0 in Southwest League play last year. Sydney Lobato (594 assists, 86 aces, 30 blocks), Lilly Hoff (481 assists, 41 aces, 142 digs), Tommi Stockham (282 kills, 52 blocks), Kylie Gibson (229 kills, 23 blocks) and Sarah Lychock (277 digs, 50 aces) will lead a balanced attack.
Stockham, a sophomore who is committed to Southern California, was a second-team all-state pick last season. The 6-foot-3-inch outside hitter also could be in contention for player of the year honors this season while receiving sets from Lobato and Hoff.
"It's definitely different without the seniors this year, but I think we can defend our state title because we have all the athletes that we need," Stockham said. "We have the best at everything. We really excel at both setting and hitting."
The Alabama Birmingham-bound Lobato also hopes to set up the Gaels for the future in her last season. The 5-foot-9-inch setter, a second-team all-state selection, said she plans on taking an increased leadership role with the graduations of Alysia Nielson and Abbey Archambault.
"I definitely think the expectation is to win state again," Lobato said. "And, hopefully, keep winning it for future years. … I want to be in a leadership role and be a person (my teammates) can look up to and someone that they know is there for them. I want to be a person who's always working hard to be a good example for them to look up to."
With all the youth and experience on his roster, Van Meetren can't help but smile when considering Gorman volleyball as the school's newest dynasty.
"We're in a position, if we continue to progress, to be on this run for a while," he said.
More preps: Follow all of our Nevada Preps coverage online at nevadapreps.com and @NevadaPreps on Twitter.
Contact reporter Ashton Ferguson at aferguson@reviewjournal.com or 702-383-0430. Follow @af_ferguson on Twitter.