Bloop single unravels 51s in loss to Fresno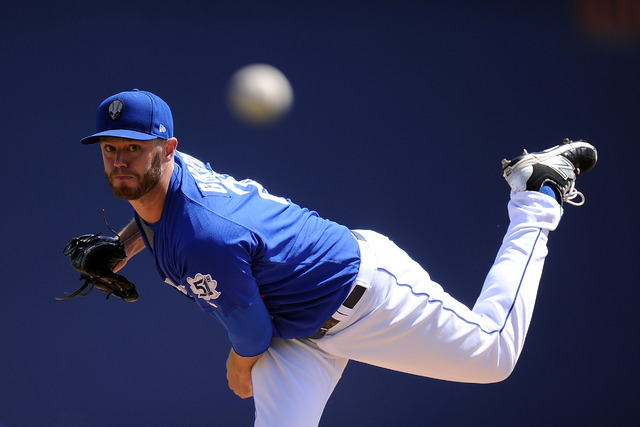 The butterfly effect is the idea that one small event can change the course of events that lead to a larger event in the future. A butterfly flapping its wings can cause a hurricane.
In the third inning, the butterfly flapped its wings in the form of a bloop single that was called a fair ball just inside the left field line. The hurricane that followed was a seven-run inning for the Fresno Grizzlies that was more than enough to blow Las Vegas away in an 8-1 defeat Friday night at Chukchansi Park.
"It was about eight inches foul, it wasn't that close," 51s manager Wally Backman said. "It was kind of the kiss of death."
With two runners on, a one-out floater of a single is rarely a death sentence. But the margin to which the ball was fair – inches at most – caused a delay when Backman and catcher Kevin Plawecki pleaded their case for a foul ball.
It was no good, but the frustration from the Las Vegas dugout emanated to the mound, where suddenly Darin Gorski was on tilt. A pitcher who has been on his game for the last five starts and preceding 2 1/3 innings gave up three doubles and a single before being removed from the game.
"Gorski let it bother him," Backman said. "I feel like he let it affect him and it caused him to jump all over it real quick."
There is no instant replay in the minor leagues. Backman said he saw on the in-stadium video board that the ball was foul but it's plays like that one that show it is time for reply in the minors.
"It shows that you have to have it," Backman said. "There are so many close plays. It would have been just a strike. The tempo of the whole game just changed."
In all, the Grizzles plated seven runs in the third inning, all charged to Gorski. Friday was Gorski's seventh Triple-A start since being brought back from independent ball, and it was the first time he had allowed more than four runs.
Prior to the big inning, the 51s got one run across and were shut out afterward. Fresno starter Brady Rodgers was on his game, going seven innings and allowing just one run on five hits. He also rolled up two double plays.
Worth noting
Third baseman T.J. Rivera was removed from the game in the seventh inning. Backman said it had nothing to do with reports that Mets infielder Jose Reyes was headed to the disabled list.
Justin Emerson can be reached at jemerson@reviewjournal.com. Follow on Twitter: @J15Emerson