Bonanza, Legacy full of surprises
October 24, 2008 - 9:00 pm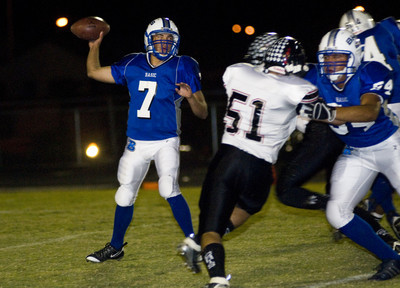 Quick, raise your hand if you thought that heading into Week 9 Bonanza would have clinched a playoff spot and Legacy would be within an eyelash of securing one.
For all of you with your hands in the air, I don't believe you.
Believe this, though: No matter how the Bengals fare in their remaining two games, they'll finish no worse than third in the Southwest League.
It's a great accomplishment for a team that before this year had won more than five games in a season only four times in 32 years.
Legacy is in the playoffs under every scenario except a crazy three-way tie that would involve Arbor View and Cheyenne — and that probably won't happen. Assuming Legacy gets in, it'll be the Longhorns first playoff appearance in … well, ever.
Eight of the 16 playoff spots in 4A are sewn up. Five teams have been eliminated. That leaves 17 teams for eight spots and a whole lot of fun in the last two weeks.
I want extra credit in algebra for figuring that out. I also want a perfect week, but I'll take either one.
• Bonanza (6-2, 5-0) at Spring Valley (6-1, 4-1) — Bonanza has won six straight, just in time for exam weeks. The Bengals finish with the Grizzlies and Bishop Gorman.
Antonio Beals had a night to remember last Friday, running for more than three bills.
Spring Valley's practices have centered on stopping No. 2. The winner should get a home game in the playoffs. It'll make up for the home game Spring Valley didn't get in Week 1. Spring Valley by 6.
• Cimarron-Memorial (5-3, 4-1) at Legacy (7-1, 4-1) — Or Stephen Nixon at Deshae Edwards.
They're not one-man teams, but they are two great rushers, and they'll get a ton of carries and yards tonight.
Edwards and the Longhorns have two tough games to finish and can't look ahead to Palo next week. Cimarron has to play Cheyenne next week, which is no picnic. Legacy by 5.
• Del Sol (6-2, 3-1) at Basic (6-2, 4-0) — Until Green Valley got in the way last week, this was supposed to be for the Southeast title.
Quarterback Robby Faiman and the Wolves finish with the Dragons and Green Valley next week.
Earnest Hall will be important for the Dragons this week. Del Sol remains in the hunt. Del Sol by 4.
• Silverado (4-3, 1-3) at Green Valley (6-2, 4-0) — Silverado's playoffs start tonight as the Skyhawks must win tonight and next week and get help to make the postseason. I'd do the raise-your-hands thing again, but no one, and I mean no one, saw that coming.
Somehow, the Gators have won three games by one point this year, including the upset of Del Sol last week. This is a sandwich game for Green Valley, which has Basic next week.
I like sandwiches, especially turkey sandwiches. Silverado by 3.
• Clark (2-6, 2-3) at Sierra Vista (3-5, 2-3) — A matchup of two running backs who deserve more glory than they get as Clark's Aaron Arlt matches skills with Sierra Vista's Akil Sharp. The winner probably gets the Southwest's last playoff spot. And that winner is … Sierra Vista by 8.
• Faith Lutheran (5-3, 0-2) at Boulder City (4-3, 0-2) — About the only thing left to play for here is pride. One of these teams is going to Moapa Valley for the playoffs; the other is going to Virgin Valley.
Note to the Crusaders: You're not a running team. Give Joe Portaro time to throw, and let him find Don Pearson and David Sperry.
Note to the Eagles: Double-cover every receiver you see. Faith Lutheran by 6.
• Needles (Calif.) (6-1, 5-0) at The Meadows (6-2, 4-1) — Needles' last potential hurdle to a 2A Southern League regular-season title is The Meadows.
Needles appeared to be a shoo-in for first until last week when it needed a last-minute fourth-down touchdown pass to rally past Mountain View.
Not needed this week. Just get the ball to Darra Russell; he'll do the rest. Needles by 12.
• Tonopah (5-2, 4-0) at Pahranagat Valley (7-0, 4-0) — This sounds funny, but in a game between two teams that have scored 524 combined points in eight league games, defense will decide it.
For Pahranagat, the key is shutting down Muckers quarterback Scott Thibodeaux, who has had a hand in 28 TDs in seven games.
Tonopah has to try to stop the Panthers' Taylor Poulsen, who has thrown for 13 scores and rushed for seven. Poulsen also is the team leader in tackles. When in doubt, go with the home team. Pahranagat Valley by 2.
Last week: 5-3 (spread), 6-2 (straight up)
Overall: 43-19 (spread), 49-13 (straight up)
NevadaPreps.comIn-depth high school sports coverage