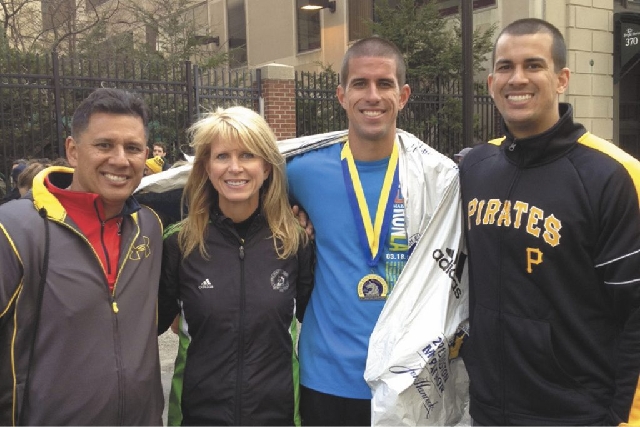 In an office 3,000 miles away. On the steps of a hotel a mile away.
Scott Dickey was in San Diego at 11:50 a.m. PDT Monday; Lisa Whitesitt was in Boston, where it was 2:50 p.m. Within seconds, they got the news of the double-bombing at the Boston Marathon finish line.
"I got two texts from two colleagues at the finish line within about 15 seconds," said Dickey, the CEO of Competitor Group, which operates dozens of endurance events, including the Rock 'n' Roll Las Vegas Marathon. "We had about 12 people from our staff in that area."
Whitesitt was with husband John and sons Ryan and Sean, approaching their hotel after a short subway trip following Sean's successful running of his first Boston Marathon. Then came an ominous message from their son-in-law Jeff Klein, back home in Las Vegas.
"My husband received a text. It said, 'Are you OK? There's been an explosion,' " Whitesitt said. "We had just gotten off the subway, and when we got to the hotel, we still didn't know anything. But we started hearing the sirens, and we went upstairs, turned on the TV and saw the report.
"We texted back and said we were OK, so we knew our daughter (Erin) knew. I called my parents in Pittsburgh and told my mom we were OK. She's 87 and hard of hearing, so she just starts talking about the race. I told her there was an accident, that we were OK, and to tell dad to put on the TV."
Dickey also was among those fortunate enough to get good news out of an incident that killed three people and dismembered dozens among more than 170 injured.
"My first thoughts were of whether my colleagues were safe, and fortunately we were really lucky," he said. "While we had staff all over that finish-line area, none were directly affected. Once I knew everyone was safe, my attention turned to reacting to this heinous act."
That reaction has been churning all week for Whitesitt and Dickey, and surely thousands if not millions of others.
ON THE SCENE
"Initially, we were shocked, confused, all of us looking at each other in the hotel room," Lisa Whitesitt said. "Then I looked at Sean and I said, 'This reminds me of your 12th birthday' " on Sept. 11, 2001.
"And he said, 'I know. I remember doing this same thing on 9/11.' We were definitely shell-shocked."
It could have been worse. The Whitesitts' initial plan was to walk to a bar near the finish area and get a bite, perhaps a celebratory drink. But it was windy. Sean was getting cold and wanted to hit the showers, so they caught the subway for the short trip to the hotel at around 2:15 p.m. Had they stuck around, they surely would have been nearby when the bombs went off 35 minutes later.
"I did think of that," Lisa Whitesitt said. "Thank goodness we didn't stay, and thank goodness we didn't stick around and walk back to the hotel. I don't remember who made the decision to go to the hotel first.
"I just feel extremely fortunate. There's absolutely no doubt we would have been there."
Instead, the family regrouped at the hotel before deciding it would still be best to go out to eat and try to sort through the emotions. Despite the incident, Whitesitt said they felt as if they were far enough away from the site that it was safe to walk to a restaurant.
Many others seemed to feel equally safe — or equally in need of company.
"There were a lot of people out," she said. "We sat in a restaurant with a lot of other runners, got something to eat and talked about it. We really just talked our way through it with other people. It was absolutely therapeutic."
It was difficult for Whitesitt to reconcile the horror of the bombing with her memories from the 2011 Boston Marathon, when she ran the race for the first time. Her recollections from running the historic event were what prompted 23-year-old Sean to run this year.
"It was all very surreal, and it still seems that way," she said. "You just don't expect it at an event like that. At Boston, on marathon Monday, you are in the happiest place in the world — the runners who have trained so hard for this moment, the spectators, and the family members are so proud.
"What other sporting event exists where everybody is happy? You don't have angry coaches, angry parents, angry fans, angry players. That's what makes this greater than any other sport."
Whitesitt returned to Las Vegas on Tuesday afternoon, and the English teacher went back to work at Silvestri Junior High School on Wednesday, but not without difficulty.
"It was overwhelming, and I still felt like I couldn't sort through my emotions. It was just really hard coping," she said, noting she received several supportive emails from students and parents. "Going back to work, the kids were great, but it was a very rough day. Getting back into a normal routine was pretty challenging."
FAR AWAY, SO CLOSE
Dickey was all the way across the country, but he went through the same emotions. Shock, sadness, some anger.
"I'm mostly saddened, and I think it was natural for Bostonians that sadness quickly turned to anger. But you can't get lost in that," he said. "This is one of the great things about Americans. Out of great evil, great good rises above that. Great Americans and great Bostonians will rise to the challenge.
"I read a column by Thomas Friedman in the New York Times (on Tuesday), and he said we should be running another Boston Marathon as soon as we can. And he's right. We're tough, especially those who are tough enough to qualify for the Boston Marathon."
Dickey has to take that to heart, because his company runs a multitude of annual events that draw as many or more participants than Boston's field of 24,000 this year. Next weekend's Country Music Marathon in Nashville, Tenn., (30,000 entrants) and next weekend's Rock 'n' Roll Madrid event in Spain (28,000) will certainly come with some nervousness, and the Rock 'n' Roll Las Vegas event — which drew nearly 30,000 last year — will likely also still feel some jitters come November.
Stephanie Kirby has nerves to soothe much sooner here in Las Vegas. Kirby is executive director of Susan G. Komen For the Cure's Southern Nevada affiliate, and its annual Race for the Cure is set for May 4 downtown, with 14,000 participants expected.
"It is a very celebratory event, but as joyous as it is to celebrate breast cancer survivors, this race is also a memorial to those who didn't survive," Kirby said. "To have the fear of violence, it weighs on people. So my reaction (to Boston) right away was to put out an email blast that we are carrying on, and that you can count on us to put on as safe an event as possible."
Providing such reassurance certainly becomes a bigger challenge in the wake of Monday's tragic event.
Dickey noted any large public event shares that burden — concerts, parades, festivals.
"For us, the pressure associated with delivering a safe experience that's celebratory is greater," he said. "But this is what we do. We fundamentally understand what it takes to put on these events. Do we put them on flawlessly? Absolutely not. But you get better and stronger and strive for excellence each time. We want to be renowned for that, and safety is a key component, without question."
INSPIRED GOING FORWARD
While Dickey and Whitesitt acknowledged the horror of the Boston tragedy, they were also struck by the immediate response, something that gave both of them reason to believe a great recovery lies ahead.
"I spoke to the Boston Marathon race director, and some of that conversation is too personal to share," Dickey said. "But the most remarkable thing is runners crossed that finish line and continued running straight to the nearest hospital to donate blood, or those runners who were done and went back to the finish line to help the injured and the wounded. The stories of the medical personnel and their ability to respond to triage and trauma.
"They were suddenly faced with a war zone. Those are the stories that are going to stick with people."
The events that have unfolded since Monday also confirmed to Dickey and Whitesitt that it's just not in a runner's DNA to quit, to give in, to consider not getting out and competing again.
"To watch runners rally in the face of tragedy is incredible," Dickey said. "We've seen registration for all of our races (including Las Vegas) increase dramatically. It speaks to the reaction runners are having to this event. Endurance speaks to the ability to recover, and runners around the country are taking that to heart. The fact this tragedy took place at Boston is somewhat ironic — the running community is now leading a march, a rally to go run, and go run now.
"We're working with our partners to get behind that spirit in the wake of this tragic event."
Whitesitt responded as many other runners did; she spent Thursday night surfing the Internet, looking for the next event that she'll run. It will surely be sooner rather than later.
"I'm not surprised at all with the response of the running community," she said. "Initially, I thought of how sad this is, not only for the obvious reasons — the deaths and so many people hurt. But it's so sad for Boston, which is an American tradition. What's this do for this and other marathons?
"Today, I'm thinking more clearly. Runners are gutty people, especially marathoners, and they don't give up. It's really about the spirit and camaraderie among runners. People are gonna fight back and get out there, and they're not gonna give up. They're resilient, and I think more people are going to try to qualify for Boston next year."
And perhaps Whitesitt will be in the field again. Her last marathon was in February, the Surf City event in Huntington Beach, Calif., where the goal was to qualify for Boston 2014. She fell three minutes short.
"At that point, I thought I may have done my last marathon," she said. "But today, I want to do another marathon. This tragedy has definitely accelerated that desire. It's motivated me to get back out there."
SOLIDARITY RUN SCHEDULED
■ WHAT: Las Vegas in Motion and the public are invited to a run in Henderson as a show of solidarity for victims of the Boston Marathon bombing. Walkers, joggers and runners are welcome, and distances will cover four to 20 miles.
■ WHEN: 6 a.m. Sunday
■ WHERE: Begins at Village Runner, northwest corner of Stephanie and American Pacific, Henderson