Boxer Mayweather lends hand to South Africa
January 15, 2014 - 7:05 am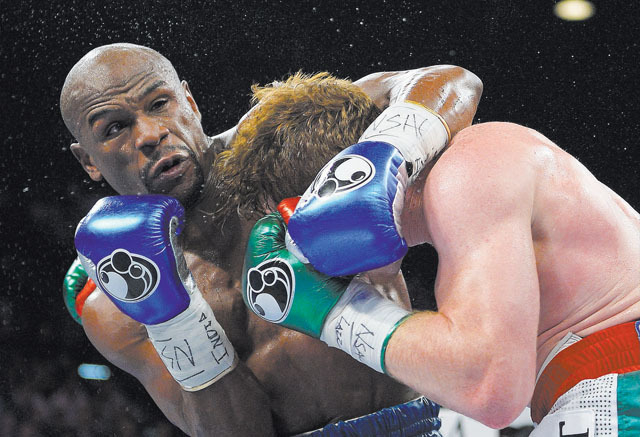 CAPE TOWN, South Africa — Forget world's best fighter, Floyd Mayweather Jr. was rated by the South African government as the world's greatest athlete and backed him to turn around boxing in the country.
The sports ministry announced Mayweather will arrive today for a near-weeklong visit — his first to Africa and a triumph for the country that finally got its man after trying to lure the 36-year-old superstar as guest of honor at the national sports awards show last year.
The Ministry of Sport and Recreation also said on Tuesday that the boxer nicknamed "Money" had not been paid any fee to come.
It hopes he can do more than just throw a few jabs and sign a few autographs for boxing in South Africa, which once was popular but now is in steady decline. Mayweather's four-city visit would help "resuscitate" the sport, ministry spokesman Paena Galane told The Associated Press.
"Remember, he's the greatest athlete in the world," Galane said.
Mayweather's schedule will include an exhibition at a gym in the Johannesburg township of Soweto and possibly a visit to late South African President Nelson Mandela's apartheid-era jail on Robben Island when he's in Cape Town. Mayweather will also visit Bloemfontein and East London on the southeast coast, the latter city regarded as the hotbed of South African boxing.
"We wanted someone who's knowledgeable as a fighter and as a promoter," Galane said of South Africa's pursuit of Mayweather to be the catalyst for its boxing revival.
Mayweather does both better than most.
In his last fight in September, Mayweather dominated Canelo Alvarez to improve to 45-0 with 26 knockouts and enhance his reputation as the best boxer of his era. He earned $41.5 million for the fight, which was the richest ever and generated $150 million in TV revenue alone.
The five-division world champion hasn't announced an opponent for his next fight, expected to be in May, although Britain's Amir Khan has said he has signed an initial contract that may give him a shot at the undefeated American.
Galane dismissed suggestions that reporters wouldn't be allowed to ask Mayweather questions on his future fight plans when he appears alongside South Africa's sports minister and the head of its Olympic committee at a promotional event in Johannesburg today.
While the flamboyant Mayweather is expected to be accompanied by his usual large traveling entourage, the sports ministry said he would arrive on a commercial flight from the United States and not on a private jet.